Better Buy: Amgen Inc. vs. Pfizer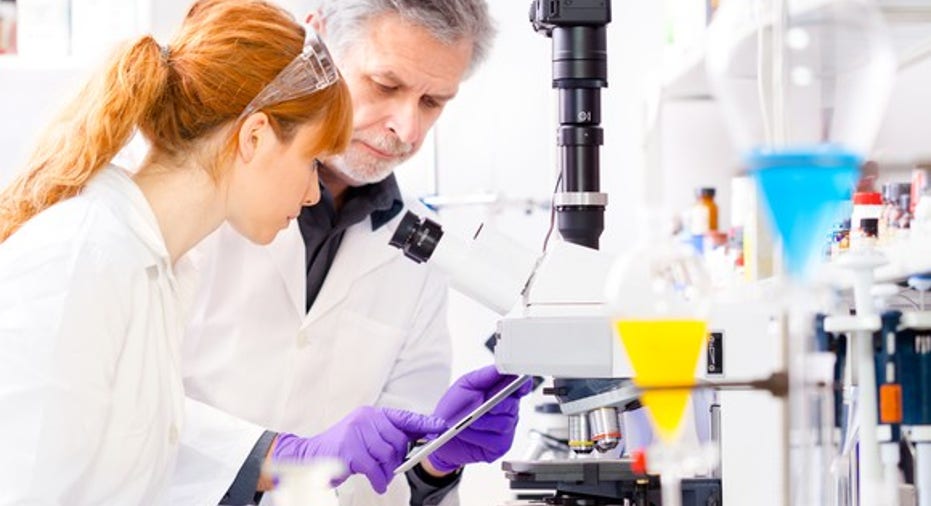 Amgen (NASDAQ: AMGN) and Pfizer (NYSE: PFE) are "frenemies" in the pharmaceutical world. The two companies partner on blockbuster autoimmune disease drug Enbrel, but could be future rivals in other indications such as atopic dermatitis and acute lymphoblastic leukemia (ALL).
While it remains to be seen which company will be the bigger winner in head-to-head match-ups between their products, Amgen has definitely prevailed when it comes to stock performance. Over the past five years, the biotech's share price has jumped 140% while Pfizer stock increased by 50%. But which stock is the better buy now?
Image source: Getty Images.
The case for Amgen
Amgen has grown earnings by an average annual rate of nearly 17% in recent years. This strong growth was driven in large part by rising sales for Enbrel and osteoporosis drug Prolia. Amgen's growth seems likely to taper off somewhat in the future, though.
Enbrel competes in an increasingly crowded market, with several new drugs and biosimilars recently or soon to be launched for treating autoimmune diseases. Sales for Neupogen and Epogen are plunging in the face of competition. (There is some good news for Epogen, though, in that much of the sales declines are from patients switching to another Amgen product -- Aranesp.)
However, Amgen claims several products in its lineup that are posting solid growth, including Prolia and Sensipar. The company hopes that sales for Repatha take off now that results from a late-stage study showed that thecholesterol drug reduced the risk of cardiovascular events. Amgen also has great expectations for multiple myeloma drug Kyprolis.
The biotech is pursuing additional indications for several of its existing drugs. Amgen's pipeline includes two new candidates in late-stage testing -- experimental migraine drug erenumab and heart failure drug omecamtiv mecarbil.
Amgen is in excellent position to bolster its pipeline through acquisitions. As of the end of 2016, the company hadcash, cash equivalents and marketable securities totaling$38.1 billion.
The stock is priced relatively attractively, with shares trading at less than 13 times expected earnings. In addition, Amgen is one of only a handful of biotechs to pay a dividend. The dividend yield currently stands at 2.84%.
The case for Pfizer
Pfizer's growth over the last several years has been anemic. But the big drugmaker appears to be in much better position for the future, thanks in part to several strategic acquisitions.
The company bought Hospira in 2015, picking up Hospira's biosimilars,injectable drugs, and infusion technologies. Last year, Pfizer acquired Anacor and Medivation. The Anacor deal brought potential blockbuster atopic dermatitis drug Eucrisa into Pfizer's portfolio. Pfizer gained successful prostate cancer drug Xtandi with its buyout of Medivation.
Pfizer claims at least nine products that grew sales by double-digit percentages in 2016. Sales continue to soar in particular for cancer drug Ibrance and rheumatoid arthritis drug Xeljanz. Pfizer should see strong performance from a couple of newer drugs on the market -- Eucrisa and cancer drug Bavencio. However, the company faces headwinds with European biosimilar competition for Enbrel and declining sales for its products that have either lost exclusivity or will soon do so.
The pipeline could help significantly. Pfizer has 34 late-stage clinical studies in progress. Several of those are for additional indications for Bavencio. Promising new late-stage candidates include experimental diabetes drugertugliflozin and pain drugtanezumab.
Pfizer stock is also priced attractively, with shares trading at 12 times expected earnings. The company's dividend yield of 3.76% is another big plus for investors.
Better buy
These two stocks are pretty evenly matched on growth prospects. Wall Street expects Amgen to grow earnings over the next few years at an average annual rate of 6.5% and for Pfizer to grow earnings by 6.3% annually.Amgen and Pfizer are also close in terms of valuation.
Pfizer, however, clearly claims the better dividend yield. Amgen should be able to increase its dividend in the coming years, but I expect Pfizer to maintain its advantage.
So which is the better buy for investors? The nod goes to Pfizer, in my view. Pfizer's deeper pipeline and higher dividend give the stock a slight edge.
10 stocks we like better than PfizerWhen investing geniuses David and Tom Gardner have a stock tip, it can pay to listen. After all, the newsletter they have run for over a decade, Motley Fool Stock Advisor, has tripled the market.*
David and Tom just revealed what they believe are the 10 best stocks for investors to buy right now... and Pfizer wasn't one of them! That's right -- they think these 10 stocks are even better buys.
Click here to learn about these picks!
*Stock Advisor returns as of April 3, 2017
Keith Speights owns shares of Pfizer. The Motley Fool has no position in any of the stocks mentioned. The Motley Fool has a disclosure policy.