Better Buy: Ambarella, Inc. vs. Advanced Micro Devices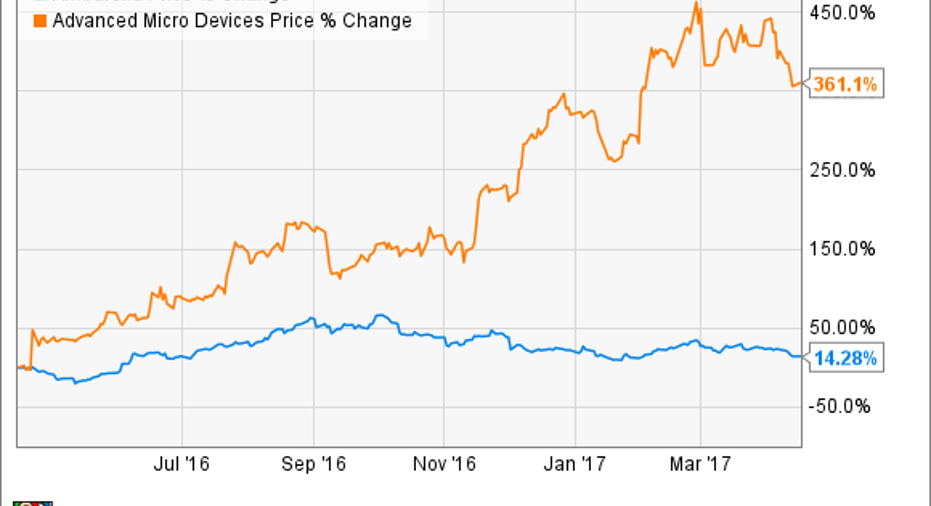 The semiconductor industry isn't for the faint of heart. Competition is typically extremely fierce, product cycles force companies to keep betting on the next breakthrough chip, and in an effort to win spots in major devices, chipmakers often sell at lower prices than they'd like.
For those reasons, it can be difficult to pick winners in this space. That's why investors consideringAmbarella (NASDAQ: AMBA) andAdvanced Micro Devices (NASDAQ: AMD) should know the opportunities and risks for both companies so let's take a quick look at what each is doing:
The case for Advanced Micro Devices
AMD is a key player in graphics processing unit (GPU) space with about 29.5% of the discrete desktop GPU market. NVIDIA (NASDAQ: NVDA) takes the rest of the market, but investors should remember that this time last year AMD held just 21.6% market share, so the company is moving in the right direction. Additionally, AMD is set to release a new GPU architecture later this year called Vega, which could help the company wrest a little more market share away from NVIDIA as well.
It's highly unlikely that AMD will overcome NVIDIA in the GPU space, but the former is still making solid advancements across its key business. The company posted higher sales of GPUs in Q4 2016 than it has in the past 11 quarters. AMD is also a major supplier of semicustom console chips forSony and Microsoft, the latter of which is expected to launch a new device, called Project Scorpio, later this year. Morningstar analyst Abhinav Davuluribelieves that semicustom design wins like this could spur growth in this segment by low double digits over the next four years.
It's worth pointing out that despite its massive stock price run-up right now, the company has had a net operating loss for at least the past three years. Investors currently value it at more than $11 billion, while AMD's operating income loss was $372 million last year. That means AMD would have to churn out massive profits in the coming years to catch up to its current valuation.
Data source: YCharts.
The case for Ambarella
Ambarella's story is largely one that's built aroundGoPro (NASDAQ: GPRO). Pacific Crest estimates that 25% of Ambarella's 2016 revenue came from from the action camera maker.Ambarella's reliance on GoPro was fine when things were going well with GoPro's sales, but lately the camera maker has hit one roadblock after another, most recently with the recall of its much-anticipated Karma drone.
Ambarella does deserve credit for expanding its chip sales beyond GoPro into the security camera maker, DJI drones, and cars. But even with even with that diversification sales in fiscal year 2017 fell by nearly 2% from a year ago, and the company's management has noted that changes to GoPro's business could weigh on Ambarella's revenue this year."[B]ased on our current level of interaction with GoPro on product development activities, we believe GoPro is incorporating a competitive chip for at least one new mainstream camera product, which will negatively impact our revenues in the second half of the year," Ambarella CFO George Laplante said on the fourth-quarter earnings call.
The verdict
I did a comparison of these two companies about four months ago and said at the time that any pullback in sales from GoPro could bring further instability to Amberella, but if it was able to diversify revenue enough, then the company could become a solid long-term play. Unfortunately, it appears the GoPro pullback is the main story right now. Sure, Ambarella is diversifying sales to other players, but I don't believe it's happening fast enough. Management said that sales growth for fiscal 2018 will be between 3% growth to a 3% drop, compared to fiscal 2017.
At the same time, I find it difficult to recommend AMD after its current stock price growth, compared to net losses. The company is certainly making strides in GPUs and semicustom chips, but with investors already pushing the stock price up more than 360% over the past 12 months, I think AMD's opportunities have already been worked into the company's price.
In this face-off, AMD looks like the better business, but investors may want to wait and see if any short-term hiccups offer better entry points down the road.
10 stocks we like better than Advanced Micro DevicesWhen investing geniuses David and Tom Gardner have a stock tip, it can pay to listen. After all, the newsletter they have run for over a decade, Motley Fool Stock Advisor, has tripled the market.*
David and Tom just revealed what they believe are the 10 best stocks for investors to buy right now... and Advanced Micro Devices wasn't one of them! That's right -- they think these 10 stocks are even better buys.
Click here to learn about these picks!
*Stock Advisor returns as of April 3, 2017
Teresa Kersten is an employee of LinkedIn and is a member of The Motley Fool's board of directors. LinkedIn is owned by Microsoft. Chris Neiger has no position in any stocks mentioned. The Motley Fool owns shares of and recommends Ambarella, GoPro, and Nvidia. The Motley Fool has the following options: short January 2019 $12 calls on GoPro and long January 2019 $12 puts on GoPro. The Motley Fool has a disclosure policy.