Better Buy: Alnylam Pharmaceuticals vs. Ionis Pharmaceuticals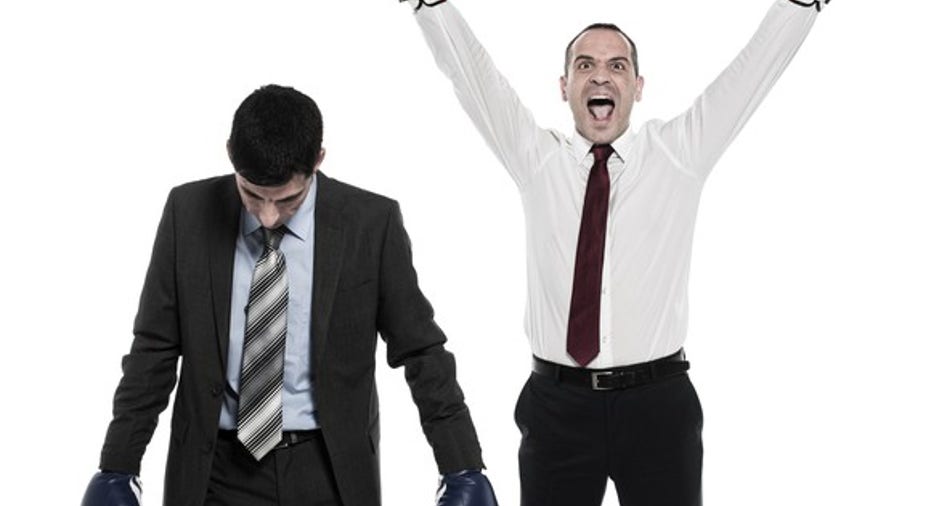 Treating diseases that have a genetic component by altering the expression of the responsible genes is a promising new field of medicine, but it has been much less straightforward than biopharmaceutical companies had expected. Two contenders in this area, Alnylam Pharmaceuticals (NASDAQ: ALNY) and Ionis Pharmaceuticals (NASDAQ: IONS), saw a mix of setbacks and success in 2016.
Image source: Getty Images.
In 2016, these two stocks have taken paths as varied as their approaches to drug development, and the past few months have been a wild ride. Since the beginning of October, shares of Alnylam have dropped more than 40%, while Ionis has gained 35%. In light of the recent market-moving events, investors are right to wonder which stock is the better pick at recent prices. Let's compare the two to see how they stack up at the moment.
Arguments for Alnylam Pharmaceuticals
The bull thesis for Alnylam took a major hit in October when the company shuttered its revusiran program due to safety issues. The candidate was intended to alleviate heart damage caused by buildup of a misfolded protein called transthyretin. If the halted late-stage trial had led to approval, then revusiran might have eventually generated roughly $1 billion in annual sales at its peak.
Alnylam's second drug in late-stage development is also aimed at transthyretin amyloidosis, but patisiran is intended to reduce nerve damage caused by its buildup. This is a far less common symptom than heart damage, and peak annual sales estimates for the drug candidate top out around $700 million. Luckily, a recent safety analysis suggests patisiran isn't causing the same side effects that doomed revusiran.
It's also fortunate that Alnylam has two more candidates ready to enter phase 3 trials in 2017 that sport an arguably safer delivery technology than revusiran. Givosiran is a candidate for treatment of acute hepatic porphyrias, a series of enzymatic disorders that affect an estimated 5,000 patients throughout the U.S. and Europe who lack effective preventative treatment options. Fitusiran is a unique hemophilia candidate aimed at lowering antithrombin activity, rather than replacing factors associated with the bleeding disorder. If successful, it could find a small niche among roughly 6,000 hemophilia patients worldwide who have developed inhibitors to current factor-replacement therapies.
Arguments for Ionis Pharmaceuticals
While Alnylam's RNA interference approach is far different from Ionis' antisense approach, it also has a transthyretin-related program with ongoing safety issues. In May, Ionis stock was pummeled after its partner,GlaxoSmithKline, announced it would delay advancing IONIS-TTRrx into a phase 3 heart damage study in light of dangerously low platelet levels associated with its use.
Unlike Alnylam, Ionis and Glaxo are developing the same candidate for treatment of transthyretin-related nerve damage. If its safety profile holds up through a phase 3 trial in this group, its big pharma partner might allow the delayed study to continue.
Also in stark contrast to Alnylam, Ionis has earned FDA approval for two drugs already. Kynamro -- for treatment of a rare, inherited form of super-high cholesterol -- flopped in the face of competing drugs. Luckily, its second drug to earn the green light has a much better chance in the commercial stage. Its collaboration partner Biogen will launch recently approved Spinraza unopposed as the first treatment for the most common genetic cause of infant mortality in America, spinal muscular atrophy (SMA).
The disease is most severe when it affects newborns, but a much larger population doesn't begin showing symptoms until later in life. A single approval for all SMA patients could allow the drug to reach peak annual sales of around $2 billion sooner than expected, and Ionis will receive a tiered royalty percentage up to the mid-teens.
In the meantime, the approval triggers a $60 million milestone payment from Biogen, which will help fund development of a candidate that Ionis owns outright. Volanesorsen recently smashed through its main goal in a phase 3 trial with severe hypertriglyceridemia patients, which suggests it has a clear shot at becoming the first effective therapy for two rare metabolic disorders.
The better buy
Investing in the pioneer of RNA interference today seems like a risky proposition. It will be at least a year before we know whether Alnylam has a chance of launching patisiran, at which time it may have to compete with IONIS-TTRrx for share of an already small space.
Image source: Getty Images.
Ionis Pharmaceuticals stock is hardly risk-free. Its valuation suggests success well beyond Spinraza, which is still far from certain. Its entire lineup is based on RNA antisense technology that still lacks enough real-world data to boast a squeaky-clean safety profile.
We'll know more within a couple of years as the Spinraza launch unfolds, which is a lot more than we can say for Alnylam at the moment. Despite its higher valuation, a much clearer path to profitability makes Ionis Pharmaceuticals the better stock pick right now.
10 stocks we like better than Ionis Pharmaceuticals When investing geniuses David and Tom Gardner have a stock tip, it can pay to listen. After all, the newsletter they have run for over a decade, Motley Fool Stock Advisor, has tripled the market.*
David and Tom just revealed what they believe are the 10 best stocks for investors to buy right now... and Ionis Pharmaceuticals wasn't one of them! That's right -- they think these 10 stocks are even better buys.
Click here to learn about these picks!
*Stock Advisor returns as of Nov. 7, 2016
Cory Renauer has no position in any stocks mentioned. You can follow Cory on Twitter @coryrenauer or LinkedIn for more biotech investing insights.
The Motley Fool owns shares of and recommends Alnylam Pharmaceuticals, Biogen, and Ionis Pharmaceuticals. Try any of our Foolish newsletter services free for 30 days. We Fools may not all hold the same opinions, but we all believe that considering a diverse range of insights makes us better investors. The Motley Fool has a disclosure policy.