Better Buy: Alnylam Pharmaceuticals, Inc. vs. Incyte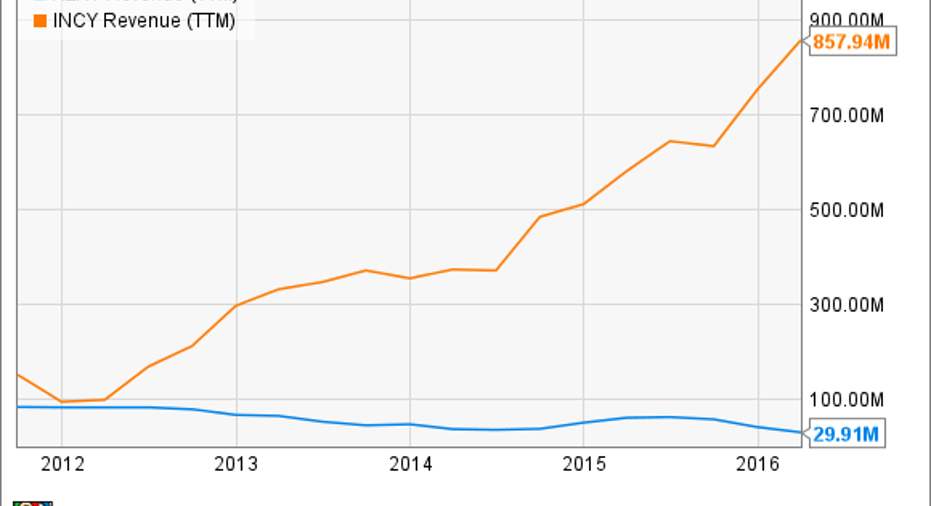 Image source:Getty Images.
Shares of bothAlnylam Pharmaceuticals andIncyte are down heavily this year. Both biotech stocks have seen some recent lift but may still be bargains at recently depressed prices.
Alnylam has yet to develop its seemingly promising method of silencing troublesome genes into a commercial-stage product, but the company has plenty of candidates in its lineup. Incyte has one commercial-stage drug and some interesting opportunities.
With this in mind, let's look at where the two drugmakers are and where they're going in order to see which one is the better buy.
Current revenue streams
Alnylam has recorded annual revenue above $35 million over the past five years, despite a lack of approved products to sell. What it does have are some collaborations agreements with Sanofiand other large companies that pay Alnylam when partnered new drug candidates pass specified milestones.
As you can see, Alnylam's collaboration revenue has been sliding, with less than $30 million recorded over the trailing-12-month period.
ALNY Revenue (TTM) data by YCharts.
Incyte also receives collaboration-based revenue, but its top line has climbed mainly through sales of its single approved drug, Jakafi, for treatment of rare stem cell disorders.
Jakafi was first approved for treatment of myelofibrosis in 2011, but an expansion to the somewhat larger polycythemia vera population in 2014 has driven its sales much higher.In the first quarter, Jakafi revenue increased 59% over the same period last year, to $183 million, and Incyte expects its sales to reach at least $815 million for the full year.
Potential growth drivers
Incyte may be able to expand Jakafi's addressable population again in the near future to patients suffering from acute graft-versus-host disease. This is an often lethal side effect that arises from donor stem cell transplants. Jakafi's early clinical stage performance in these patients with a dearth of effective options has led the FDA to promise Jakafi an expedited review if future studies to support a graft-versus-host disease application are successful.
Closer to the finish line for Incyte is anEli LIlly-partnered program for a rheumatoid arthritis pill that could add as much as $1 billion annually to Incyte's sales. Lilly filed an FDA application for baricitinib in January, and last month the company revealed results that suggest it can compete with AbbVie's multibillion-per-year treatment, Humira.
Image source: Incyte.
Looking further ahead, Incyte recently began a phase 3 trial with epacadostat in combination with Merck & Co.'sKeytruda. Merck's drug is approved for treatment of skin cancer and works by blocking an immune cell shut-off switch that cancer cells exploit to evade attack. Incyte's experimental epacadostat blocks a different immune shut-off switch, and the two-drug combination could have significant potential.
Last month Incyte and Merck began a phase 3 trial, sharing expenses, that should have some results in 2018. If successful, Incyte's drug could become part of a combination used to treat some advanced-stage skin cancer patients. Incyte's share of sales from such a combination could add more than $150 million annually to the company's top line, and it could encourage further development of epacadostat. Incyte's candidateis also in clinical trials with Bristol-Myers Squibb's Opdivo andRoche's Tecentriq.
Meanwhile, Alnylam is in phase 3 trials with twoSanofi-partnered drugs to treathereditary amyloidosis. Patisiran, for treatment of nerve damage, and revusiran, for treatment heart damage caused by the rare genetic condition, could reach peak annual sales of about $700 million and $800 million respectively.
Recently released results from phase 2 trials show patisiran has a solid chance of succeeding in phase 3. Data for revusiran was less conclusive due to its immaturity, but it points in the right direction.
Image source: Alnylam Pharmaceuticals.
Beyond these two, Alnylam has another Sanofi-partneredcandidate, fitusiran, for treatment of hemophilia, slated to begin phase 3 trials later this year.
Alnylam has a robust pipeline, but nearly all of its candidates outside the Sanofi collaboration are in very early stages of development.
In the numbers
Alnylam finished the first quarter with about $980 million in cash and marketable securities, which is a nice cushion for a clinical-stage biotech. What has investors concerned is the $96.2 million it spent on R&D, leading to a total reported loss of $116 million over the three-month period.
At this rate, by the time we know if the Sanofi-partnered programs are successes or duds, that cash cushion won't be nearly as comfortable. If patisiran or revusiran flops, Alnylam's other partners might take a step back. The knock-on effect could result in Alnylam funding development of its vast pipeline by selling its own shares, which will in turn shrink investors' potential slice of any future profits and lead to heavy losses.
On the other hand, Jakafi sales are quickly pushing Incyte toward profitability, but the stock isn't cheap. At 18 times trailing sales, it seems the market has already baked in some success for Jakafi and baricitinib.
Despite the premium, a commercial-stage product and another under FDA review make Incyte a much safer place to put your money. That relative safety, combined with epacadostat's potential, gives Incyte's stock an edge over Alnylam's, making it the better buy.
The article Better Buy: Alnylam Pharmaceuticals, Inc. vs. Incyte originally appeared on Fool.com.
Cory Renauer has no position in any stocks mentioned. The Motley Fool owns shares of and recommends Alnylam Pharmaceuticals. You can follow Cory on Twitter @TMFang4apples or connect with him on LinkedIn for more healthcare industry insight. Try any of our Foolish newsletter services free for 30 days. We Fools may not all hold the same opinions, but we all believe that considering a diverse range of insights makes us better investors. The Motley Fool has a disclosure policy.
Copyright 1995 - 2016 The Motley Fool, LLC. All rights reserved. The Motley Fool has a disclosure policy.