Better Buy: Agenus Inc. vs. Celldex Therapeutics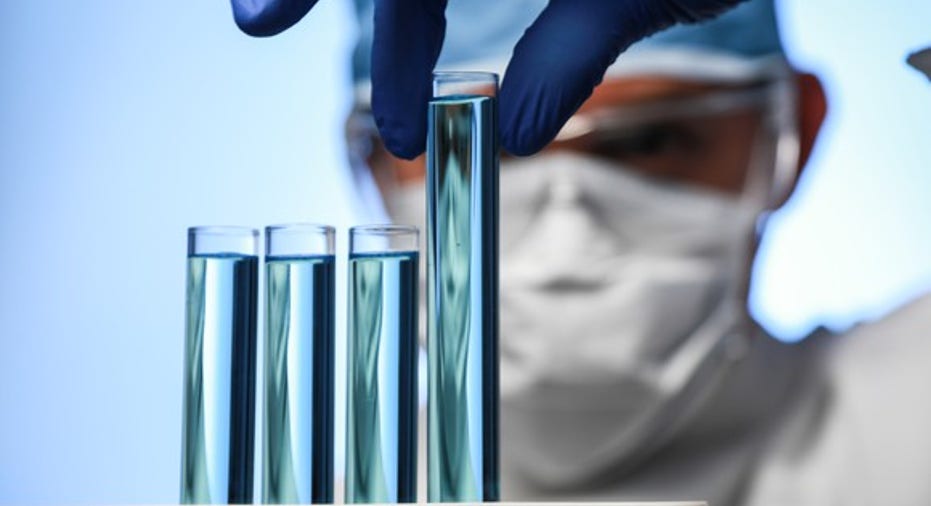 Agenus Inc (NASDAQ: AGEN) and Celldex Therapeutics, Inc. (NASDAQ: CLDX) bear an uncanny resemblance to each other. Both clinical-stage biotechs are focused on developing novel cancer therapiesand reported clinical-trial failures with vaccine candidates in development for the treatment of brain cancer.
If strikingly similar trial failures weren't freaky enough, the two companies' market values are nearly identical -- right around $350 million. But, when you dig in, the two companies have some major differences. Which one is the better biotech buy right now? Let's dive in.
Image source: Getty Images.
Agenus Inc: No Prophage, no problem
Recently, this biotech disclosed the failure of an independently sponsored clinical trial with Prophage, its personalized vaccine designed to stimulate the immune system to attack brain tumors. Agenus was swift to remind investors it has plenty of irons in the fire.
Furthest along is a shingles vaccine from GlaxoSmithKlinethat contains Agenus' proprietary adjuvant. An application for Shingrix is awaiting an FDA decision widely expected to be positive. If approved, it could generate nearly $1 billion in sales at its peak for Glaxo, resulting in a steady royalty stream for Agenus.
Another important partnership involves Incyte, which recently agreed to fully fund development of two antibody programs that Agenus scooped up for just $10 million up front a few years back. If successful, thepartnered proteins would be the first drugs to target GITR and OX40, two checkpoints that some cancer cells exploit to avoid an immune system attack.
Although the candidates are still in early-stage clinical trials, Incyte must like what it sees so far. In February, the big biotech agreed to fund development of the two candidates, leaving Agenus eligible for $510 million in potential milestone payments and a hefty 15% royalty on any sales. The deal also included a big equity stake in Agenus that suggests an outright acquisition could be in the cards if the programs succeed.
Celldex Therapeutics, Inc.: A bustling pipeline
Agenus' recent brain cancer snafu will soon be forgotten, but Celldex's vaccine failure was one of 2016's worst: Rintega performed as expected, but the control group receiving standard chemo did unusually well.
It looks like the heavy losses left bruises that the market isn't ready to forget, and the stock has yet to recover. That could change before too long. Celldex has another candidate approaching the finish line, called glemba, that is entirely unrelated to Rintega. It uses proven technology, but it's the first to aim for gpNMB, a protein often found on the surface of cancer cells.
Glemba. Image source: Celldex Therapeutics, Inc.
Glemba has already shown a significant survival benefit for heavily pretreated breast cancer patients with an extremely difficult-to-treat form of the disease. Repeating its past performance in a larger trial currently enrolling similar patients would almost certainly lead to an approval that could send Celldex stock rocketing upwards.
Celldex hasn't inked any licensing deals for its candidates, but that doesn't mean it hasn't caught the attention of bigger players. Varlilumab, which stimulates the immune system to attack tumors, is being tested in combination with two of the most exciting cancer therapies available today, Tecentriq from Roche, and Opdivo from Bristol-Myers Squibb. The little biotech also boasts an earlier-stage candidate, CDX-1401, in a combination trial with one of Incyte's more interesting experimental therapies, epacadostat.
Late last year, Celldex's acquisition of a privately held biotech added two more clinical-stage cancer therapy candidates to an already bustling pipeline. There are no guarantees any will cross the goal line, but you'd be hard-pressed to find another biotech this size taking as many shots.
And the winner is...
At recent prices, Agenus and Celldex sport similar market caps of about $363 million and $355 million, respectively, but Agenus may at fist look like a safer pick. An approval for Shingrix seems likely to provide the company with a modest revenue stream by year's end, and its deal with Incyte shifts nearly all the development risk to the larger partner.
Celldex, on the other hand, owns its experimental therapies outright. While it's responsible for development expenses, it also stands to receive all of the potential sales its candidates could eventually generate. Although it's riskier, it looks poised to provide larger gains in the long run. For a risk-tolerant investors, Celldex is the better buy right now.
10 stocks we like better than Celldex TherapeuticsWhen investing geniuses David and Tom Gardner have a stock tip, it can pay to listen. After all, the newsletter they have run for over a decade, Motley Fool Stock Advisor, has tripled the market.*
David and Tom just revealed what they believe are the 10 best stocks for investors to buy right now... and Celldex Therapeutics wasn't one of them! That's right -- they think these 10 stocks are even better buys.
Click here to learn about these picks!
*Stock Advisor returns as of February 6, 2017
Cory Renauer has no position in any stocks mentioned. The Motley Fool recommends Celldex Therapeutics. The Motley Fool has a disclosure policy.