Better Buy: Agenus Inc. vs. bluebird bio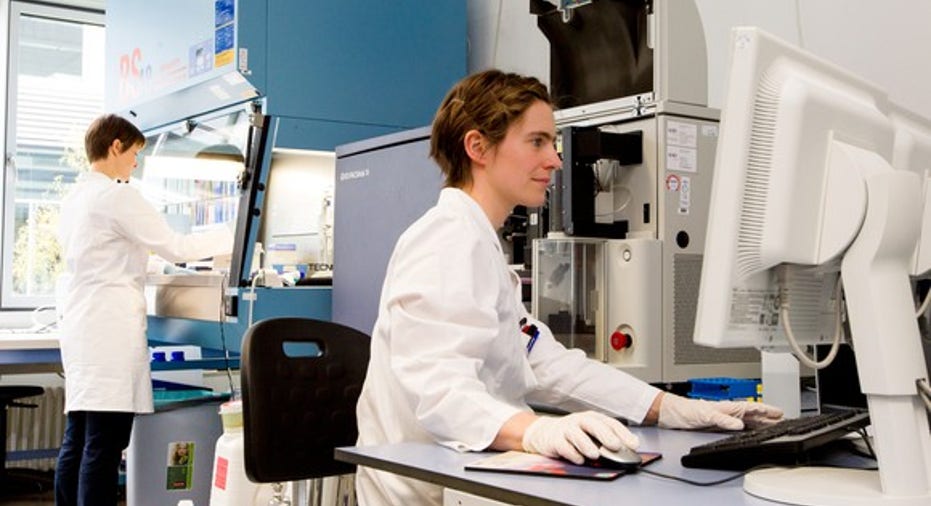 Image source: Getty Images.
Clinical-stage biotechsAgenus Inc. andbluebird bio are developing new and exciting treatment options for cancer and other diseases. Both of their stocks also lost a great deal of their value over the past year. Agenus shares are about 53% lower than they were a year ago, and Bluebird has given up about 77% over the same period.
Both stocks look like potential bargains, so now is a good time to take a closer look at what's coming through their respective pipelines. Let's compare them on a handful of criteria to see which is the better buy.
Partnerships
One of the first things to check for when considering biotech stocks is interest from larger companies. You can tick this box for both of these biotechs, but the relevance of their partnerships to their overall operations is much different.
Agenus' candidate closest to approval is its QS-21 Stimulon adjuvant, basically a booster for vaccines under development byGlaxoSmithKline. Phase 3 successes for partnered malaria and shingles vaccines were a good sign, and Agenus expects Glaxo to file applications for approval of the shingles vaccine in the second half of the year.
A couple of years ago, Agenus acquired technology for rapid discovery of certain proteins that aroused the interest of Merck & Co. andIncyte, which entered agreements with Agenus to produce some clinical candidates.Incyte paid Agenus $25 million up front for a handful of candidates that could begin clinical studies, some of which the partners will share costs to develop, and others to be developed by Incyte. The deal is complicated, but in a nutshell, the more Agenus risks developing each candidate, the larger its share of potential profits if it succeeds.
Image source: Agenus Inc.
More recently, Merck selected a candidate to develop with its own resources. This triggered a $2 million payment to Agenus, with more to come if Merck advances the undisclosed compound through clinical stages, and potential royalties if it reaches pharmacy shelves.
Bluebird'smost important collaboration is with oncology giantCelgene. The highly collaborative big biotech has already fronted Bluebird $100 million to discover and develop two candidates through phase 1 studies.
Bluebird began a phase 1 trial with the first candidate -- bb2121, a potential multiple myeloma therapy -- this February. Even more encouraging, Celgene exercised its option to exclusively license the candidate at the beginning of the trial. This means Bluebird doesn't need to pay for further studies but is still entitled to potential payments if it crosses regulatory hurdles, and royalties if it generates sales.
Unpartnered programs
Agenus owns a phase-3-ready candidate for treatment of brain cancer. Its Prophage vaccine showed improved outcomes over historicalaverages in phase 2. If it can repeat the success in a controlled trial, which the the company would like to begin this year, it could become the company's most important asset.
Unlike Agenus, Bluebird is currently running a trial that could support an application with a candidate it owns outright, albeit in an extremely limited indication at first, with much larger indications possible in the future.Bluebird's lentiviral-based cellular therapies involve "infecting" a patient's own stem cells with a genetic fix before reintroducing them. In the extremely limitedchildhood cerebral adrenoleukodystrophy indication, Bluebird's therapy is easily on par with the standard treatment of donated stem cell transplants in terms of efficacy, but it'smuch saferdue to a lack of often fatal graft-versus-host disease side effects.
Image source: bluebird bio.
Cerebral adrenoleukodystrophy occurs in just one of about 20,000 births, and the form Bluebird will probably file an application to treat first accounts for about 30% to 40% of this tiny group.
This is why all eyes are on Bluebird's similar cellular therapy, Lentiglobin for treatment of the larger beta-thalassemia population (about 288,000 patients worldwide), as well as the enormous sickle-cell population (about 25 million patients worldwide).
Because childhood cerebral adrenoleukodystrophy is often fatal, it wasn't difficult to find a control group of patients receiving dangerous donor stem-cell transplant procedures for comparison. This isn't the case for beta-thalassemia, or sickle cell disease.
These patients have trouble producing functional hemoglobin, and some genetic subsets are more severe than others, but both diseases are often treatable without resorting to dangerous stem-cell transplants.
Without a control group, the path to regulatory approval is extremely rocky for Lentiglobin in these larger indications. However, Bluebird intends to file an application for conditional approval for treatment of beta thalassemia with data from ongoing studies in the EU. In the U.S., the company will shoot for an accelerated approval based on two studies that haven't started yet with less severe forms of the disease.
In the numbers
Agenus monetized its potential royalties from its Glaxo vaccine partnership, which put some cash in its coffers -- and a load of debt on its books.
Agenus' current book value (total assets minus total liabilities) was $44.5 million at the end of March. With $41.7 of that book value consisting of intangible assets (those with no physical form, which rarely increase in value), I'd say the current market cap of $350 million involves a great deal of risk. If royalties from Glaxo don't begin flowing as expected, or if partnered candidates don't trigger more milestone payments, then Agenus might not have enough cash to fund the planned phase 3 trial with Prophage.
Image source: bluebird bio.
Bluebird's market cap of about $1.5 billion is less than twice its book value of $806.5 million, even if you strip out its intangibles.Both companies have plenty to look forward to, but Bluebird'sprice-to-book ratio and proximity to approval of its own product make it the better buy.
The article Better Buy: Agenus Inc. vs. bluebird bio originally appeared on Fool.com.
Cory Renauer has no position in any stocks mentioned. You can follow Cory on Twitter @TMFang4apples or connect with him on LinkedIn for more healthcare industry insight. The Motley Fool owns shares of and recommends Celgene. The Motley Fool has the following options: short October 2016 $95 puts on Celgene. The Motley Fool recommends Bluebird Bio. Try any of our Foolish newsletter services free for 30 days. We Fools may not all hold the same opinions, but we all believe that considering a diverse range of insights makes us better investors. The Motley Fool has a disclosure policy.
Copyright 1995 - 2016 The Motley Fool, LLC. All rights reserved. The Motley Fool has a disclosure policy.