Better Buy: Advanced Micro Devices, Inc. vs. NXP Semiconductors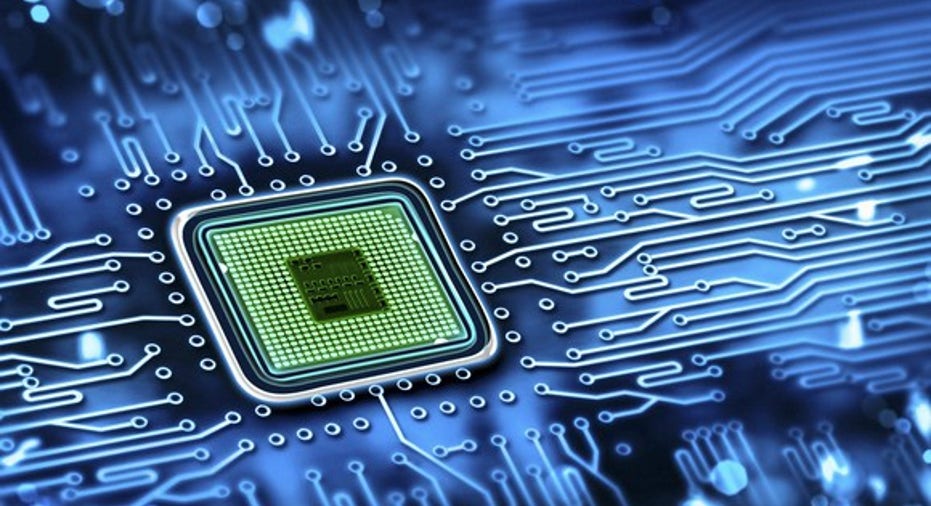 NXP Semiconductors (NASDAQ: NXPI) and Advanced Micro Devices (NASDAQ: AMD) both operate in the semiconductor industry. That's about as far as their similarity goes. One is a rising star in embedded solutions and automotive computing, heading into a $47 billion merger with sector giant Qualcomm (NASDAQ: QCOM). The other is an eternal underdog in the PC market that's working on a dramatic turnaround right now.
Which chip stock is a better fit for your portfolio? Let's find out.
The heart of the matter
The choice between AMD and NXP boils down to two simple questions:
Do you expect Qualcomm's buyout of NXP to run into any issues in the regulatory review phase? If so, NXP shares should fall when the merger is deep-sixed and AMD should be the obvious investment pick.
Otherwise, NXP becomes a simple ticket to 14% returns by the end of 2017. Can AMD beat that 11-month payoff?
Is NXP's deal safe?
I have often said that the Qualcomm-NXP combination looks like a lock. The two companies share very few customers and end markets, so this merger is not likely to create any sort of monopoly. Regulatory roadblocks would have to focus on the sheer scale of the buyout. Moreover, President Donald Trump is paving the way to easier megamergers by nominating anti-regulation candidates to many key government roles. So, this buyout should be a cakewalk.
Unfortunately, that high-odds risk has suddenly become more likely.
Last week, Qualcomm was served a lawsuit from major customer Apple (NASDAQ: AAPL), wherein the iPhone maker claims that the chipmaker has been playing extortion games with its component supply chain.
Qualcomm shares fell as much as 14% on the news, and some analysts expect the lawsuit to delay the NXP deal. Renewed scrutiny of Qualcomm's business practices could block rubber-stamp deal approvals in important territories such as China, Taiwan, and South Korea.
The Apple charge will also divert management attention and other assets from the NXP process. If nothing else, the final approval might be pushed into 2018 or beyond.
This is a real risk for the NXP merger, but I still expect the final signatures to be delivered by the end of the year. This business combination is too important to let it slide out of view. And don't forget that regulatory intervention would lead to Qualcomm sending a $1.25 billion breakup fee NXP's way.
Your mileage may vary, which is fine. But if you agree with my analysis, NXP remains a near-certain 14% return from here, and AMD needs to show a stronger hand than that.
Image source: Getty Images.
What can AMD do?
Let's cut to the chase: AMD shares could go absolutely anywhere in 2017. That's enough to keep my finger away from the buy button.
The chipmaker had a fantastic year in 2016. AMD introduced a new graphics chip architecture to rave reviews, promised an equally game-changing update to its CPU portfolio in 2017, and saw share prices quadruple. AMD's chart has cooled down a bit in January, falling back 12% as the company prepares for a fourth-quarter report next week. But that's still a lot of market momentum. Share prices could keep skyrocketing in 2017 if the company continues to deliver on its next-generation technology promises.
That's a big if, though. AMD does not have a great track record when it comes to dependable execution, and often falls far short of ambitious goals. Recently appointed CEO Lisa Su has been a breath of fresh air so far, but she is battling the fallout from nearly a decade's worth of less-successful predecessors.
If AMD's momentum runs out, the stock has a long way to fall. AMD's trailing earnings and EBITDA profits are negative, and free cash flows stand at a razor-thin $148 million. Lacking the support of traditional valuation builders, the stock chart would take a dramatic nosedive in a hurry on the slightest of errors.
AMD owners can win big or lose big here. That's a poker chip, not an investment thesis.
By contrast, NXP offers a near-guaranteed 14% return. Even if the Qualcomm deal falls apart, there's a quick $1.25 billion cash payment in it for NXP investors.
This one isn't a close call. I would take NXP over AMD in a heartbeat.
10 stocks we like better than Advanced Micro Devices When investing geniuses David and Tom Gardner have a stock tip, it can pay to listen. After all, the newsletter they have run for over a decade, Motley Fool Stock Advisor, has tripled the market.*
David and Tom just revealed what they believe are the 10 best stocks for investors to buy right now... and Advanced Micro Devices wasn't one of them! That's right -- they think these 10 stocks are even better buys.
Click here to learn about these picks!
*Stock Advisor returns as of January 4, 2017
Anders Bylund has no position in any stocks mentioned. The Motley Fool owns shares of and recommends Apple and Qualcomm. The Motley Fool has the following options: long January 2018 $90 calls on Apple and short January 2018 $95 calls on Apple. The Motley Fool recommends NXP Semiconductors. The Motley Fool has a disclosure policy.