Better Buy: Activision Blizzard vs Electronic Arts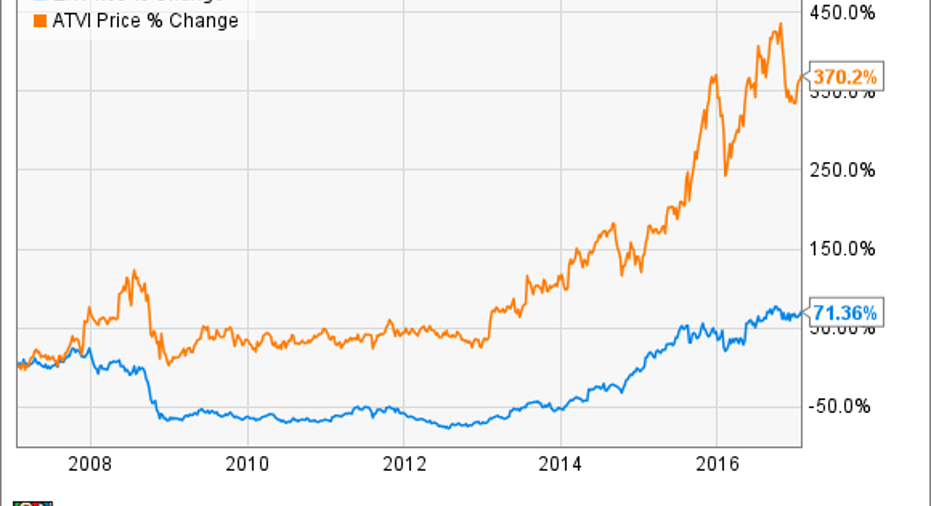 Both Electronic Arts(NASDAQ: EA) and Activision Blizzard (NASDAQ: ATVI) are benefiting from the growth in full-game downloading, sales of in-game content, and mobile gaming. These sources of revenue are allowing video game publishers to keep inventory and in-store marketing costs down, and this allows more revenue to flow to the bottom line.
The outcome is that both businesses have shown dramatic improvements in profitability in recent years. But which is the better buy today?
The case for Electronic Arts
Electronic Arts game Battlefield 1. IMAGE SOURCE: ELECTRONIC ARTS INC.
In the last five years, Electronic Arts has successfully turned itself around from a business struggling to breakeven to one of the most profitable businesses in the industry with over $1 billion in net income. The stock has rocketed over 300% since 2012 as a result.
From fiscal 2013 to fiscal 2016, EA's revenue from physical sales of games for both console and PC has declined from $2.3 billion to $2 billion. At the same time, digital revenue has grown from $1.4 billion to $2.4 billion. Because Electronic Arts doesn't have to hold inventory to sell digital copies of games and other content, all of this incremental revenue from digital sources flows straight to the bottom line.
Electronic Arts has been successful in porting over best-selling EA Sports franchises -- Madden and FIFA -- from consoles to mobile platforms. Other top 100 selling mobile games owned by Electronic Arts are Plants vs. Zombies, The Sims, and BioWare's Star Wars: Knights of the Old Republic.Further technological advances in smartphones and tablets will continue to provide a tailwind for EA's mobile gaming business.
With respect to EA's console business, digital revenue on a trailing 12 month basis increased 21% year over yearto $1.365 billion as of the most recent quarter. Electronic Arts is growing its console business with annual releases of hit franchisesBattlefield, Madden, and FIFA. The highly anticipated release of the science-fiction action game,Mass Effect: Andromeda, is a major catalyst in the short term with a March 2017 release.
Other avenues of potential growth are emerging as the company recently formed a separate division to pursue the opportunity of eSports, which is expected to be a $1.23 billion market by 2019.
The case for Activision Blizzard
Overwatch League IMAGE SOURCE: ACTIVISION BLIZZARD, INC.
Activision Blizzard is also pursuing eSports with Overwatch League, which is well positioned to be the most valuable competitive tournament in the world. Activision appears to be more aggressive in going after eSports in the same way Electronic Arts was more aggressive in pursuing mobile gaming.
As mobile opened up new business models for game publishers in the categories of free-to-play games and in-game purchases, the growing interest in competitive gaming will open up new opportunities in advertising and licensing -- not to mention additional brand awareness to certain game franchises.
Activision has also been beating Electronic Arts in the most popular gaming genre, first person shooters. According to VGChartz, Battlefield was the second best-selling first person shooter in the holiday quarter. The king of shooters is Activision's Call of Duty, which was the top selling console franchise in 2016.
It is a significant testimony to the Call of Duty brand considering that the November 2016 release of Call of Duty: Infinite Warfare received inferior reviews compared to Battlefield 1, released about the same time. Likewise for previous iterations of both franchises.Activision Blizzard has seven franchises with revenue of $1 billion or more. This strong portfolio of games helped Activision generate $1.3 billion in net revenue in the third quarter, an increase of 43% year over year excluding the acquisition of King Entertainment. Almost $1 billion was in-game content sales. Activision expects to report $6.5 billion in revenue for the full year 2016, of which about 75% will be derived from digital sources.
A few years back, it seemed the Call of Duty developer was lagging the mobile gaming trend as Electronic Arts was making a much more assertive effort there. Activision took a major leap forward with the purchase of King Entertainment -- the maker of the popular mobile game Candy Crush --which contributed $459 million to Activision's third quarter revenue.
The King acquisition, along with the 2008 merger with Blizzard Entertainment, is the reason why Activision is the largest and most diversified video game publisher. These acquisitions highlight the advantage Activision has had with consistent leadership at the helm, something Electronic Arts hasn't had the luxury of.
The better buy is...
Going forward, Electronic Arts is in a better position to make acquisitions of its own, and perhaps duplicate the moves Activision is making in competitive gaming, advertising, and subscription business models.
That aside, Activision has been successful in finding ways to keep bringing players back to long running franchises by steadily releasing new game versions, in-game content, and expansion packs. New franchises, such as Destiny and Overwatch, and the emergence of new growth opportunities should allow Activision to continue its lead as the top game publisher.
On top of the diversity of Activision's intellectual property portfolio, it offers slightly better value with a price-to-earnings ratio of 19 compared to 20 for Electronic Arts. Plus, Activision shareholders get a small annual dividend yield of 0.66% compared to no dividend with Electronic Arts.
For these reasons, Activision Blizzard is the better buy.
10 stocks we like better than Electronic ArtsWhen investing geniuses David and Tom Gardner have a stock tip, it can pay to listen. After all, the newsletter they have run for over a decade, Motley Fool Stock Advisor, has tripled the market.*
David and Tom just revealed what they believe are the 10 best stocks for investors to buy right now... and Electronic Arts wasn't one of them! That's right -- they think these 10 stocks are even better buys.
Click here to learn about these picks!
*Stock Advisor returns as of February 6, 2017
John Ballard owns shares of Activision Blizzard. The Motley Fool owns shares of and recommends Activision Blizzard. The Motley Fool recommends Electronic Arts. The Motley Fool has a disclosure policy.