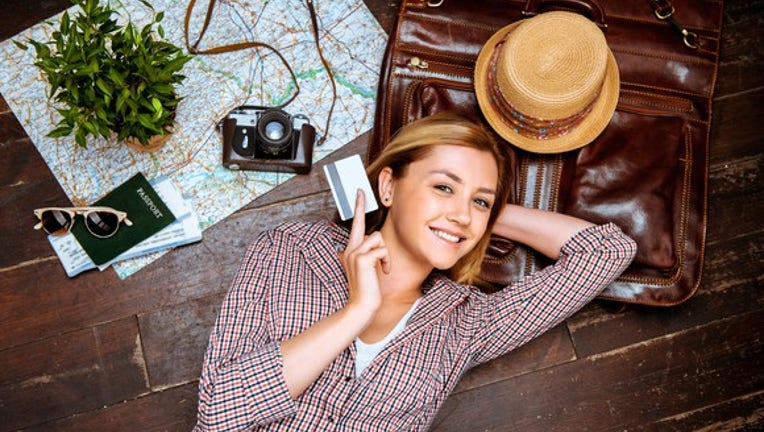 The average family spends $1,145 per person on summer vacations every year, according to American Express. But you can save big bucks by finding a good sign-up bonus on your next credit card.
The top sign-up bonuses may require you to pay an annual fee, but the benefits could easily outweigh the costs for you, depending on your travel plans. Combine that with a lucrative sign-up bonus, and you can vacation for less in no time.
We've gone through the most popular travel credit cards on the market, and here's what we think are the best travel credit card sign-up bonuses in April.
Image source: Getty Images.
Barclaycard Arrival Plus World Elite MasterCard
The Barclaycard Arrival Plus is currently offering 50,000 bonus miles to new customers that spend $3,000 within the first 90 days following approval. That's an increase from the standard offer of 40,000 miles. The annual fee of $89 is waived the first year as well.
Each mile can be redeemed for $0.01 in travel, making the bonus worth $500. (Cardholders can also opt to receive cash back, but at only half the rate of travel redemptions.) The card also offers 2 miles per dollar spent on regular purchases, so cardholders get 2% back in travel spending. Additionally, customers receive 5% back on each miles redemption, so when they redeem those 50,000 bonus miles, they get 2,500 miles (worth $25) back for a future purchase.
The nice thing about the Barclaycard Arrival Plus is that you just apply the miles toward eligible travel expenses you already make on your credit card, so there are very few restrictions on what you can spend your miles on -- airline tickets, hotels, car services, etc. Any expense coded as travel is eligible. That also lets you shop around for the best deals instead of being limited to the price offered from a credit card portal.
If you like the idea of extremely flexible point redemptions, this may be the sign-up bonus for you. (Read our full review of The Barclaycard Arrival Plus World Elite MasterCard.)
Chase Sapphire Preferred
If you can spend $1,000 more in three months, you might be interested in the Chase Sapphire Preferred. Chase currently offers new applicants 50,000 bonus points after spending $4,000 in the first three months following approval. The annual fee of $95 is waived the first year.
Cardholders will also receive an additional 5,000 bonus points after adding an authorized user in the first three months for a total of 55,000 points. Cardholders also earn 2 points per dollar spent on restaurants and travel, which is effectively 2.5% back for travel. All other purchases earn 1 point per dollar.
Points can be redeemed for $0.0125 through Chase's travel portal, making the bonuses worth a combined $687.50 in travel spending. Points can also be redeemed as a statement credit for $0.01 per point. Another lucrative way to use points is to transfer points to Chase's various travel partners like Southwest Airlines or Hyatt Hotels, some of which can offer much higher redemption values than $0.0125 per point.
If you spend a little bit more (or have a big expense coming up) and want some highly valuable travel points, the Chase Sapphire Preferred may be for you. (Read our full review to learn more.)
Chase Marriott Rewards Premier
Chase recently increased the sign-up bonus on the Marriott Rewards Premier card from 80,000 points to 100,000. Eligible cardmembers will have to spend $5,000 within three months in order to receive the bonus. (That's also an increase, up from $3,000 in three months.) Applicants can also receive an additional 7,500 points when they add an authorized user and they make their first purchase within three months.
The annual fee is $85, but the fee is offset by a voucher for a free night at any category 1-5 property after the first year. It's like getting a hotel room for just $85.
The card earns 5 points per dollar spent at any Marriott, Ritz Carlton, or SPG property. It'll earn 2 points per dollar spent on airfare, car rentals, and restaurants. It earns 1 point per dollar everywhere else.
What makes the Marriott Rewards Premier card sign-up bonus so valuable is Marriott's recent merger with Starwood, which offers excellent redemption values and the option to further transfer your points to SPG's numerous airline partners. Members to both rewards programs can transfer three Marriott points for every 1 Starwood SPG point, making the 107,500 Marriott points worth nearly 36,000 SPG points. That's much more than the standard 25,000 point sign-up bonus on the Starwood Preferred Guest credit card from American Express. (That card only requires $3,000 in spend to receive the sign-up bonus, though.)
If you like to stay at Marriott or Starwood properties or you don't mind getting your hands dirty and figuring out the best way to transfer points to an airline partner for your next flight, the Marriott Rewards Premier Card could be the best sign-up bonus for you.
BankAmericard Travel Rewards
If you're not into the whole annual fee thing, the BankAmericard Travel Rewards credit card offers a lucrative sign up bonus and all it will cost you is a credit inquiry. New cardmembers may be eligible to earn 20,000 bonus points after spending just $1,000 in the first 90 days.
Each point can be redeemed for $0.01 toward travel-related statement credits, making the sign-up bonus worth $200. Like the Barclaycard Arrival Plus, points are used to offset eligible travel expenses, providing more flexibility than many other travel credit cards.
The BankAmericard Travel Rewards card earns 1.5 points per dollar on all purchases. What's more, some Bank of America banking customers could qualify for up to a 75% bonus on the points they earn through its Preferred Rewards program. Customers in the highest tier would earn 2.62% back on every dollar they spend for travel-related purchases. That may be the highest rate we've come across for a no-annual-fee credit card.
If you're not interested in paying an annual fee to help fund your travel plans, you want a credit card that earns top rewards on everyday purchases, or you're a top-tier Bank of America Preferred Rewards customer, then BankAmericard Travel Rewards credit card may be for you. (Read our full review to learn more.)
5 Simple Tips to Skyrocket Your Credit Score Over 800!Increasing your credit score above 800 will put you in rare company. So rare that only 1 in 9 Americans can claim they're members of this elite club. But contrary to popular belief, racking up a high credit score is a lot easier than you may have imagined following 5 simple, disciplined strategies. You'll find a full rundown of each inside our FREE credit score guide. It's time to put your financial future first and secure a lifetime of savings by increasing your credit score. Simply click hereto claim a copy 5 Simple Tips to Skyrocket Your Credit Score over 800.
Adam Levy has no position in any stocks mentioned. The Motley Fool owns shares of and recommends Marriott International. The Motley Fool recommends American Express and Barclays. The Motley Fool has a disclosure policy.