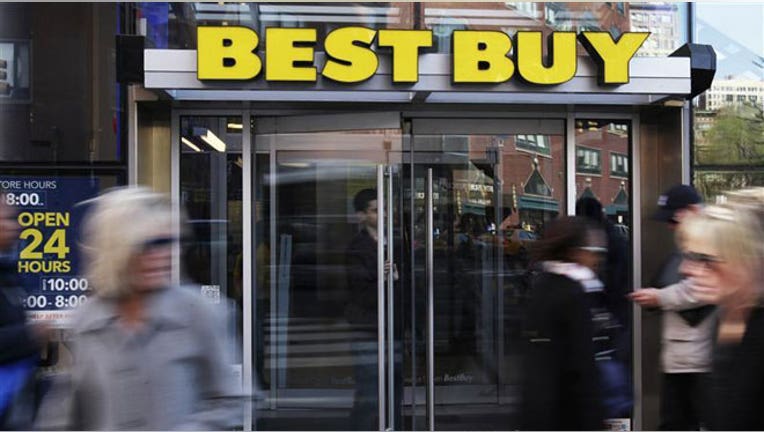 Shares of Best Buy (NYSE:BBY) climbed more than 3% on Monday after UBS (NYSE:UBS) upgraded the once ailing consumer electronics giant from "neutral" to "buy."
The upgrade comes a week before the Richfield, Minn.-based company reports third-quarter earnings. In August, it boasted a huge earnings beat, led by rebounding online sales.
Shares of the retail chain have risen a whopping 270% since January. The rally comes as it works through a lengthy overhaul, which has helped revive sales and axe unnecessary costs.
UBS says after a positive year for Best Buy, the success isn't over yet. The brokerage  predicts a "next phase of appreciation" for Best Buy's stock, estimating its shares move up from their current level of roughly $2.75 on average to north of $3.00 a share, surpassing $3.50 beyond 2015.
"The move in (Best Buy's) share price this year has been all about multiple re-rating with the forward PE moving from 5x to 16x in 12 months," Lasser explained. "Thus, the multiple can contract 10% over the next 12 months and BBY's shares can still return 20%."
The PE ratio, or price-to-earnings ratio, is a measure financial analysts use to gauge how much bang investors are getting for their buck. A higher number means investors are paying a higher level for profits.
That likelihood "skews the risk/reward to the upside," UBS says, leading to a recommended "buy."
Much of that is a reflection of UBS's belief that the retailer will save more than it currently anticipates. The company's plan is to save $400 million in selling, general and administration expensive and $25 million in cost of goods sold, but UBS says those figures will "likely be walked higher over time."
The brokerage actually sees the retailer saving $275 million more than expected, which would bring total expense reductions to roughly $1 billion annually.
"Between the savings that the company has already committed to, the sources of potential upside to those targets, and a modest comp contribution, Best Buy's earnings power can nearly double from the $2.42 that it earned in (fiscal year) 2013," Lasser said.
Best Buy, over the last two years, unleashed a series of management and operational changes as it looked to stem bleeding sales and cut down on costs.
It has also innovated its e-commerce platform to tackle growing competition from digital retailers, including launching price matching and same-day pick-up promotions and revamping its website and rewards program to boost online sales.
It's important to note, though, the company isn't in the clear just yet. It continues to work through its overhaul while shares remain off about 25% from all-time highs in 2006.
Still, of the 23 brokerages with coverage on Best Buy, more than half currently hold either "buy" or "strong buy" ratings on the stock, according to data from Thomson Reuters.