Best Buy: Berkshire Hathaway vs. American Express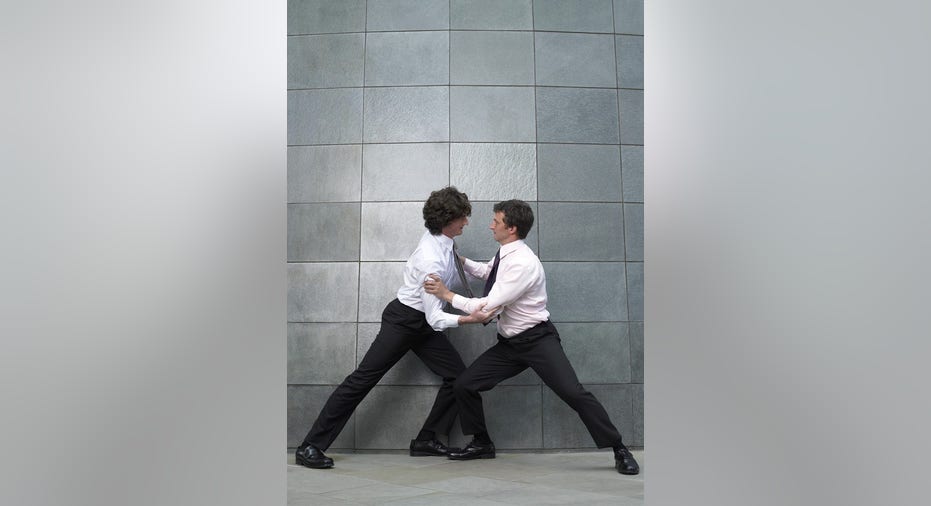 Which is the best buy: Warren Buffett's gargantuan conglomerate Berkshire Hathaway Inc , or card issuer American Express Company ? Both are iconic brands of American business that boast solid profitability and first-rate leadership. In this contest, however, only one can prevail.
After considering the two companies, here's how this Fool made his pick.
Berkshire Hathaway
Berkshire is a superlative collection of businesses (and some sizable stock positions) painstakingly assembled by arguably the world's greatest capital allocator, Warren Buffett, who has transformed a failing textile mill into a $350 billion conglomerate in just over a half-century.
Berkshire's subsidiaries, which cover businesses from candy to metal cutting tools, all exhibit some type of competitive advantage, but Berkshire itself has an economic moat in its corporate form and its corporate culture, an advantage that transcends Buffett.
Built to last
As vice-chairman Charlie Munger wrote in Berkshire's 50thanniversary shareholder letter:
This is a business that has been built to last, but any company, regardless of its quality, can be a poor investment if purchased at the wrong price. How are the shares currently valued?
Berkshire Hathaway is prepared to repurchase its own shares in size at prices up to 1.20 times their book value. Buffett reiterated at last month's annual meeting his opinion that "the stock is worth significantly more than 1.20" times book value. You can take that statement to the bank.
"Significantly more" is as subjective qualifier, of course, but I think it's safe to assume Buffett's estimate of intrinsic value is at least 1.35 times their book value -- the multiple at which the stock is currently changing hands.
A first-class business led by able and honest management at a price at or below its fair value: That's an attractive offer, particularly in a stock market that looks broadly expensive. What of American Express?
American Express
A premium brand, American Express is the largest card issuer in the world by purchase volume. Note that an investor who chooses to buy shares of Berkshire Hathaway over those of American Express is nevertheless buying shares of American Express.
Berkshire Hathaway is AmEx's largest shareholder, with a 15.9% stake. For every Berkshire A share you purchase, you are also picking up .06149 of a share of American Express.
That speaks well for AmEx's business. As Buffett wrote in his most recent shareholder letter, "[t]hese four investees [American Express, Coca-Cola, IBM and Wells Fargo] possess excellent businesses and are run by managers who are both talented and shareholder-oriented."
However, Buffett has a natural inclination (some might call it a bias) toward holding the shares: His cost basis on the position is $1.29 billion against a market value of $9.7 billion as of Monday's close.
The centurion brand faces a dynamic landscape
AmEx may be an excellent business, but it does face a number of competitive threats, including from a little company called Visa Inc and from private-label brands. Add in the fact that the payments industry is changing fast, and it's not clear how this will ultimately affect AmEx.
(For more on some of the challenges the company faces, see my Foolish colleague Jordan Wathen's analysis of "3 Things American Express Should Worry About.")
Still, these challenges appear to be (more than) reflected in a pedestrian valuation: Just 11.8 times this year's earnings per share. That looks like a good price for a superior franchise run by capable management.
Final verdict: Berkshire takes it
Ultimately, choosing between American Express and Berkshire Hathaway is a function of your investing approach, including your time horizon and degree of risk tolerance. Both stocks are likely to beat the S&P 500 over the next five to 10 years.
However, I'm a lot more confident in the preceding statement in Berkshire's case, which is why I'm giving it the nod in this contest. AmEx cannot hope to match the diversity and safety of the businesses Berkshire houses, qualities that translate into extremely safe, highly visible future cashflows. When you can become a part-owner of that cashflow stream at or below its intrinsic value, that's an opportunity worth seizing with both hands.
The article Best Buy: Berkshire Hathaway vs. American Express originally appeared on Fool.com.
Alex Dumortier, CFA, has no position in any stocks mentioned. The Motley Fool owns shares of and recommends Coca-Cola, Visa, and Wells Fargo. The Motley Fool recommends American Express. Try any of our Foolish newsletter services free for 30 days. We Fools may not all hold the same opinions, but we all believe that considering a diverse range of insights makes us better investors. The Motley Fool has a disclosure policy.
Copyright 1995 - 2016 The Motley Fool, LLC. All rights reserved. The Motley Fool has a disclosure policy.