Berkshire Hathaway Inc.'s Best Moves in 2016 So Far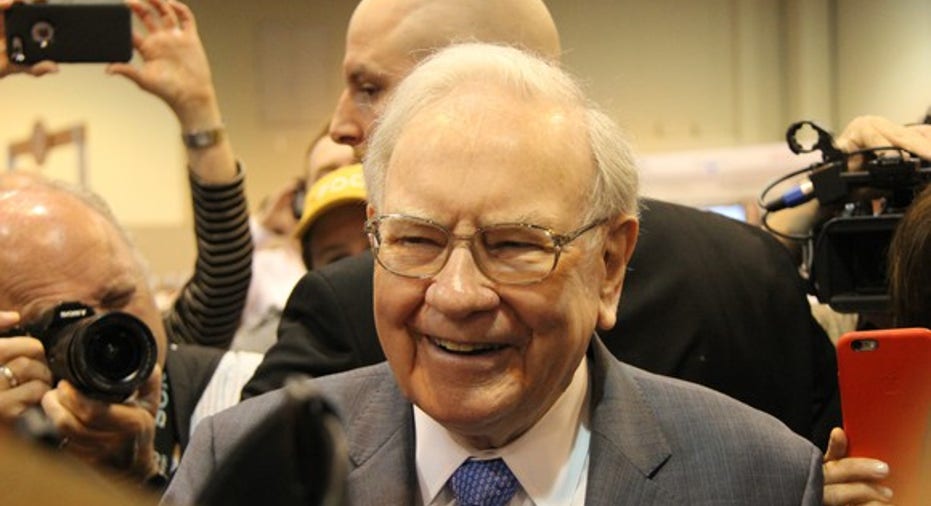 Image source: The Motley Fool.
Warren Buffett-led Berkshire Hathaway (NYSE: BRK-A) (NYSE: BRK-B) has been a good investment in 2016 so far, with the company's stock performance more than doubling that of the S&P 500. Let's take a look at why this may be, as well as some smart moves that could set Berkshire up for even better performance in the months and years to come.
Building its cash reserves
Berkshire Hathaway loves to keep a lot of cash on hand. In fact, it's this policy that allowed the company to complete its biggest acquisition ever: Earlier this year, Berkshire bagged Precision Castparts for about $32.7 billion.
As of the most recent quarterly data, Berkshire has $72.7 billion in cash and equivalents on hand. Warren Buffett has said he likes to keep at least $20 billion on hand at all times, which leaves the company with more than $52 billion in its acquisition-making and stock-picking war chest. To put this amount of money into perspective, Berkshire could theoretically buy Caterpillar, General Motors, Netflix, or Target in cash.
Taking advantage of low interest rates
With more than $72 billion in cash on hand, Berkshire Hathaway has no need to borrow money.However, interest rates are so low right now (especially for a company with credit as strong as Berkshire's) that it would almost be silly for Berkshire not to borrow money.
Berkshire recently issued bonds maturing in 2018 and 2019 with respective interest rates of just 1.15% and 1.3%. And earlier this year, Berkshire tapped into the debt market to repay a loan it took to finance its Precision Castparts acquisition, part of which was originally financed with short-term loans.
As long as Berkshire can earn more by investing money than it costs to borrow that money, some strategic borrowing is a good way to boost profits without tapping into cash reserves. In this case, even if Berkshire managed just a 5% return on its investments, it would make a margin of nearly 4% over the cost of borrowing.
Personally, I'd like to see Buffett & Co. more aggressively take advantage of cheap access to capital, but management is definitely making some smart moves already.
Savvy stock moves
Berkshire Hathaway is famous for its stock portfolio, and the company has made a few buys and sells this year that make me happy as an investor.
In perhaps my favorite move of the year, Berkshire's stock pickers (not Buffett) added Apple (NASDAQ: AAPL) to the company's portfolio. Berkshire acquired a $1 billion stake in the tech giant during the first quarter. Then the stock proceeded to drop like a rock in the second quarter, and what did Berkshire do? It increased its stake by another 55%.
Now, I love Apple as an investment, and I own it in my portfolio. It's cheap, it has one of the best brand names in the world, and it's the top dog in its core businesses. It also has the financial flexibility to make it through even the worst market downturns. However, I also love the investing lesson here: If you've done your research and are convinced that a stock is an excellent long-term investment, then don't run away because the stock has plunged. Instead, buy even more while it's on sale.
Speaking of investing lessons, another good one can be learned from Berkshire's disposal of its massive AT&T (NYSE: T) stake earlier in 2016. Berkshire never particularly wanted to invest in AT&T. Rather, its $2 billion-plus AT&T stake was a result of the company's acquisition of DirecTV.
It was easy to understand why Berkshire liked DirecTV: It was dominant in its industry and had some strong growth opportunities internationally.On the other hand, AT&T isn't a high-growth investment. In fact, the company's growth opportunities are quite limited at this point. There's nothing wrong with AT&T -- I own it in my IRA -- but it's just not a "Buffett stock."
The lesson to be learned here is simple: When your original reasons for investing no longer apply, then it's time to sell.
What will the rest of 2016 hold for Berkshire?
There's no telling which company Berkshire might acquire next, or which stocks it will buy and sell for the rest of the year. We can only expect business to continue as usual -- Berkshire will keep looking for attractive investment opportunities at fair prices. Whether they'll find any more this year remains to be seen.
A secret billion-dollar stock opportunity The world's biggest tech company forgot to show you something, but a few Wall Street analysts and the Fool didn't miss a beat: There's a small company that's powering their brand-new gadgets and the coming revolution in technology. And we think its stock price has nearly unlimited room to run for early, in-the-know investors! To be one of them, just click here.
Matthew Frankel owns shares of Apple, AT and T, Berkshire Hathaway (B shares), Caterpillar, and General Motors. The Motley Fool owns shares of and recommends Apple, Berkshire Hathaway (B shares), and Netflix. The Motley Fool has the following options: long January 2018 $90 calls on Apple and short January 2018 $95 calls on Apple. The Motley Fool recommends General Motors. Try any of our Foolish newsletter services free for 30 days.
We Fools may not all hold the same opinions, but we all believe that considering a diverse range of insights makes us better investors. The Motley Fool has a disclosure policy.