Behind the Scenes of MGM Resorts International's $375 Million New Las Vegas Arena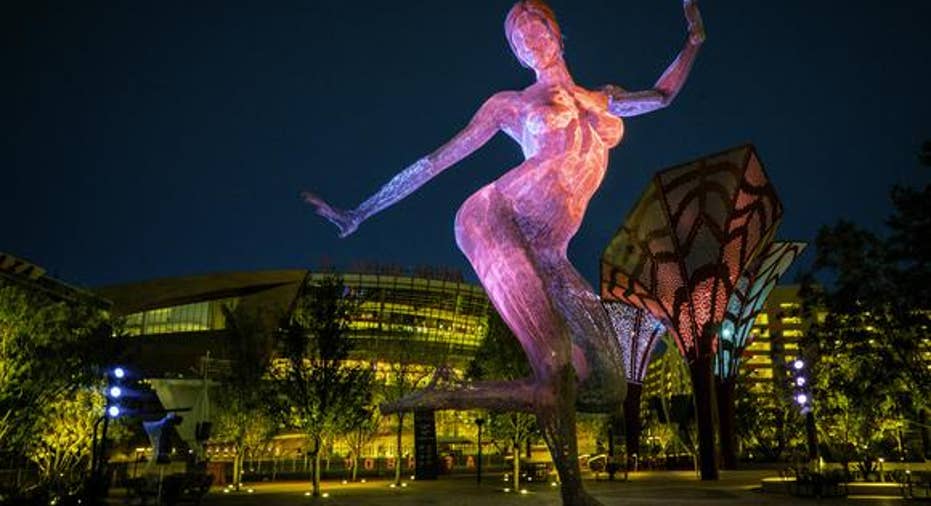 Opening night of the newly opened T-Mobile Arena in Las Vegas. Photo: MGM Resorts International
The massive 20,000-seat arena built byMGM Resorts International and AEG opened on April 6 to thousands of fans. The opening did not disappoint, with a performance by the band The Killers and Wayne Newton, including special performances by Cirque du Soleil acrobats and more.
The arena already has a solid year booked, with many more high-profile artists and national sporting shows such as UFC events to be announced in the coming months. It could also be the home to a new NHL team that may be announced for Las Vegas this year. Here's what the arena looks like, and why this development is so important for MGM.
Behind the scenes of the T-Mobile ArenaThe T-Mobile Arena, built by MGM and AEG withT-Mobileproviding connectivity and multimedia enhancements, is designed to make 20,000 people feel as if they're in an intimate setting. The arena was built in as deep of a bowl as possible to make the top seats still feel close to the action, while the lower portion has an added feature for adjusting the height and spacing of the seats to enhance viewing for the particular event. The arena also includes multiple outdoor balconies overlooking the city, a plethora of restaurants and bars, and even a full dance club on top of the arena that ticketed guests of an arena event can get into for free.
The Park, the outdoor entertainment space around the arena. Photo: MGM.
Outside the arena is MGM's reenvisioned urban neighborhood called The Park. The entire development sits on 22 acres between New York-New York and Monte Carlo (both owned by MGM as well) which is a significant chunk of land directly on the Strip. The area includes Toshiba Plaza, a space for outdoor entertainment with four 100-inch monitors that can display what's happening in the arena, one 200-foot mesh screen for projections, and various gathering spaces. The Park also includes restaurants and bars, shops, a water fountain, sculptures, and plenty of seating. MGM also has plans for residential spaces.
Filling the arenaThe arena is expected to host more than 100 events a year. Touring concerts and national sporting events will help to fill the venue, as will large scale conventions. There were 21,000 conventions in Las Vegas in 2015, with a total attendance of nearly 6 million.
As for permanent groups, ther'is a movement gaining momentum now to get a pro hockey team in Las Vegas. The NHL is currently reviewing bids, and it seems that Las Vegas has a good chance of landing a team that would call this T-Mobile Arena home. There are concerns that Las Vegas doesn't have the residential support for a home team, but more than 14,000 ticket pre-sales were made to fans who put up a refundable sum for 2017-18 tickets if the NHL does end up giving Las Vegas a professional hockey team.
Why this is such a big deal"Las Vegashas long been known as the entertainment capital of the world, and with all the development we've unveiled this week in the neighborhood, you can see our deep commitment to ensuringLas Vegasholds that title for generations to come," says Jim Murren, chairman and CEO of MGM Resorts International.
More than 42 million visitors came to Las Vegas in 2015, about 1.2 million more than 2014. While visitation is growing, gambling revenue is waning, down about 0.4% year over year on the Las Vegas Strip.The T-Mobile arena shows MGM's focus on catering to Las Vegas' growing number of visitors and helping to bring in even more, and continuing to diversify away from gambling revenue and toward more broad entertainment and convention revenue.
MGM already owns the majority of properties on the Strip and has more hotel rooms than any other company there. By increasing its entertainment and convention space, it's furthering its investment on a continually expanding and diversified Las Vegas. This approach has already paid off, as MGM increased its U.S. property-adjusted EBITDA 15% in 2015 year over year, led mainly by gains on the Strip. This new arena is another major investment that should pay off with increased revenue and earnings in the quarters and years to come.
The article Behind the Scenes of MGM Resorts International's $375 Million New Las Vegas Arena originally appeared on Fool.com.
Bradley Seth McNew has no position in any stocks mentioned. The Motley Fool has no position in any of the stocks mentioned. Try any of our Foolish newsletter services free for 30 days. We Fools may not all hold the same opinions, but we all believe that considering a diverse range of insights makes us better investors. The Motley Fool has a disclosure policy.
Copyright 1995 - 2016 The Motley Fool, LLC. All rights reserved. The Motley Fool has a disclosure policy.