Behind Kevin Plank's Plan to Disrupt Retail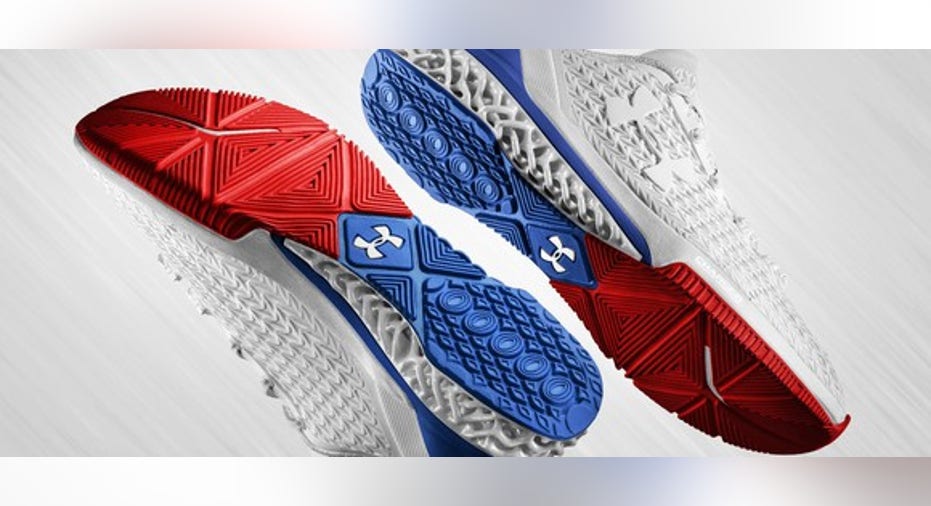 Image Source: Under Armour
Under Armour (NYSE: UA) is one of many retailers today executing an omnichannel business, selling products in retail stores and online. Under Armour's direct-to-consumer (DTC) business has been growing at a healthy 31% per year for the last five years, and in Q4 was 40% of the company's overall revenue.
In the company's most recent earnings call, CEO Kevin Plank talked candidly about what customers are demanding, how traditional retail is not meeting the mark, and how just investing in e-commerce is not enough.
The customer demands more
Plank's comment about retail being disrupted seems to be "code" for losing sales and relevance. He clearly recognizes the "Amazon effect" and how the e-commerce giant has raised customer's expectations, but what is Under Armour's answer to the Amazon threat?
Plank's quote is not easily decoded unless you understand that he wants to disrupt the apparel manufacturing process, which has been done the same way for the last 100 years.
Plank has a grand vision of personalized products that are made in a local-for-local, high-tech manufacturing facility like the Lighthouse project in Baltimore. The idea is that you could get your foot scanned and have a performance shoe made with the options, color, and fit that is perfect for you. But that's not enough, this product needs to be made locally so that the delivery time is minimal.
While Plank's vision of the factory of the future is a number of years away, the company is investing heavily in the near term trend of e-commerce. But for Under Armour there's more to e-commerce than a cool website and fast delivery.
Investing in digital business, not just e-commerce
Plank chose his words very carefully here. At first glance, it seems that he is saying "put all your chips on the e-commerce trend," but he clearly said "digital business." Plank has said "data is the new oil," meaning that, like oil, data can be "refined" to create other valuable products. This is where Under Armour's investment in connected fitness comes in.
Under Armour's four fitness applications have 200 million users logging fitness, food, and health data across the globe, which gives the company its "unique positioning."As this data is distilled through partnerships with IBM's Watson and SAP, it will provide Under Armour with valuable insights into its customer, more than any other fitness company. In the end, Under Armour wants to sell shirts and shoes with a great consumer experience that can't be duplicated.
Despite all this there's a short-term problem that impacted Under Armour's most recent quarterly results -- soft retail sales -- but Plank has an answer for that too.
E-commerce rollout is ahead of schedule
When Under Armour had its analyst day in September 2015, the company revealed its goal for global e-commerce. Plank wanted to have 30 e-commerce sites, offering localized experiences, by 2018. Under Armour beat that goal, announcing the 30th e-commerce site in its third quarter 2016 earnings release. I can't help but think this was accelerated due to the company's heavy dependence on wholesale partners -- which results in the company having less pricing and inventory control. To understand Plank's perspective, we need to go back to the rest of the "retail is being disrupted" quote.
In 2016, wholesale partners accounted for 65% of Under Armour's revenue, which is why Plank wants to reduce dependence on this sales channel. The acceleration of this initiative could be hedging against retail softness in the future, but it could suggest more. Plank discusses the role of e-commerce to facilitate sales, whether it's online or not.
Plank has reordered the priorities for DTC to put e-commerce first. This is a smart move given the continued growth of the online sales channel. Under Armour doesn't split out DTC revenue into e-commerce versus brick-and-mortar, so investors (and competitors) are left wondering how much each is contributing. Time will tell whether Plank is putting his money where is mouth is, but I am confident he is.
Bottom line
Under Armour is investing heavily in its digital business and e-commerce capabilities, collecting more data on its customers than anyone else in the industry. While retail as a whole is being disrupted, Under Armour is attempting a disruption of the apparel manufacturing industry. Plank founded Under Armour with an innovative t-shirt over 20 years ago and continues to innovate to this day. Investors should be excited to watch what Under Armour will do in the next 20 years.
10 stocks we like better than Under Armour (C Shares)When investing geniuses David and Tom Gardner have a stock tip, it can pay to listen. After all, the newsletter they have run for over a decade, Motley Fool Stock Advisor, has tripled the market.*
David and Tom just revealed what they believe are the 10 best stocks for investors to buy right now... and Under Armour (C Shares) wasn't one of them! That's right -- they think these 10 stocks are even better buys.
Click here to learn about these picks!
*Stock Advisor returns as of February 6, 2017
Brian Withers owns shares of Under Armour (C Shares). The Motley Fool owns shares of and recommends Under Armour (C Shares). The Motley Fool has a disclosure policy.