Behind Alnylam Pharmaceuticals' December Plunge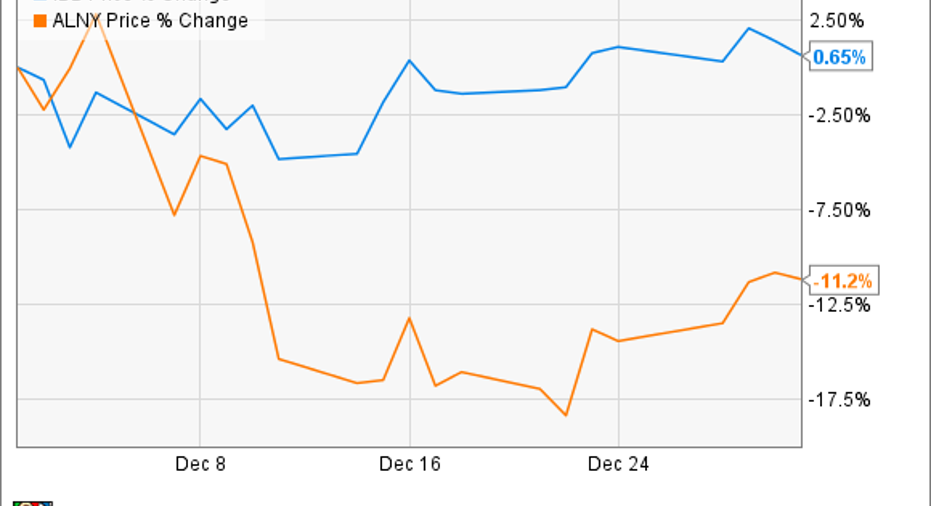 What: Investors in Alnylam Pharmaceuticals , a biotech focused on rare diseases and RNAi therapeutics, had a rough December. The stock dropped by more than 11% during the month, according to S&P Capital IQ.
So what:The company provided investors with three clinical updates during the month related to a few of its early-stage clinical compounds. It also provided investors with a strategic update as it works toward its "Alnylam 2020" plan.
First up was an update of its phase 1/2 trial of ALN-CC5, a drug being tested as a treatment for paroxysmal nocturnal hemoglobinuria. ALN-CC5 showed an impressive 99% knockdown of Serum C5 levels and up to a 98% inhibition of serum hemolytic activity in healthy participants, which easily passed the company's goal of an 80% reduction. ALN-CC5 was also well tolerated during the trial. Alnylam will be transitioning the study to include patients with PNH by the end of this year. Investors should expect another clinical update by mid-2016.
Next, Alnylam provided a clinical update on ALN-AT3, its compound being tested as a treatment for hemophilia. In a phase 1 study ALN-AT3, which has been renamed Fitusiran, demonstrated an ability to lower antithrombin activity by up to 88%, which in turn reduced annualized bleeding rates in patients by 85%. Fitusiran was also well tolerated in patients. The company plans to initiate phase 3 studies by the middle of this year.
The last clinical update was related to ALN-G01, a preclinical compound that could be used to treat primary hyperoxaluria type 1, or PH1. PH1 is an ultra-rare orphan disease that affects roughly six people per million. Patients with the disease currently have no treatments available. Alnylam has filed for a clinical trial application in the U.K. and plans to initiate a phase 1 study of ALN-G01 in early 2016.
The company's management also shared upbeat news related to its 2020 plans at its research and development day. Here's CEO John Maraganore:
Now what: I'm a bit perplexed as to why the stock was sold off during the month, especially when considering that biotech stocks in general held up quite well during the month. For example, theiShares Biotechnology ETF, an exchange-traded fund that holds a huge variety of biotechnology stocks, actually ended December higher than it started.
With all the upbeat news released during the month, Alnylam investors should simply look past the stock's poor performance and focus on the company's long-term plan. If Alnylam is able to deliver on ambitious 2020 targets, then it's likely that its stock will get its mojo back and could easily soar past the returns of the IBB.
The article Behind Alnylam Pharmaceuticals' December Plunge originally appeared on Fool.com.
Brian Feroldi has no position in any stocks mentioned. The Motley Fool owns shares of and recommends Alnylam Pharmaceuticals. Try any of our Foolish newsletter services free for 30 days. We Fools may not all hold the same opinions, but we all believe that considering a diverse range of insights makes us better investors. The Motley Fool has a disclosure policy.
Copyright 1995 - 2016 The Motley Fool, LLC. All rights reserved. The Motley Fool has a disclosure policy.