Bed Bath & Beyond's Latest E-Tail Purchase Seems Too Little, Too Late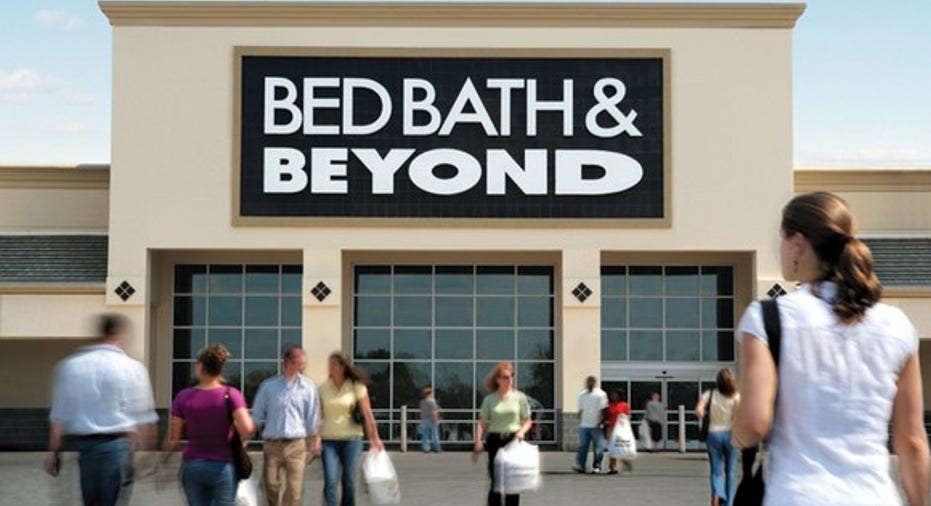 Image source: Bed Bath & Beyond.
Bed Bath & Beyond (NASDAQ: BBBY) recently announced the purchase of e-retailer PersonalizationMall.com, which specializes in personalized products for your home. The home goods retailer stated the acquisition will grow its Product Personalization category, as well as support its existing online store. The newest addition to the Bed Bath & Beyond family is in line with management's stated goals, but efforts to fight stagnating sales have not paid off yet.
Details of the deal
Bed Bath & Beyond parted with about $190 million in cash to add PersonalizationMall.com to its arsenal. The company used cash on hand to fund the purchase, so the deal won't have an effect on the current quarter's bottom-line profit.Bed Bath & Beyond doesn't expect any impact to show up until the fourth quarter, which won't be reported on until early 2017.
Indications from the company's news release are that PMall.com's operations will be left alone to operate as they did prior to the transaction.Bed Bath & Beyond hopes to provide support to help PMall.com continue to grow as its own company under the Bed Bath & Beyond umbrella of companies. Bed Bath & Beyond's next earnings call is scheduled for Dec. 21, so investors should tune in to that for further details.
How it helps with Bed Bath & Beyond's mission
PMall.com sells a wide variety of customizable products on its website. The company currently offers personalization of these products through a variety of processes like embroidery, engraving, and digital printing.
Besides bolstering much-needed online sales, Bed Bath & Beyond made the move to expand its lineup of personalized products. CEO Stephen Temares had this to say about the deal:
In other words, the company is trying to fight its stagnating sales problem by differentiating the products it offers customers from the rest of the retail world.Bed Bath & Beyond has also ramped up online sales, which increased over 20% last quarter, but to date those efforts are merely offsetting declines in physical-store sales.
| Period | YOY Comparable-Store Sales Growth | YOY Total Revenue Growth |
| --- | --- | --- |
| Q2 2016 | (1.2%) | (0.2%) |
| Q1 2016 | (0.5%) | 0% |
| Fiscal year 2015 | 1% | 1.9% |
Data source: Bed Bath & Beyond quarterlyearnings reports.
The addition of PMall.com joins the acquisitionBed Bath & Beyond made earlier in the year of One Kings Lane, an online purveyor of curated home dcor. "We believe the home furnishing space provides tremendous opportunity to build a large curated assortment of differentiated product to engage with our customers in a meaningful way and to provide inspiration across various lifestyles," Temares said in the company's September conference call. In a digital world where making a sale often comes down to price,Bed Bath & Beyond is looking to merge unique items with a competitive online presence. So far, the efforts haven't moved the needle.
Probably not enough
Bed Bath & Beyond operates over 1,500 stores in the US. In addition to the namesake stores, the company also owns Cost Plus World Market, buybuy Baby, and Christmas Tree Shops, among other names. The diverse number of brands has not helped reverse a trend of declining foot traffic that has plagued the company and other bricks-and-mortar retailers.
Bed Bath & Beyondis arriving late to the digital store format, and while it has reported success in driving consumer interest to the growing list of websites it operates, it is still highly dependent on in-store purchases, I don't think the purchase of the PMall.com business will be enough to make a big impact on the company's efforts.
10 stocks we like better than Bed Bath and Beyond When investing geniuses David and Tom Gardner have a stock tip, it can pay to listen. After all, the newsletter they have run for over a decade, Motley Fool Stock Advisor, has tripled the market.*
David and Tom just revealed what they believe are the 10 best stocks for investors to buy right now... and Bed Bath and Beyond wasn't one of them! That's right -- they think these 10 stocks are even better buys.
Click here to learn about these picks!
*Stock Advisor returns as of Nov. 7, 2016
Nicholas Rossolillo has no position in any stocks mentioned. The Motley Fool recommends Bed Bath and Beyond. Try any of our Foolish newsletter services free for 30 days. We Fools may not all hold the same opinions, but we all believe that considering a diverse range of insights makes us better investors. The Motley Fool has a disclosure policy.