Bears are Back: Stocks Sink, Volatility Surges in Late-Day Selloff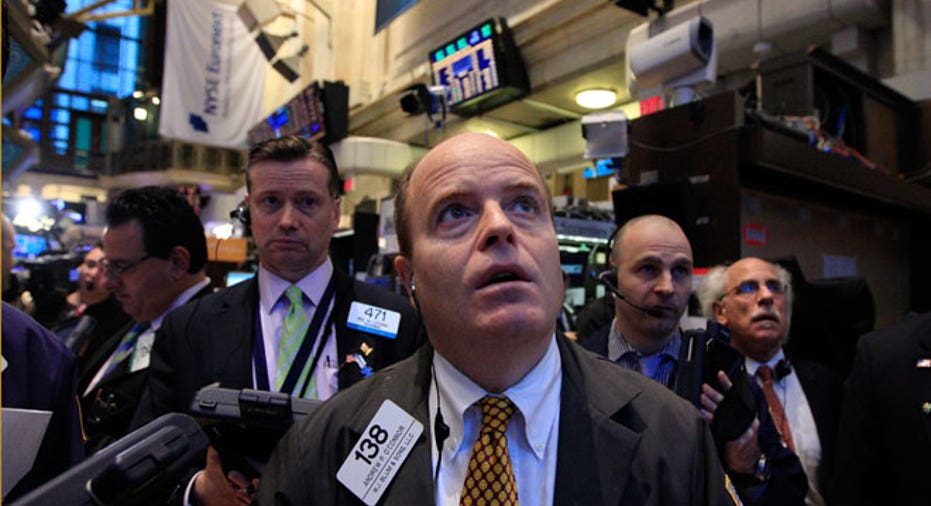 FOX Business: Capitalism Lives Here
A long streak of tranquility on Wall Street was shattered Wednesday after a combination of worrisome Fed minutes and tumbling commodity prices sent traders darting out of equities.
Today's Markets
The Dow Jones Industrial Average fell 108 points, or 0.77%, to 13928, the S&P 500 dipped 19 points, or 1.2%, to 1512 and the Nasdaq Composite slid 49.2 points, or 1.5%, to 3164.
The markets came under intense pressure with just about an hour and a half to go before the closing bell, while the CBOE's VIX, seen as Wall Street's fear gauge, surged 18.8%. The S&P and Nasdaq both posted their worst daily performance on a percent basis since November and receded from multi-year highs.
The worst losses by far were in the materials sector, prompted by tumbling metals prices. However, other economically-sensitive groups like energy, financials, technology, consumer discretionary and industrial stocks took a thrashing as well. Traditional defensive plays, like utilities, telecommunications and consumer staples were spared the brunt of the selling.
Broad swaths of the commodities complex sold off. The benchmark U.S. crude oil contract slid $2.20, or 2.3%, to $94.46 a barrel. Wholesale New York Harbor gasoline dropped 2% to $3.06 a gallon. Gold tumbled $26.20, or 1.6%, to $1,578 a troy ounce -- hitting a fresh six-month low.
Fed Steadfast on Aggressive Easing, But Hints at Tapering Off
Traders also got the latest round of Federal Reserve minutes.
All but one member of the FOMC agreed the central bank should continue its highly accommodative monetary policy, including asset purchases and low interest rates, minutes from the meeting in January reveal. However, a comment that the central bank is considering "tapering" asset purchases down the line worried some traders.
"Recent Fed commentary suggests policymakers are beginning to chafe at the prospect of continued, aggressive balance sheet expansion ... but the degree of improvement in the economy to date has not been sufficient to 'put the wheels in motion' toward QE modification," Deutsche Bank Chief U.S. Economist Joseph LaVorgna wrote in an e-mail to the bank's clients.
Paul Edelstein, director of financial economics at IHS Global Insight, also noted that the Fed may have inadvertently tightened monetary policy.
"If markets do not expect the Fed to stay the course, then expectations for economic growth and inflation will stay depressed and demand for safe assets ... will remain high," he wrote in an email.
The Fed's policy-setting board also said it saw the sudden drop in economic growth in the fourth quarter as "transitory" and sees a "moderate growth path" ahead.
The pace of merger and acquisition activity continued to heat up Wednesday, with Office Depot (NYSE:ODP) revealing plans to buy OfficeMax (NYSE:OMX) in an all-stock deal. Based on the February 19 closing price, that values OfficeMax at roughly $13.50 a share.
In other economic news, the Commerce Department said U.S. housing starts fell 8.5% in January from December to an annualized rate of 890,000 units, shy of the 925,000 expectation. Permits to build new homes rose 1.8% to an annualized rate of 925,000, better than the 915,000 Wall Street anticipated, and the highest since 2008.
"The pullback in starts for January was certainly larger than the consensus expected but is by no means shocking," Dan Greenhaus, chief global strategist at BTIG wrote in an email."Importantly though, permits rose again suggesting that the January decline in starts will be temporary and as the year progresses, housing starts will continue to push higher."
Meanwhile, the Labor Department said prices at the producer level rose 0.2% in January from December, a slower pace than the 0.4% economists expected. Excluding the food and energy components, prices were also up 0.2%, matching forecasts.
Foreign Markets
The Euro Stoxx 50 fell 0.83% to 2640, the English FTSE 100 rose 0.26% to 6395 and the German DAX slipped 0.3% to 7729.
In Asia, the Japanese Nikkei 225 rallied 0.84% to 11468 and the Chinese Hang Seng jumped 0.71% to 23307.