Baxter International Inc's Cost-Cutting Paying Off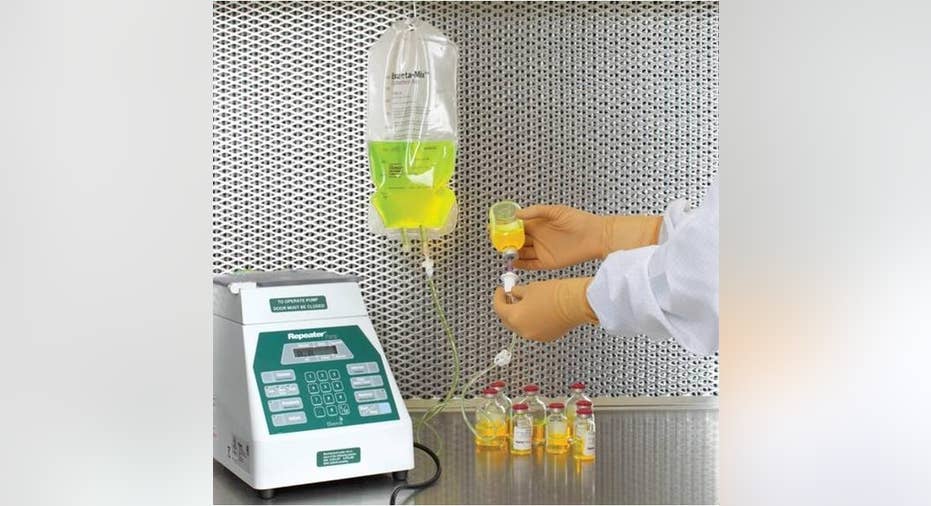 Baxter reported earnings on Tuesday, trouncing management's earnings guidance. The solid quarter allowed management of the healthcare product conglomerate to offer up an improved outlook for the year.
Baxter results: The raw numbers
| | Q1 2016 Actuals | Q1 2015 Actuals | YOY Growth (Decline) |
| --- | --- | --- | --- |
| Revenue | $2,375 million | $2,403 million | (1%) |
| Adjusted Income From Continuing Operations | $199 million | $187 million | 6% |
| Adjusted Earnings Per Share | $0.36 | $0.34 | 6% |
What happened with Baxter this quarter?
Image source: Baxter. The stronger dollar hurt Baxter's revenue, which was up 4% year over year on a constant currency basis.
Both of the company's segments -- renal and hospital products -- had similar slight declines. The one highlight came from fluid systems -- IV therapies, infusion pumps, and the like -- within the hospital products segment, which saw sales increase 6% year over year and 11% on a constant currency basis. Unfortunately, the 6% increase was erased by other products in the hospital products segment that saw year-over-year declines.
Despite the slight decline in revenue, Baxter was able to grow the bottom line through reduced costs, especially marketing and administrative expenses, which declined 17% on an adjusted basis.
The earnings of $0.36 per share were substantially higher than management's guidance of $0.28 to $0.30 per share. Most of the beat came from better-than-expected operating income, but $0.02 came from an unexpected benefit from other income, and $0.01 came from the foreign exchange headwind being less than the company estimated.
What management had to sayBaxter is using the remaining Baxalta shares it retained after the spinoff to retire debt, as Baxter's CFO Jay Saccaro noted, "During the quarter, Baxter retired approximately $3.7 billion of gross debt through the utilization of a portion of our retained Baxalta equity and two debt-for-equity exchanges." After paying down that debt, Baxter has $3.4 billion in debt. The company still has 30.5 million Baxalta shares, but those will either be used to pay into its pension plan or exchanged for Baxter shares, the latter of which will boost earnings per share by reducing the share count.
The company has used mergers and acquisitions (M&A) as a way to grow and potentially increase earnings through synergies, but Chairman and CEO Joe Almeida threw cold water on the idea of a large acquisition in the near future, "We talk about M&A, and I always say M&A is opportunistic. But transformative M&A is not in the cards, as we speak right now."
Looking forwardAfter the better-than-expected quarter, management increased its 2016 revenue guidance to a year-over-year increase of approximately 1%, including a 2 percentage point currency headwind, compared to previous guidance of a decline of approximately 1%. Adjusted earnings guidance for the year was also increased to $1.59 to $1.67 per share, up substantially from the previous guidance of $1.46 to $1.54 per share.
For the second quarter, management is looking for revenue growth of 2%, which would be 4% at constant currencies, and adjusted earnings between $0.38 and $0.40per share.
Management is looking for at least $1.4 billion in cash flow this year. Subtract out an expected $900 million for capital expenses, and investors can expect more than $500 million in free cash flow.
The article Baxter International Inc's Cost-Cutting Paying Off originally appeared on Fool.com.
Brian Orelli has no position in any stocks mentioned. The Motley Fool recommends Baxter International. Try any of our Foolish newsletter services free for 30 days. We Fools may not all hold the same opinions, but we all believe that considering a diverse range of insights makes us better investors. The Motley Fool has a disclosure policy.
Copyright 1995 - 2016 The Motley Fool, LLC. All rights reserved. The Motley Fool has a disclosure policy.