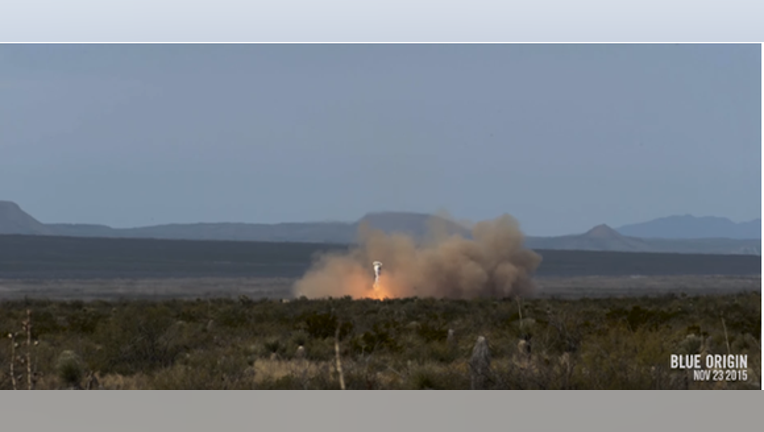 "Blue Origin today announced that itsNew Shepardspace vehicle successfully flew to space, reaching its planned test altitude of 329,839 feet (100.5 kilometers) before executing a historic landing back at the launch site in West Texas."
Yes, it's true. On Monday, Nov. 23, private spaceflight company Blue Origin (owned by Amazon.com CEO Jeff Bezos) leapfrogged rival space pioneer SpaceX -- the rival space firm owned by another billionaire, Tesla CEO Elon Musk.
For years, SpaceX has been working hard to develop a reusable spacecraft. Beginning with the experimental Grasshopper and a six foot ascent and descent in September 2012, and continuing through July's spectacular SpaceXplosion of a fully functioning orbital Falcon 9 rocket, SpaceX has been refining its mechanism for launching a rocket into space, then returning it to Earth to land back on its feet -- ready to refuel and relaunch again.
Several times now, SpaceX has come within a whisker of making it all work. Grasshopper ran multiple test jumps up to low altitudes, each time returning to land successfully back on its launch pad. Falcon has actually taken payloads into orbit, then returned to (almost) land safely on a drone landing barge at sea.
SpaceX has yet to hit the mark on its drone barge -- intact. PHOTO SOURCE:SPACEX.
But in the end, it was tiny Blue Origin, flying below the radar (so to speak), and avoiding publicity until it had everything working just right, that made it work. On Monday, Jeff Bezos's space venture sent its New Shepard spacecraft rocketing 62 miles into space at Mach 3.7...
Caution: Planets in the rearview mirror may be closer than they appear. Blue Origin video still.
then brought it right back down to land where X marked the spot:
New Shepard returns to Earth. Seven feet, and a cloud of dust. Blue Origin video still.
Caveats and quibblesIn a series of tweets last week, Elon Musk first congratulated Bezos and Blue Origin on New Shepard's success -- then quickly began quibbling with his rival's success. New Shepard's feat, noted Musk, wasn't quite as impressive as it seemed. Among other objections, New Shepard hadn't come close to achieving the velocity necessary to put a satellite in Earth orbit.
But even if Blue Origin hasn't yet checked off every box required to prove it can launch to Earth orbit, then return to Earth safely, it's at least slightly closer to reaching that goal than is SpaceX. And until SpaceX succeeds in landing its Falcon 9 upright after a trip to space, Blue Origin will hold the pole position in this race.
Blue Origin: Temporarily top of the heap. Blue Origin video still.
What it means to investorsAll of this is of course fascinating to us as space exploration enthusiasts. But at The Motley Fool, our primary concern is still helping you to make money from your investments. So what impact will Blue Origin's success -- and SpaceX's disappointment -- have on you and your portfolio?
As both Blue Origin and SpaceX are private companies, the simple answer to this question is: "Nothing." As an individual investor, you can't buy shares of Blue Origin -- or of SpaceX either.
But what about these billionaires' other companies? Does this week's news hold any import for shareholders of Amazon.com or for Tesla? Is there any way for an ordinary investor to share in these companies' successes?
A review of data on Blue Origin's corporate tree on S&P Capital IQ reveals that Blue Origin is wholly owned by Bezos Expeditions, LLC, which is Jeff Bezos' investment vehicle for diversifying his personal fortune among multiple companies. There is no evidence that Amazon.com has any financial interest whatsoever in Blue Origin. (A request to Amazon's PR department to clarify this went unanswered). Still, the likely answer is still probably that Amazon shareholders can expect no benefit from Blue Origin's success.
In the case of SpaceX, that company is known to have invested heavily in "solar bonds" issued by Elon Musk's other publicly traded company, SolarCity . But that relationship goes only one way. SpaceX has loaned SolarCity money, but SolarCity does not own a piece of SpaceX. Nor do there appear to be any direct ties between SpaceX and Tesla.
That said, there is one way to own a very small piece of SpaceX. Earlier this year, Google -- er, I mean Alphabet -- participated in a $1 billion investment in SpaceX. That gave Alphabet a 7.5% interest in Musk's venture. Incidentally, it also gives every shareholder in Alphabet a small stake in the success of SpaceX.
Whether SpaceX stock would be worth owning now that it's no longer the only reusable rocket game in town -- that's a question you must answer for yourself.
If you look very carefully at this photo, you just might spy a way to own a piece of SpaceX -- in the form of a share of Alphabet stock. Blue Origin video still.
The article Battle of the Billionaires: How Jeff Bezos and Blue Origin Just Trumped Elon Musk's SpaceX originally appeared on Fool.com.
Fool contributorRich Smithdoes not own shares of, nor is he short, any company named above. You can find him onMotley Fool CAPS, publicly pontificating under the handleTMFDitty, where he's currently ranked No. 308 out of more than 75,000 rated members.The Motley Fool owns shares of and recommends Alphabet (A shares), Alphabet (C shares), Amazon.com, SolarCity, and Tesla Motors. Try any of our Foolish newsletter services free for 30 days. We Fools may not all hold the same opinions, but we all believe that considering a diverse range of insights makes us better investors. The Motley Fool has a disclosure policy.
Copyright 1995 - 2015 The Motley Fool, LLC. All rights reserved. The Motley Fool has a disclosure policy.