Battered Biotechs Send Shock Waves Through the Street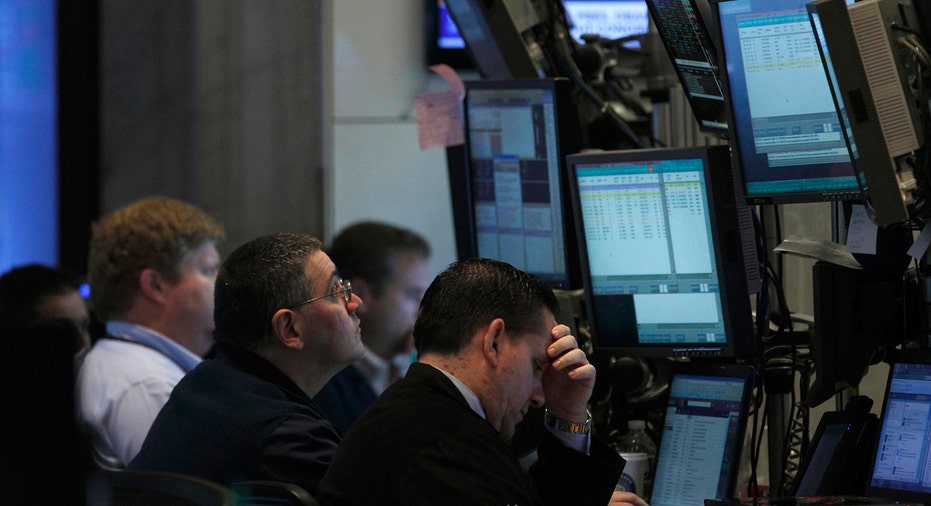 U.S. equity markets were hammered on Monday as investors parsed a speech from the New York Fed president who said interest rates are likely to rise this year, and renewed selling pressure in the health-care sector.
The Dow Jones Industrial Average was 312 points lower, or 1.92% to 1001. The S&P 500 declined 49 points, or 2.57% to 1881, while the Nasdaq Composite dropped 142 points, or 3.04% to 4543.
Health care led all 10 S&P 500 sectors in decline as biotechs plunged, adding to last week's steep, double-digit losses.
Today's Markets
U.S. equity markets exercised extreme caution on Monday amid a renewed selloff in biotechnology stocks, which plunged as much as 7%, as well as the broad health-care sector, which dropped more than 4% during the session.
Adding to the negative sentiment in the sector, 18 Democratic House members urged their chairman to subpoena Valeant Pharmaceuticals for documents related to price increases in two of its heart drugs.
The VIX index, a closely-watched gauge of investor anxiety, touched its highest reading since September 10 after comments from a key Federal Reserve official and disappointing data out of China.
Conflicting opinions on when interest rates should rise were also clouding market sentiment.
Speaking at an event hosted by Securities Industry and Financial Markets Association, New York Fed President and Vice Chairman William Dudley said he expects interest rates to move higher before the end of the year. The comments come nearly two weeks after the central bank opted to keep short-term interest rates in a near-zero range at historic lows. Dudley added that he believes the economy is "doing pretty well," and is moving back toward the Fed's dual objectives of full employment and price stability.
Chicago Fed President Charles Evans piggybacked off Dudley's speech…but struck an entirely different tone. The Chigaco Fed president said while labor market conditions have improved, there's still additional slack to pick up. And he's "far less confident" than his fellow FOMC members about reaching the central bank's 2% inflation target in a "reasonable timeframe."
San Francisco Fed President John Williams will discuss the economic outlook at 5:00 p.m. at the UCLA Anderson Forecast Center in LA.
"Mr. Dudley's commitment to hiking rates before the year is out could not have come at a worse time as the U.S. stock market was already following its European counterparts lower, and the hawkish commentary made matters worse," David Madden, IG market analyst, said in a note. "A recurring concern of U.S. central bankers is the level of low inflation, and that is linked to commodity prices which is largely out of their control."
Amid the raft of Fed speak, the yield on the 10-year U.S. Treasury bond was 0.071 percentage point lower to 2.097%. Yields move in the opposite direction of prices.
Economic data remained a focus for Wall Street as the central bank has continued to reiterate its dependence on key reports. On the calendar Monday, personal income and spending data from the Commerce Department showed incomes rose 0.3% in August, compared to expectations for a 0.4% rise, while spending saw a 0.4% increase compared to forecasts for 0.3%.
Pending home sales data from the Commerce Department posted a surprise drop in August. Contracts to buy previously-owned homes fell 1.4% during the month, while economists had forecast a 0.4% rise. From the same period the year prior, sales were up 6.1%.
Larry Shover, chief investment officer at Solutions Fund Group, said market sentiment has lowered Fed lift-off expectations with a December rate hike priced at about 40% and October at 15%.
"For this week, the two major macro catalysts will probably come on Friday with the U.S. September jobs report and remarks from the Fed's Stanley Fischer in Boston," he said. "Stepping back, investors will be forced to endure a few more weeks of a news vacuum that will end with the commencement of earnings and China's September economic data."
After a corporate-news drought, investors had no shortage of headlines to digest come Monday morning.
Shares of aluminum giant Alcoa (NYSE:AA) jumped more than 3% after the company announced it plans to split into two separate publicly-traded businesses. The first of the two firms will focus on global primary products including aluminum and energy; while the second firm will be comprised of Alcoa's engineered products and transportation and construction. The company said it expects the split to be tax free and completed in the second half of next year.
After spending about $7 billion in the region, Royal Dutch Shell  (NYSE:RDSA) said it would halt its Artic exploration off the coast of Alaska after an unsuccessful drilling project failed to find enough oil. The company's shares sagged more than 2% after Shell said it could expect about $4.1 billion in charges in the third quarter.
Thanks to the growing popularity of Universal Studio's Harry Potter theme-park attractions, Comcast (NYSE:CMCSA) said on Monday it will take a majority stake in Universal Studios Japan for a price tag of $1.5 billion. Comcast shares reversed course at the opening bell, sagging half a percent.
Apple (NASDAQ:AAPL) shares were nearly 1% lower on the session after the tech titan reported record sales for its latest smartphone offerings. On its debut weekend, iPhone 6 s and 6s Plus sales topped 13 million units, which topped forecasts for 12 million units. The record for the most phones sold was 10 million during the first weekend of sales in 2014.
Elsewhere, global equity markets kicked off the week on a downbeat note.
European stocks were mostly lower as the Euro Stoxx 50, which tracks large-cap companies in the eurozone shed 2.20%. The German Dax declined 1.90%, while the French CAC 40 dropped 2.63% and the UK's FTSE 100 fell 2.25%.
Markets in Asia were mixed after the Shanghai Composite rose 0.27%, while Hong Kong's Hang Seng rose 0.43%, and Japan's Nikkei declined 1.32%.
"The only big piece of economic data came out of China where August industrial profits plunged 8.8% -- this is the latest 'bad' figure from the country although it really doesn't change the narrative dramatically, and in fact, it still seems like economic figures will begin showing some stabilization in the months ahead," Shover said.
In commodities, global oil prices dropped amid signs of slowing U.S. production while supply ticked higher. U.S. crude prices slumped 2.78% to $44.43 a barrel, while Brent, the international benchmark, declined 2.59% to $47.34.
Metals were also lower Monday morning as gold dropped 1.22% to $1,132 a troy ounce, and silver dropped 3.76% to $14.54 an ounce. Copper fell 1.55% to $2.26 a pound.
The dollar, meanwhile, was mixed against a basket of global currencies as the euro rose 0.27% against the greenback.