Basketball Fans Spend $1.2 Million on Kobe Bryant Merchandise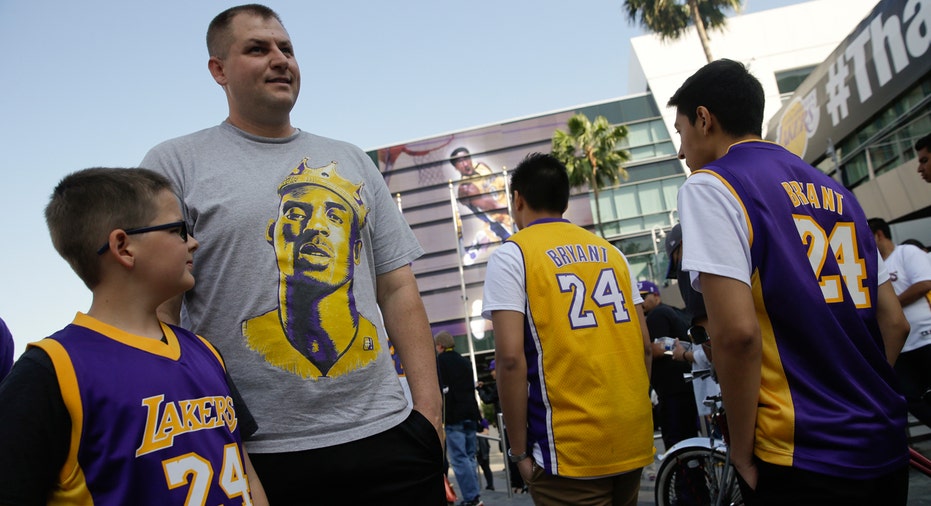 Kobe Bryant can now add a new record to his list of NBA accolades throughout his 20-year basketball career; merchandise king.
In the 24-hours surrounding his final game with the Los Angeles Lakers, Bryant set the highest merchandise sales in a single day.
Sales of Kobe Bryant merchandise at the Staples Center (NASDAQ:SPLS), home of the Lakers, generated $1.2 million on Wednesday alone, according to ESPN. The previous merchandise sales record was held by Led Zeppelin. The rock band sold $1 million worth of memorabilia at the O2 Arena in London in 2007, during the group's first full-length concert in three decades.
Fans at the game spent an estimated $61 on merchandise and ran up a bill averaging $230. Hats went for $72.48 while snakeskin-texture Kobe Bryant jerseys that retailed for $424 a piece sold for $824 each. Only 248 of the limited-edition version of the same jersey were available to fans.
There were 24 leather jackets with Swarovski crystals marketed for $5,824 of which three went unsold. Bryant and his wife Vanesa were each gifted with one of the extra jackets.
Along with the merchandise mania, the recently retired Bryant set some other records during his final game at the Staples Center, including scoring 60 points for a player of his age at his final NBA game.