Baseball owners approve sale of Marlins to Derek Jeter group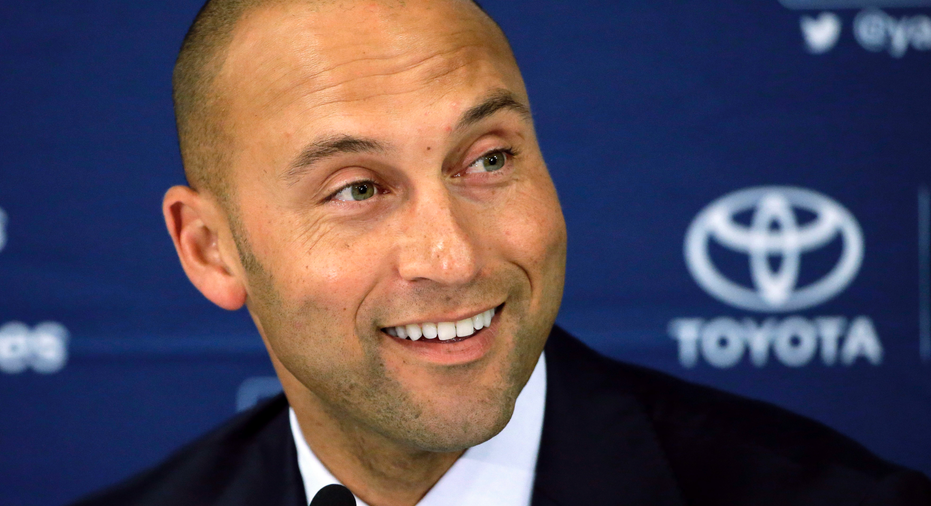 The Miami Marlins are Derek Jeter's problem now.
Major league owners on Wednesday unanimously approved the sale of the woebegone franchise by Jeffrey Loria to an investment group led by Jeter and Bruce Sherman. The deal needed 75 percent approval.
A signed $1.2 billion agreement was submitted to Major League Baseball last month to sell the Marlins to a group led by Sherman, a venture capitalist who will be the controlling owner. Jeter, the former New York Yankees captain, plans to be a limited partner in charge of the business and baseball operations.
The closing on the sale is expected within a few days.
"I congratulate Mr. Sherman on receiving approval from the Major League Clubs as the new control person of the Marlins," Commissioner Rob Manfred said in a statement, "and look forward to Mr. Jeter's ownership and CEO role following his extraordinary career as a player."
The Marlins have endured another disappointing year and are assured of their eighth consecutive losing season, the longest streak in the majors. They'll sit out the playoffs for the 14th year in a row, the longest streak in the National League.
They're also likely to finish last in the NL in attendance for the 12th time in the past 13 years, creating revenue constraints that may lead to a payroll purge in Jeter's first offseason as an owner.
Among players who might be shopped is major league home run leader Giancarlo Stanton, whose salary will nearly double next year to $25 million in the fourth season of his record $325 million, 13-year contract.
The transition to new ownership has already begun, with four well-known Marlins executives told last week they won't be retained. They were special assistant to the president Jeff Conine, who goes by the nickname Mr. Marlin, and three special assistants to the owner — Hall of Famers Andre Dawson and Tony Perez, and former manager Jack McKeon, who led the Marlins to the 2003 World Series championship.
Team president David Samson is not expected to be retained. Manager Don Mattingly is a former teammate of Jeter's and may return.
Following another loss Wednesday at Colorado, the team's reaction to the approval of the sale was muted.
"Obviously it's going to be a new group and a new thought process, and we'll see where that goes," Mattingly said. "We were assuming it was going to get official at some point and then we'll have some type of direction, which way we want to go. But that just hadn't happened yet, so it's hard to react to it."
Loria, 76, became widely unpopular because of his frugal ownership and the public financing that helped build the five-year-old Marlins Park. He bought the franchise for $158.5 million in 2002 from John Henry, part of the Boston Red Sox ownership group that has celebrated three World Series titles.
"Part of the deal is acknowledging when it's time to pass the baton to the next generation, and wish them well in taking things to the next level," Loria said in a statement. "With that in mind, I can't think of anyone better suited than Bruce Sherman and Derek Jeter. They are true baseball people, as well as true gentlemen. I have every confidence in their ability as the next stewards of the Miami Marlins to take us to new heights."
Jeter, who lives in Tampa, was a 14-time All-Star shortstop who retired in 2014 after 20 seasons with the Yankees. He has no front-office experience but has long talked of his desire to own a team.
Sherman spent much of his financial career in New York and has a home in Naples, Florida. Minority owners are expected to include NBA Hall of Famer Michael Jordan, who will have a small stake.
Loria's decision to sell the team became public in February, and Jeter's interest surfaced in April. The Jeter-Sherman group beat out two other groups that pursued the team in the final weeks of negotiations.
"I wish the best to Jeffrey Loria and David Samson," Manfred said. "During their tenures, the Marlins won the 2003 World Series, hosted this season's successful All-Star Week at spectacular Marlins Park and eagerly supported our efforts to grow the game internationally."
___
Associated Press freelancer Michael Kelly in Denver contributed to this story.
___
More AP baseball: https://apnews.com/tag/MLBbaseball
___
Follow Steven Wine on Twitter: http://twitter.com/Steve_Wine