Barnes & Noble's Sales at Established Stores Beat Expectations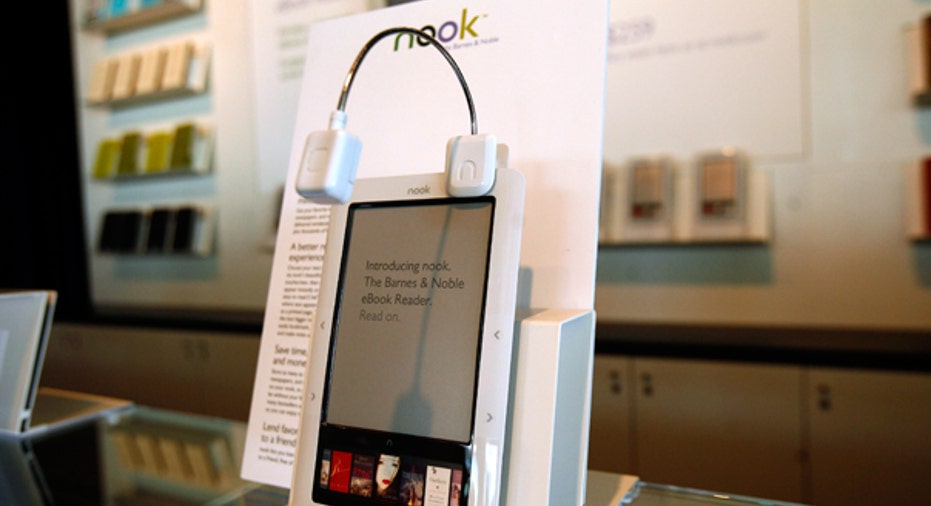 Barnes & Noble Inc <BKS.N>, operator of the largest U.S. bookstore chain, reported a better-than-expected rise in sales at stores open at least a year, helped by higher demand for toys, gifts and other non-book merchandise.
The bookseller's shares rose as much as 8.3 percent to $11.08 a three-month high in morning trading on Thursday.
New York-based Barnes & Noble, whose total sales now have fallen for seven straight quarters, has been trying to attract shoppers by expanding its offerings to include merchandise such as toys and craft brewing kits, as well as signed books and made-to-order books for kids.
Sales at retail stores open at least a year - which exclude the company's Nook e-reader business - rose 1.3 percent in the third quarter ended Jan 30. Analysts on average had expected a rise of 1 percent, according to Consensus Metrix.
However, total sales fell 1.8 percent to $1.41 billion - in line with analyst estimates - in part due to lower online sales and store closures.
"We now expect to close only eight stores this fiscal year," Chief Executive Ron Boire said in a conference call. "This is the lowest level of store closings since fiscal 2000."
Stiff competition from online retailers such as Amazon.com Inc <AMZN.O> has hurt sales at Barnes & Noble's brick-and-mortar bookstores, while demand for Nook products remains weak.
Sales in the Nook division, which is also facing intense competition from Amazon's far-more successful Kindle, fell by a third in the latest quarter to $51.7 million.
"The company's Nook business continues to be an unmitigated disaster," Neil Saunders, chief executive of research firm Conlumino said in a note. "It remains clear that Nook is a business in terminal decline."
Net profit rose to $80.3 million, or $1.04 per share from $72.2 million, or 96 cents per share, a year earlier.
Analysts had expected earnings of $1.08 per share, according to Thomson Reuters I/B/E/S.
Up to Wednesday's close, Barnes & Noble's shares had fallen about 17 percent since the start of the year.
(Reporting by Subrat Patnaik and Ramkumar Iyer in Bengaluru; Editing by Ted Kerr)