Barnes & Noble Education Perks Up With a Profit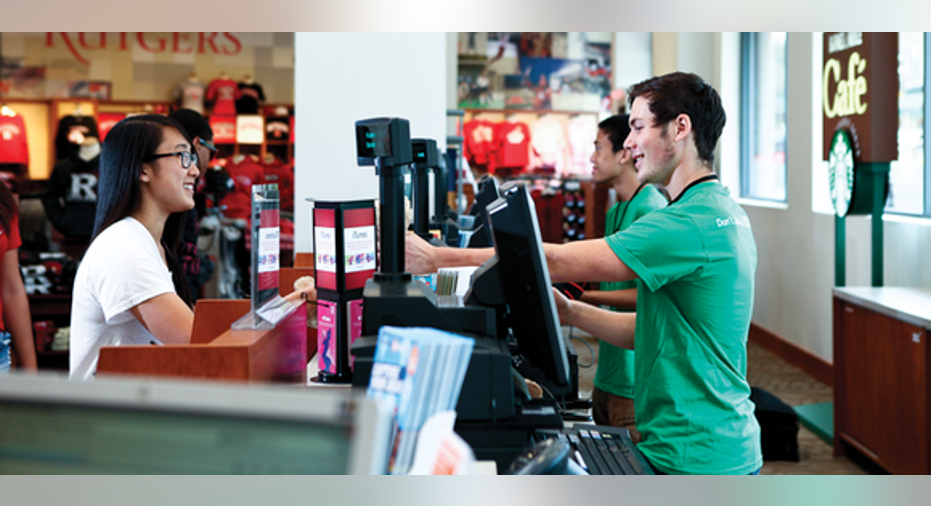 Image source: Barnes & Noble Education.
The college bookstore is a mainstay of campus life for millions of students, and Barnes & Noble Education has sought to tap into the business opportunities those students create by specializing in providing the textbooks, digital content, and retail needs for those attending college.
Coming into Tuesday's fiscal fourth-quarter financial report, B&N Education investors believed the company would continue to post adjusted losses even as it sought to make longer-term progress in expanding its business and moving toward profitability. B&N Education's quarterly results showed more promise than that, with an adjusted profit and better growth in comparable sales than most of those following the stock had anticipated.
Let's take a closer look at how Barnes & Noble Education did and whether growth trends are squarely in place.
Barnes & Noble Education makes the grade
Barnes & Noble Education's fiscal fourth-quarter results were a welcome improvement from previous quarters. Revenue rose nearly 8% to $294.8 million, topping the consensus forecast among investors by more than $10 million. B&N Education posted a net loss on a GAAP basis, but adjusted earnings of $3.3 million worked out to $0.07 per share. That compared quite favorably to the $0.06 per share loss shareholders had been looking to see.
Taking a closer look at how B&N Education did, many of the company's metrics improved substantially. Comparable-store sales rose by 4.5% for the quarter, reversing a similar decline in the previous quarter. That's consistent with the explanation the company gave last quarter, saying that later school openings pushed sales of books and required course materials for spring-semester classes into the fiscal fourth quarter. At the same time, though, general merchandise revenue gains were also strong, with a gain of 2.6% riding on sales of graduation-related products and apparel bearing college emblems. Given that the full year's comps were down 1.9%, the quarter's news was good for B&N Education.
B&N Education completed a successful year that included several important steps toward growth. The retailer opened 39 new stores, bringing its total store network above the 750 mark as of the end of April. The acquisition of digital platform and analytics specialist LoudCloud and the relationship with VitalSource to outsource B&N's Yuzu eTextbook reading platform both promise to improve the company's ability to serve customers.
B&N Education CEO Max Roberts was pleased with the results. "Following our separation from Barnes & Noble Inc. last year," Roberts said, "we have made solid progress executing on our stand-alone strategy." The CEO pointed to strong textbook sales and rentals in driving comps higher and expects further revenue gains in the year to come.
Has B&N Education graduated to consistent profitability?
B&N Education expressed enthusiasm about its prospects for the coming fiscal year. In Roberts' words, "We continued our momentum into Fiscal 2017, with 32 new stores awarded to date and with estimated first year sales of approximately $110 million." Continued expansion should bode well for the college specialist's results throughout the year.
Yet some of B&N Education's guidance didn't seem consistent with the positive tone of its financial report. Total sales growth of 2% to 4% is in line with what most of those following the stock have expected from the retailer, but a potential downdraft of up to 2% in comparable-store sales suggests that the most recent quarter's results were more of an anomaly than a sign of an uptick in business volume.
Perhaps because of that inconsistency, B&N Education investors weren't entirely pleased with the report, and the stock gave up initial gains to trade down 2% in the first half-hour of trading following the announcement. With so much potential, Barnes & Noble Education needs to prove it can make the grade in order to convince investors that the college bookstore specialist is on a path toward reliable earnings for the foreseeable future.
The article Barnes & Noble Education Perks Up With a Profit originally appeared on Fool.com.
Dan Caplinger has no position in any stocks mentioned. The Motley Fool owns shares of Barnes and Noble Education. Try any of our Foolish newsletter services free for 30 days. We Fools may not all hold the same opinions, but we all believe that considering a diverse range of insights makes us better investors. The Motley Fool has a disclosure policy.
Copyright 1995 - 2016 The Motley Fool, LLC. All rights reserved. The Motley Fool has a disclosure policy.