Barnes & Noble Education Fails Its Latest Test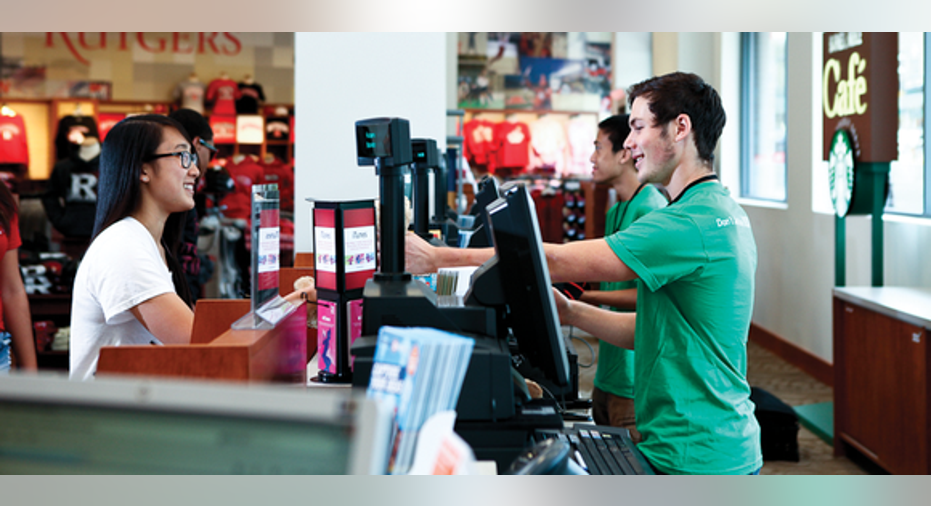 For most retailers, the holiday season is the most important of the year. But for college bookstore operator Barnes & Noble Education (NYSE: BNED), a huge portion of its overall revenue comes in during the back-to-school quarter, and coming into Tuesday's fiscal second-quarter financial report, B&N Education investors were looking for solid gains in the company's bottom line. Instead, what B&N Education revealed was a slight decline in adjusted earnings, along with slightly weaker sales than most of those following the stock had expected to see. Let's take a closer look at Barnes & Noble Education and see why things didn't go according to plan.
Image source: Barnes & Noble Education.
Are earnings at Barnes & Noble Education dropping out?
Barnes & Noble Education's fiscal second-quarter results fell short of what shareholders had hoped to see from the company. Sales came in at $770.7 million, which was up 2% from the year-ago quarter but slightly less than the $779 million in revenue that most investors had expected. B&N fared worse on the earnings side of the equation, posting adjusted net income of $29.7 million, down 11% from last year's fiscal second quarter. That produced adjusted earnings of $0.63 per share, which missed the consensus forecast by $0.15 per share.
Poring through B&N Education's numbers more closely, several of the disturbing trends we've seen in past quarters continued to appear this time around as well. Comparable store sales once again fell, posting a 2.9% decrease. The company said that textbook sales were the biggest component of the declining, falling 3.3% from the year-ago quarter. General merchandise sales also performed poorly, reversing a gain in the previous period and falling 1.3%.
From an operational standpoint, B&N Education kept trying to move forward. However, the company opened only a single store during the period, bringing its total store count to 771 and marking the 34th new store that it has opened during the first half of the fiscal year. B&N also said that it doesn't expect a huge number of openings for the remainder of the year either, with plans for just two additional store locations to come on line.
B&N Education CEO Max Roberts pointed to tough conditions in the college environment generally. "Though our new business enabled us to grow total sales," Roberts said, "comparable store sales declined as a result of lower enrollments and a softer retail environment." The CEO also pointed to B&N's new price-matching program in driving greater engagement among students and offset expected drops in enrollment in the future.
What's ahead for B&N Education?
B&N Education sees its fall rush efforts having staying power, and it expects to continue its price-matching activity for the spring rush as well. In addition, Roberts said that he sees the company "adjusting our promotional strategy in a targeted and disciplined manner to reflect current market conditions." In combination with cost management initiatives designed to minimize any further earnings declines, B&N Education wants to remain ready to serve educational institutions seeking to outsource their textbook and retail operations.
From a guidance perspective, however, Barnes & Noble Education seemed a bit more downbeat. The company nudged investors toward the higher end of its previous sales growth guidance, expecting gains of 3% to 4% on the top line now. However, B&N is much more pessimistic about its comparable store sales figures than it was previously, now predicting a drop of 2% to 3% on the year. Adjusted pre-tax earnings will only climb by mid-single-digit percentages, putting further potential pressure on B&N's bottom-line results.
B&N Education investors weren't happy with the news, sending the stock down 10% in pre-market trading immediately following the announcement. For the company to realize its full potential, Barnes & Noble Education will have to keep persuading major institutions to turn to it for outsourcing services. Even then, B&N will face obstacles if student enrollment declines don't reverse themselves soon.
10 stocks we like better than Barnes and Noble Education When investing geniuses David and Tom Gardner have a stock tip, it can pay to listen. After all, the newsletter they have run for over a decade, Motley Fool Stock Advisor, has tripled the market.*
David and Tom just revealed what they believe are the 10 best stocks for investors to buy right now... and Barnes and Noble Education wasn't one of them! That's right -- they think these 10 stocks are even better buys.
Click here to learn about these picks!
*Stock Advisor returns as of Nov. 7, 2016
Dan Caplinger has no position in any stocks mentioned. The Motley Fool has no position in any of the stocks mentioned. Try any of our Foolish newsletter services free for 30 days. We Fools may not all hold the same opinions, but we all believe that considering a diverse range of insights makes us better investors. The Motley Fool has a disclosure policy.