Bargain Hunters Help Lift Dollar Tree's 1Q Profit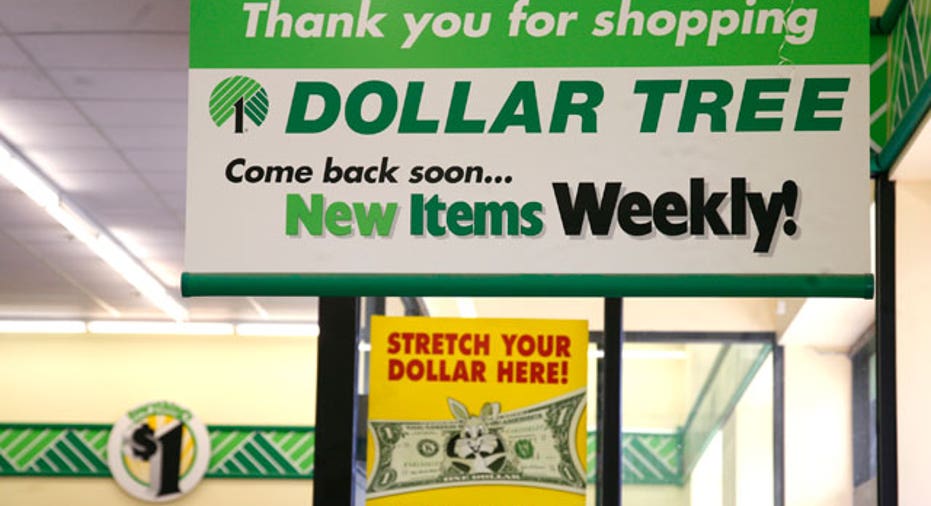 Shares of Dollar Tree (NASDAQ:DLTR) surged nearly 4% to an all-time high on Thursday after the company revealed sharply higher first-quarter profit and boasted a fiscal forecast that could trump Wall Street estimates.
Bargain shoppers continued to visit Dollar Tree, which booked strong seasonal performance from Valentine's Day through Easter and higher traffic.
Reflecting the impressive performance, Dollar Tree raised its fiscal forecast to a range of $3.69 to $3.85 a share from its earlier view of $3.55 to $3.76 a share. Analysts are looking for $3.76 a share.
The Chesapeake, Va.-based discount retailer posted net income of $101 million, or 82 cents a share, compared with $63.6 million, or 49 cents a share, in the same quarter last year.
Revenue for the top U.S seller of products under a dollar was $1.55 billion, up 14.3% from $1.35 billion a year ago, helped by a 7.1% jump in comparable store sales.
The quarterly results beat average analyst estimates polled by Thomson Reuters of 75 cents on revenue of $1.51 billion.
"I am pleased by Dollar Tree's continuing growth in sales and earnings," Dollar Tree CEO Bob Sasser said in a statement. "Our business momentum was strong throughout the first quarter."
The retailer forecasts second-quarter earnings in the range of 68 cents to 75 cents a share on sales between $1.51 billion to $1.55 billion. Wall Street is looking for earnings of 73 cents on sales of $1.53 billion.