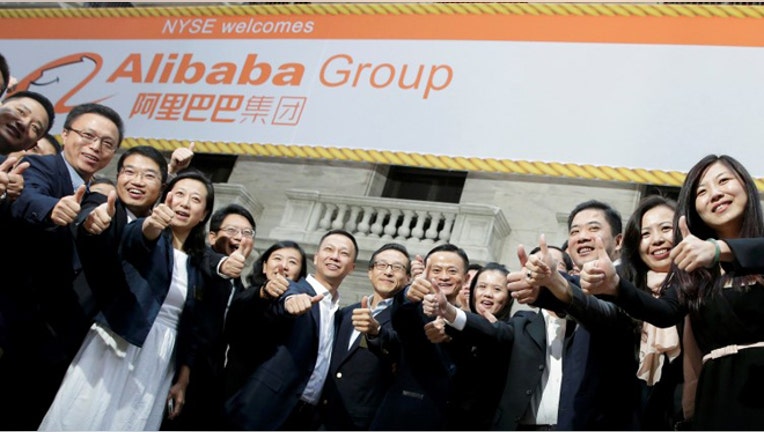 With 293 companies going public, 2014 saw the most U.S. IPOs since 2000, when there was a dot-com boom. The IPOs raised $95.9 billion, which is also the greatest volume seen since 2000, when $104.6 billion was raised, according to Dealogic.
The year also saw the biggest IPO ever, with Chinese e-commerce giant Alibaba (NYSE:BABA), which raised $25 billion in its public debut on the New York Stock Exchange. Citizens Financial (NYSE:CFG) and Synchrony Financial (NYSE:SYF) saw the next biggest IPOs, raising $3.5 billion and $3 billion, respectively.
"You had this backdrop of good companies, strong performance and investor demand that led to the record year," Nelson Griggs, Nasdaq Executive Vice President of Listing Services, told FOXBusiness.com.
David Ethridge, who is Senior Vice President and Head of the Capital Markets Group at NYSE Euronext, said, "Nothing is really threatening investor confidence right now."
Technology was the sector that saw the most volume, partly due to Alibaba, with 57 IPOs raising $39.3 billion. Healthcare saw the most IPOs, with 107 companies going public in 2014, due to a biotech boom. Finance also came in strong, with 45 IPOs raising $17.7 billion.
The surge in biotech IPOs stemmed from a "great regulatory environment for biotech IPOs," Griggs explained. He added that "the performance for biotech IPOs has been fantastic," which saw their shares rise an average of 20% in the first 30 days.
In general, newly public companies saw a first day "pop" of 13% in gains, for those who invested at the IPO price. Returns rose to 17% after the first month of trading, which is lower than the 26% gains seen in 2013.
The year also saw 113 venture-backed IPOs, the most seen since 2000. This was largely due to the large number of biotech and tech IPOs.
IPOs with a financial sponsor raised $34 billion, the most on record. The largest private equity-backed IPOs were Ally Financial and Santander Consumer, which raised $2.6 billion and $2 billion, respectively.
The Nasdaq saw 176 IPOs go public on its exchange and the New York Stock Exchange listed 111 companies. NYSE IPOs raised $71.8 billion and Nasdaq companies raised $23.8 billion.
Although the year's IPO totals approach 2000's, when there was a tech bubble, Griggs remains unconcerned. "If you look at the quality of companies, the earnings potential, the way they are growing their businesses, it's a vastly different market than it was in 2000," he said.
The outlook for IPOs remains strong. In fact, Kathleen Smith, principal at IPO ETF manager, Renaissance Capital (NYSE:IPO) predicts that we will "continue the momentum into 2015." Smith is expecting continued enthusiasm for biotech and also some interesting IPOs in the consumer space.
"It's somewhat precarious to look at your best year ever and talk about going up," Ethridge said. "But right now the pipeline looks very solid as we look into January and early February."