Bankruptcies Continue in Solar Industry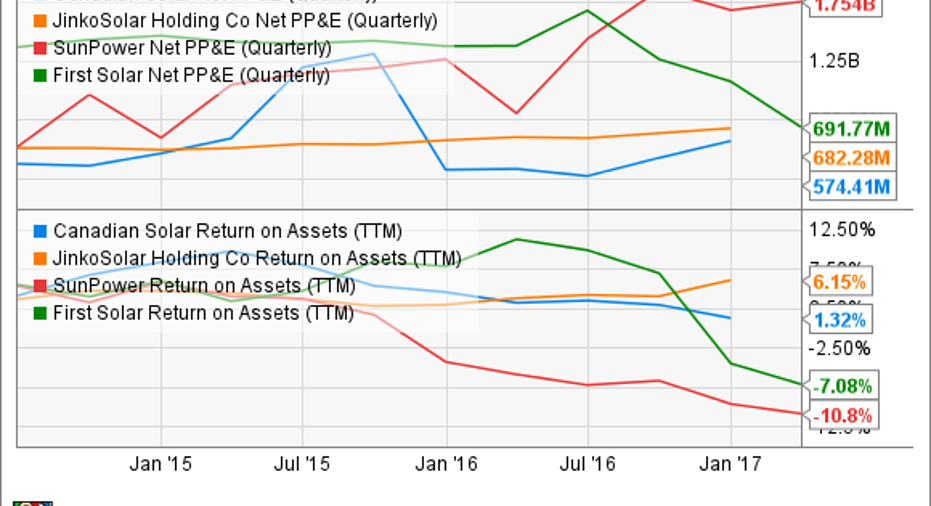 Less than a month ago, I wrote that more bankruptcies are coming to the solar industry in 2017. This week, that prediction came true. SolarWorld, the European manufacturer of solar panels that had one of the largest manufacturing plants in the U.S., filed for insolvency. This follows Suniva's bankruptcy in April and leaves the U.S. without much non-bankrupt solar manufacturing capacityoutside of First Solar's (NASDAQ: FSLR) plant in Ohio, SunPower's (NASDAQ: SPWR) pilot lines, and Tesla's (NASDAQ: TSLA) incomplete Buffalo factory.
U.S. manufacturers have taken the brunt of the industry's downturn over the past year, driven by about a one-third decline in solar panel prices. And the economics of U.S. manufacturing just doesn't work at those prices in a competitive market, and customers aren't willing to pay much of a premium for "Made in the U.S.A." solar panels. Here's what investors should know and keep in mind going forward.
Image source: Getty Images.
Low prices make solar economics tough
Solar panel manufacturing is particularly difficult because it takes hundreds of millions to build out manufacturing capacity and returns have been pretty terrible. Below is the net property, plant, and equipment on the balance sheets of Canadian Solar (NASDAQ: CSIQ), JinkoSolar (NYSE: JKS), SunPower, and First Solar, alongside and the associated return on assets. You can see that the return on the massive investment is pretty bad.
CSIQ Net PP&E (Quarterly) data by YCharts.
The assets that have been built also become obsolete very quickly. A manufacturing facility built a decade ago is likely worthless without major upgrades. For example, SunPower shut down most of its E-Series production recently after building a more efficient X-Series production facility, and First Solar is tearing down its manufacturing process and spending around $1 billion to upgrade to a product it's calling Series 6.
In China, commodity multicrystalline silicon panels are quickly becoming obsolete in favor of monocrystalline silicon and eventually Mono-PERC. As the industry shifts to these new products, old manufacturing facilities will be written off, leaving many manufacturers in the dust.
Will consolidation help solar economics?
The upside for the few survivors in the solar industry should be better economics. As companies have floundered, they've been forced to sell product at cash costs or less, bringing down the whole industry with them. But if manufacturing consolidates into just a handful of large companies, they could slowly develop scale and technology new entrants couldn't compete with -- and slowly inch margins higher. This is because, unlike most industries, solar manufacturers who go bankrupt usually disappear rather than restructuring and keeping the market oversupplied.Bankrupt manufacturers don't typically have equipment others are willing to buy, which we saw with Suntech Power, Solyndra, Evergreen Solar, OptiSolar, and Abound Solar. They usually flood the market in their last breaths but rarely does another strong manufacturer buy the distressed assets or does a restructuring work.
I think we're already getting to the point where discerning developers will prefer to work with manufacturers they see as long-term winners, particularly in the U.S. and other developed markets. The difference between most solar panels is small, but if a developer doubts the future of a particular manufacturer, they'll likely choose the more stable supplier, like NextEra's decision to use SunPower for a recent 125 MW project or First Solar signing 111 MW of sales since February. On the flip side, weaker companies like Yingli Green Energy and Suntech Power, as it was going bankrupt, quickly lose sales because customers can see financial trouble coming. Paying a small premium of a penny or two per watt would be a small price to pay for more stability, and for manufacturers that penny or two, it can be the difference between breaking even and making a profit.
We're early in the industry's consolidation, but I think we'll see some of the manufacturers I mentioned above slowly expand their share. If they can maintain decent economics, they'll slowly squeeze weaker suppliers out. And with the solar industry reaching a point of more sustainable growth long-term, this could finally be a winning industry for investors.
10 stocks we like better thanWal-MartWhen investing geniuses David and TomGardner have a stock tip, it can pay to listen. After all, the newsletter theyhave run for over a decade, the Motley Fool Stock Advisor, has tripled the market.*
David and Tomjust revealed what they believe are theten best stocksfor investors to buy right now... and Wal-Mart wasn't one of them! That's right -- theythink these 10 stocks are even better buys.
Click hereto learn about these picks!
*StockAdvisor returns as of May 1, 2017The author(s) may have a position in any stocks mentioned.
Travis Hoium owns shares of First Solar and SunPower. The Motley Fool owns shares of and recommends Tesla. The Motley Fool has a disclosure policy.