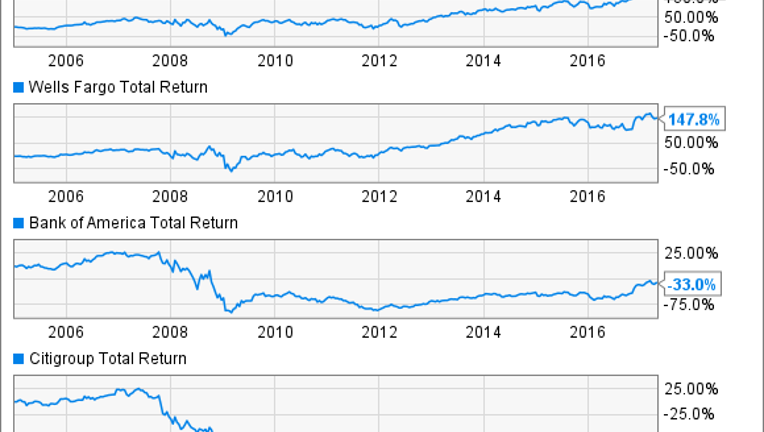 The one benefit to the precipitous drop in Bank of America's (NYSE: BAC) stock price during and after the financial crisis is that the bank's shares have had a much more robust recovery than virtually any other big bank stock.
This is true whether you look at the performance of Bank of America's stock over the past one, three, or five years.
Data source: Bank of America.
And Bank of America's outperformance continues today. Through the first three months of 2017, its shares climbed 7%, compared with the 1% average of its peer group.
One reason Bank of America's stock has performed so well over these time frames is that it fell more than most bank stocks during the financial crisis. At one point, it had declined by a total of 93%.
This was significantly more than all but one of its closest competitors -- namely, Citigroup, which saw a similar decline. Shares of JPMorgan Chase and Wells Fargo, by contrast, fell upwards of 70% before quickly recovering.
JPM Total Return Price data by YCharts.
Looking forward, the picture looks similarly auspicious for Bank of America. Higher interest rates will boost its bottom line. And an ongoing expense initiative is continuing to whittle away at operating costs.
The North Carolina-based bank's first-quarter performance offers a case in point. Its earnings through the first three months of the year jumped 44% compared with the year-ago period.
The gain was fueled by higher net interest income triggered by the Federal Reserve's decision to increase the fed funds rate in December. Higher trading revenues also boosted Bank of America's bottom line last quarter.
The second quarter should be even better for Bank of America, with analysts predicting yet another sharp climb in its earnings per share. For the three months ending June 30, the consensus EPS target for Bank of America is $0.47, according to Yahoo! Finance. That equates to a 15% year-over-year improvement.
Data source: Yahoo! Finance. Chart by author.
The additional rate hike in March, which was too late in the first quarter to affect Bank of America's numbers, will add $150 million in net interest income in the second quarter. On top of this, because Bank of America faces a seasonal drop in expenses in the second quarter compared with the first, more of this revenue, as well as from other sources, will be free to drop to the bottom line.
Thus, while Bank of America's shares have certainly performed well over the past five years, there's reason to believe that they'll continue to ascend.
10 stocks we like better than Bank of AmericaWhen investing geniuses David and Tom Gardner have a stock tip, it can pay to listen. After all, the newsletter they have run for over a decade, Motley Fool Stock Advisor, has tripled the market.*
David and Tom just revealed what they believe are the 10 best stocks for investors to buy right now... and Bank of America wasn't one of them! That's right -- they think these 10 stocks are even better buys.
Click here to learn about these picks!
*Stock Advisor returns as of May 1, 2017
John Maxfield owns shares of Bank of America and Wells Fargo. The Motley Fool has no position in any of the stocks mentioned. The Motley Fool has a disclosure policy.