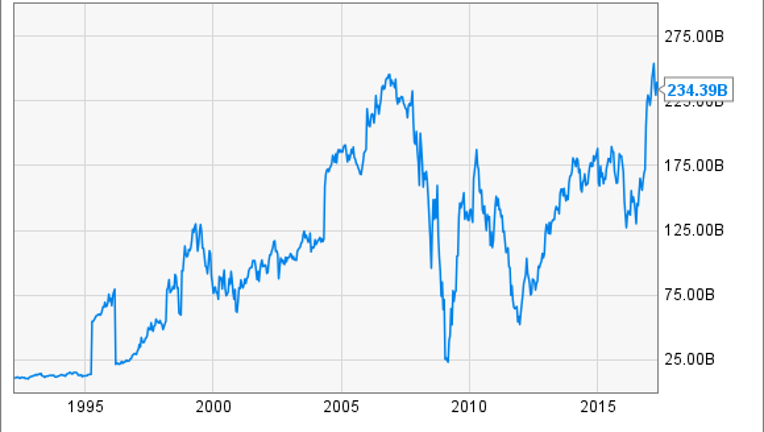 Shares of Bank of America (NYSE: BAC) have surged over the past few years, handily outperforming the bank's peer group as well as the broader market. Yet, while other banks have seen their total market valuations soar to ever new heights, it was only recently that Bank of America's market cap finally eclipsed its pre-crisis record.
At its peak, the North Carolina-based bank was worth just under $250 billion, calculated by multiplying its outstanding share count by its price per share. But that was in 2006, before the financial crisis caused Bank of America's shares to drop by as much as 93% at one point compared to before the crisis.
Bank of America's corporate headquarters building towers over downtown Charlotte, North Carolina. Image source: Getty Images.
The dramatic decline was fueled first and foremost by Bank of America's not entirely voluntary decision to raise capital in the wake of the crisis by issuing stock at a substantial discount to book value. This significantly diluted existing shareholders and is the principal reason Bank of America's stock price is still 57% off its all-time high.
The $2.2 trillion bank had little choice but to do so, given its crisis-related losses. All told, Bank of America spent upwards of $200 billion on legal settlements and elevated credit costs triggered by the 2008 downturn.
But all of this is finally beginning to disappear into the distance. Case in point: After the presidential election sent bank stocks soaring, Bank of America's market cap crested $250 billion for the first time in its history. It has since dropped below $240 billion again, but it's only a matter of time, at this point, before the bank sees its valuation reach new peaks.
BAC Market Cap data by YCharts.
Raising interest rates will help. The Federal Reserve's decision to increase the Fed funds rate in December, combined with higher long-term rates, has translated into $600 million worth of additional quarterly net interest income. And the further rate hike in March should add another $150 million each quarter.
On top of this, Bank of America has dramatically cut its expense base since CEO Brian Moynihan took over at the beginning of 2010. It has slashed $25 billion in annual expenses over the past six years, and it's in the process of cutting $3 billion more.
The combination of these factors has positioned Bank of America to meet its self-imposed profitability targets -- 1% return on assets and a 12% return on tangible common equity -- for the first time in nearly a decade. Add in the bank's ever-growing dividend and stock buybacks, and it doesn't seem unreasonable to think that Bank of America's market cap should continue to head higher much more consistently from here.
10 stocks we like better than Bank of AmericaWhen investing geniuses David and Tom Gardner have a stock tip, it can pay to listen. After all, the newsletter they have run for over a decade, Motley Fool Stock Advisor, has tripled the market.*
David and Tom just revealed what they believe are the 10 best stocks for investors to buy right now...and Bank of America wasn't one of them! That's right -- they think these 10 stocks are even better buys.
Click here to learn about these picks!
*Stock Advisor returns as of May 1, 2017.
John Maxfield owns shares of Bank of America. The Motley Fool has no position in any of the stocks mentioned. The Motley Fool has a disclosure policy.