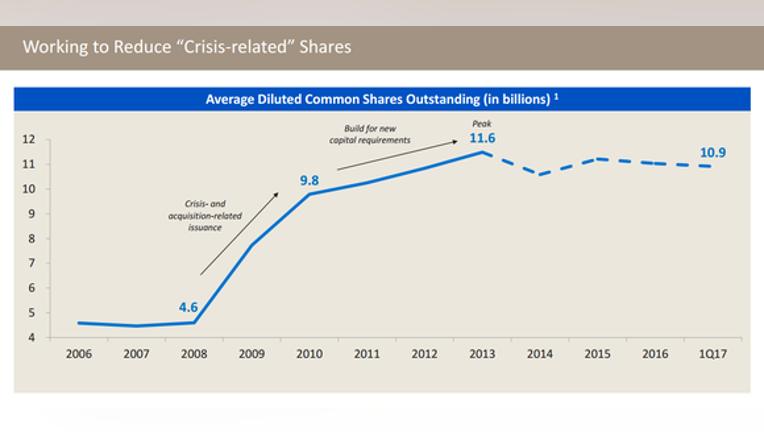 One of the most compelling reasons Bank of America (NYSE: BAC) stock is likely to be a good long-term investment is that the bank is committed to repurchasing large amounts of its own stock.
Chairman and CEO Brian Moynihan made this point not long after taking over, in a 2011 interview with Fortune's Shawn Tully:
Bank of America's efforts have been frustrated by regulators, who exercise veto power over big bank capital plans as a part of the annual stress test process. As a result, the North Carolina-based bank has raised its dividend only twice since the financial crisis, whereas other banks have raised theirs every year since 2010.
Bank of America Chairman and CEO Brian Moynihan. Image source: Bank of America.
But Moynihan remains committed to his original plan. He spent a meaningful portion of his latest annual letter reinforcing the message that "now that our company is stronger, we are focused on reducing the dilution and increasing the dividend."
He went on to explain:
Finally, here's a chart the bank included in its annual investors' day presentation:
Image source: Bank of America.
This essentially tracks what Moynihan explained in his letter. It shows the growth in outstanding share count between 2008 and 2013 to raise capital and finance Bank of America's acquisition of Merrill Lynch.
The year 2013 marks an inflection point, after which Bank of America stopped issuing shares for the purpose of raising capital and instead switched to buying back stock. It spent a net $2.8 billion that year on share repurchases. More recently, it spent $4 billion on buybacks in 2016.
In short, investors have every reason to believe that, despite its late start, Bank of America still intends to rapidly increase its share buybacks once it gains the flexibility it needs to do so.
10 stocks we like better than Bank of AmericaWhen investing geniuses David and Tom Gardner have a stock tip, it can pay to listen. After all, the newsletter they have run for over a decade, Motley Fool Stock Advisor, has tripled the market.*
David and Tom just revealed what they believe are the 10 best stocks for investors to buy right now... and Bank of America wasn't one of them! That's right -- they think these 10 stocks are even better buys.
Click here to learn about these picks!
*Stock Advisor returns as of May 1, 2017
John Maxfield owns shares of Bank of America. The Motley Fool has no position in any of the stocks mentioned. The Motley Fool has a disclosure policy.