Bank of America to Charge $5 Debit Card Fee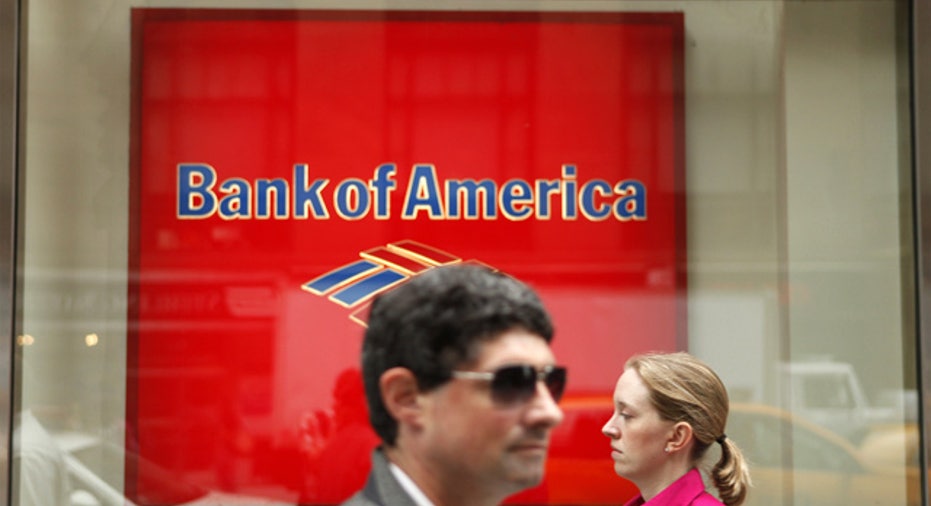 Bank of America Corp plans to charge customers who use their debit cards to make purchases a $5 monthly fee beginning early next year, joining other banks scrambling for new sources of revenue.
U.S. banks have been looking for ways to increase revenue as regulations introduced since the financial crisis limited the use of overdraft and other fees.
The Dodd-Frank Act's Durbin amendment, due to go into effect on Oct. 1, caps fees banks can charge merchants for processing debit card transactions at 21 cents per transaction from an average of 44 cents, potentially costing banks billions of dollars.
Banks also face broader operational challenges as low interest rates and higher capital requirements hit profitability, and the sluggish economy depresses loan demand.
Other large U.S. banks including Wells Fargo & Co, JPMorgan Chase & Co and SunTrust Banks Inc are testing or planning monthly debit card fees.
``The economics of offering a debit card have changed,'' Bank of America spokeswoman Anne Pace said on Thursday. Bank of America is the largest U.S. bank by assets.
Senator Richard Durbin, architect of debit card interchange fee reform, bashed the proposed monthly fee. ``Bank of America is trying to find new ways to pad their profits by sticking it to its customers,'' he said in a statement. It's overt, unfair, and I hope their customers have the final say.''
A FEE TOO FAR?
Even before introduction of the Durbin amendment's rules on debit fees, Bank of America's fee income was dropping at its deposits and card services units. The bank's deposits unit reported fee income of $1 billion in the second quarter of 2011, down 34 percent from $1.5 billion a year before.
Card services, which includes the bank's credit and debit card operations, reported fee income of $1.9 billion, down 23 percent from $2.5 billion in second quarter 2010.
``This might be a fee too far,'' said Ed Mierzwinski, director of the consumer program for the U.S. PIRG, a federation of state public interest research groups.
Mierzwinski said such fees could push customers to smaller banks that have not introduced checking and debit-related fees.
Pace said customers expect certain features for their accounts, like overdraft and fraud protection, and the fee would offset some of those costs.
The fee will be waived for the bank's premium or platinum privileges accounts tied to its Merrill Lynch brokerage. It will also not be charged for using the card to access the bank's ATMs, Pace said.
She declined to say how much the bank expects to earn through these fees or how many customers would be affected.
Some banks have pushed back against debit fees.
Citigroup Inc said earlier this month that it would not impose debit card usage fees as part of a broader account restructuring.
The head of banking products for Citi's U.S. consumer bank said customers had told the bank that a debit card fee would be ''a huge source of irritation.''