Bank of America Is Reasonably Priced, Even If Investors Are Overly Optimistic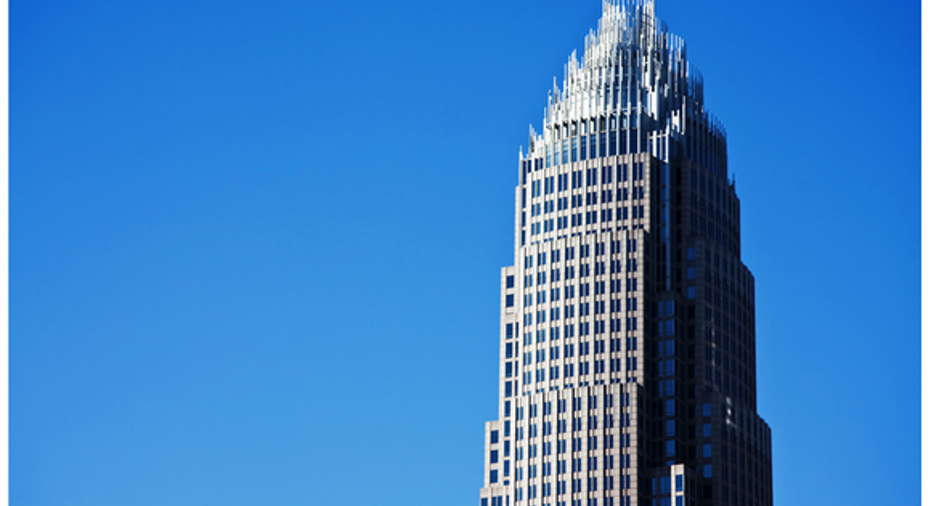 There's no lack of optimism surrounding bank stocks right now, as investors are betting that the current presidential administration will roll back regulations and thereby spur profitability in the bank industry.
But even if the president's promise to "dismantle" the 2010 Dodd-Frank Act doesn't live up to expectations, which seems like a reasonable possibility in light of unfolding events, that doesn't mean all bank stocks are overvalued. A perfect example is Bank of America (NYSE: BAC).
Bank of America's headquarters in Charlotte, North Carolina. Image source: Getty Images.
Managing expectations
Over the past three months, Bank of America's shares have climbed by 35%, making it one of the top performers in the bank industry. The KBW Bank Index, which tracks shares of two dozen large-cap bank stocks, is up only 22% over the same stretch. You'd be excused for concluding that Bank of America's stock must thereby have the most to lose if the promised regulatory rollback comes up short of expectations, which could very well happen.
Indeed, if you listen to Gary Cohn, one of Trump's chief economic advisors, the administration doesn't intend to wage a direct attack on the Dodd-Frank Act. This is because getting a comprehensive overhaul through Congress would be next to impossible. The votes just aren't there in the Senate, where the Republicans have only a slim majority but would need 60 votes to enact sweeping changes.
The administration is instead going to focus on easing existing regulations by changing out personnel at the agencies in charge of overseeing banks, says Cohn. By changing governors at the Federal Reserve, for instance, the administration could make it a lot easier for banks to distribute capital to shareholders -- a development that Bank of America has been pining for. This would be a welcome development for banks, and Bank of America in particular, but it'd nevertheless come up short of a broad overhaul of Dodd-Frank.
If a bill were to make its way through Congress, moreover, there's no guarantee it'd be as good for banks as many people seem to think. The most complete alternative to date, the Financial CHOICE Act proposed by Republican Representative Jeb Hensarling, would actually raise capital requirements for banks. Holding all else equal, that would further weigh on profitability in the sector.
Bank of America still isn't overpriced
But even if investors are too optimistic about the extent of a regulatory overhaul, that doesn't mean that Bank of America's stock has climbed to unreasonable heights in anticipation of deregulation. Yes, it's gone up. And yes, expectations about a less-hostile regulatory environment have played into its rally. But Bank of America's shares are still reasonably valued.
Most bank stocks will trade for a moderate premium to book value. This makes sense when you consider that bank investors aren't just buying a share of a bank's capital -- they're also staking a claim in that capital's ability to generate earnings.
The average stock on the KBW Bank Index trades for a 45% premium to book value. Bank of America, on the other hand, trades for a 5% discount to book value, according to data from YCharts.com. There are reasons for this: Bank of America's profitability has yet to fully recover from the financial crisis. But those reasons will dissipate with time. And as they do, Bank of America's valuation should converge with the average of its peer group.
The net result is that Bank of America's shares seem, to me, to be reasonably priced, whether a massive regulatory overhaul comes to fruition or not.
10 stocks we like better than Bank of AmericaWhen investing geniuses David and Tom Gardner have a stock tip, it can pay to listen. After all, the newsletter they have run for over a decade, Motley Fool Stock Advisor, has tripled the market.*
David and Tom just revealed what they believe are the 10 best stocks for investors to buy right now... and Bank of America wasn't one of them! That's right -- they think these 10 stocks are even better buys.
Click here to learn about these picks!
*Stock Advisor returns as of February 6, 2017
John Maxfield owns shares of Bank of America. The Motley Fool has no position in any of the stocks mentioned. The Motley Fool has a disclosure policy.