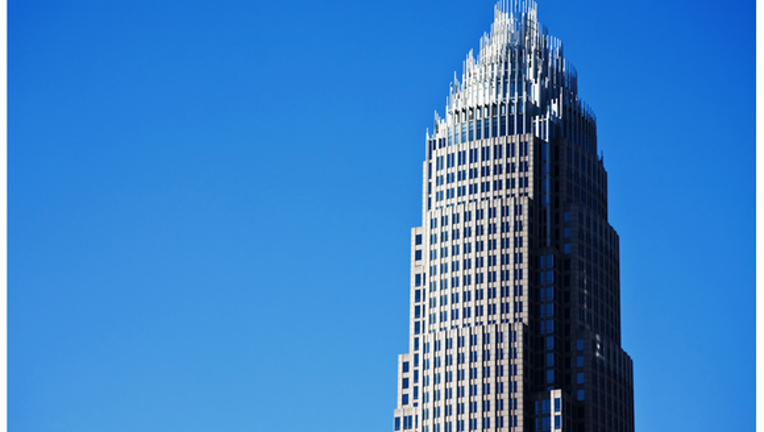 Bank of America's headquarters in Charlotte, North Carolina. Image credit: iStock/Thinkstock.
The most important thing I took away from Brian Moynihan's recently released 2015 shareholder letter was his statement that Bank of America is "no longer clouded over" by crisis-related liabilities. The significance of this sentiment is underscored by the fact that it came in the first paragraph of the CEO's statement, which noted that (emphasis added):
This wasn't the first time in the past year that Moynihan has made this type of claim. He hinted at it in July in his remarks announcing the bank's second-quarter earnings, which shifted from a focus on expense and risk management to that of revenue generation -- or, what he referred to as "invest[ing] in the future." As Moynihan said on the quarterly call with analysts:
The change in Moynihan's tone was supported by two occurrences last year that garnered little attention. The first was a decision by a New York state judge that reduced Bank of America's outstanding crisis-related legal liabilities by$7.6 billion. The judgment also stemmed the inflow of new claims, dropping them at the time from an average of approximately $2 billion a quarter down to roughly $200 million.
The second thing event to note also occurred in the second quarter, when all three of the nation's leading credit-rating agencies increased their ratings on Bank of America. A company of Bank of America's size and complexity has numerous ratings that apply to its parent company, subsidiaries, and various debt and equity instruments -- not all of which were increased. But the fact that there was positive movement in some of them is significant.
I've discussed the significance of this in the past. If Bank of America's debt ratings matched Wells Fargo's, it could save upwards of $2 billion a year in interest expense on long-term debt alone.
In sum, while there's no doubt that Bank of America still has considerable room to improve -- as is evidenced by its 0.74% return on average assets last year, roughly half what Wells Fargo achieved -- positive and unequivocal statements like Moynihan's above will certainly be welcome news for investors in the nation's second-biggest bank by assets.
The article Bank of America Is "No Longer Clouded Over" by Crisis-Related Liabilities, Says CEO originally appeared on Fool.com.
John Maxfield owns shares of Bank of America. The Motley Fool recommends Bank of America. Try any of our Foolish newsletter services free for 30 days. We Fools may not all hold the same opinions, but we all believe that considering a diverse range of insights makes us better investors. The Motley Fool has a disclosure policy.
Copyright 1995 - 2016 The Motley Fool, LLC. All rights reserved. The Motley Fool has a disclosure policy.