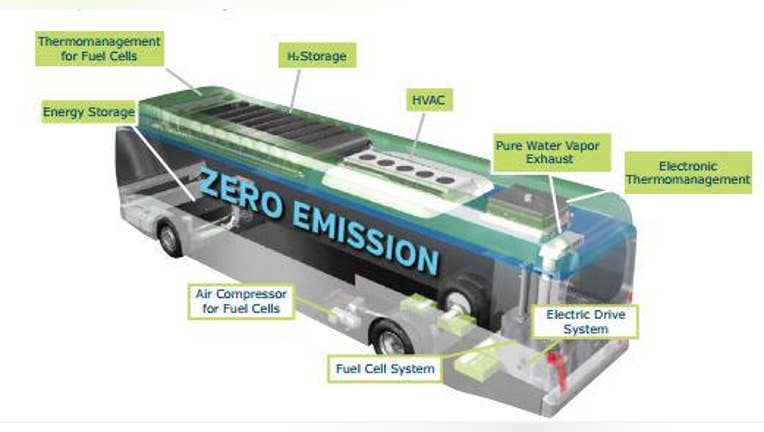 It's been a few days now since fuel-cell pioneer Ballard Power Systems reported its fiscal Q4 and full-year 2015 earnings. Since those earnings came out, the stock has rocketed 13.5% on basically no news other than the earnings, and a promise to give a presentation at a mid-month investment conference. It's high time we took a look -- and found out what all the fuss is about.
Ballard Power is helping to build zero-emission buses in China -- but still scoring zero profits here at home. Image source: Ballard Power.
The expectations gameDid Ballard Power beat on earnings, or miss? It depends on whom you ask,and which numbers you want to focus on.
CEO Randy MacEwen, for one, says his company's results were "broadly in line with expectations." For Q4, revenues were up 28% year over year -- but still fell about 5% shy of consensus estimates. Earnings, too, were worse than expected (by $0.01 a share). On the bright side, Ballard's quarterly loss was at least narrower than experienced in Q4 2014.
For 2015 as a whole, revenues were down 18% compared to 2014 numbers, with a greater per-share loss, as well. But at least the loss was close to what analysts had predicted. I guess that, on balance, you could call the news "mixed," with plenty of good news -- and bad news, as well -- to go around.
The power of low expectationsThe fact that investors didn't expect Ballard to report a profit last week seems to have worked in the stock's favor in at least one respect: The stock price didn't budge the day after the news broke. Even better (for those who own Ballard stock), Ballard's share price has risen steadily in the days subsequent, and at $1.51 per share, now sits 13.5% higher than pre-earnings.
Given the lack of profits, this rise in stock price can only be attributed to promises of progress toward profits -- or at least a reduction in losses -- in years to come. Management declined to give precise guidance on how revenues and losses might shake out this year. MacEwen did say, however, that he hopes to "grow revenue, improve gross margin and rationalize certain operating costs" in 2016. Ideally, he says, if Ballard can succeed in cutting costs by $4 million annually, it can eventually break even on its business, with $20 million less revenue than it previously would have needed.
So what's that magic revenue number that MacEwen declines to specify? It's hard to say. Using S&P Global Market Intelligence to trawl through Ballard's data back through the entirety of the 21st century, there's not a single year on record in which Ballard Power even came close to breaking even on an operating basis -- much less earning a net profit. The company came closest in 2013, when $61.3 million in revenue yielded an $18.9 million operating loss.
On the other hand, there have been years in which Ballard sold twice as much but lost even more money. In 2003, for example, Ballard hit nearly $120 million in sales, but booked a $104 million operating loss.
Analysts polled on S&P Global don't see any chance of Ballard earning a profit before 2020. Personally, I think they're being optimistic.
The article Ballard Power's Earnings Are Out -- and It Lost Big originally appeared on Fool.com.
Rich Smithdoes not own shares of, nor is he short, any company named above. You can find him onMotley Fool CAPS, publicly pontificating under the handleTMFDitty, where he's currently ranked No. 270 out of more than 75,000 rated members.The Motley Fool has no position in any of the stocks mentioned. Try any of our Foolish newsletter services free for 30 days. We Fools may not all hold the same opinions, but we all believe that considering a diverse range of insights makes us better investors. The Motley Fool has a disclosure policy.
Copyright 1995 - 2016 The Motley Fool, LLC. All rights reserved. The Motley Fool has a disclosure policy.