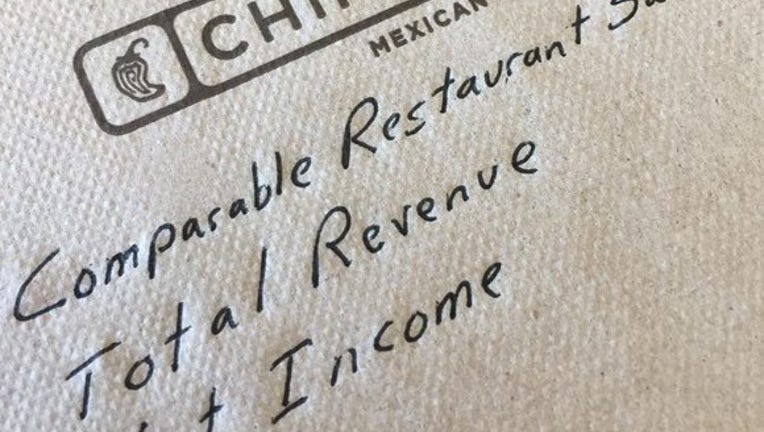 The news that Chipotle Mexican Grill(NYSE: CMG) co-CEO Monty Moran was stepping down, after running the company alongside founder Steve Ells since January 2009, caused shares to slide by around 6%. To make matters worse, Ells, now the sole CEO, admitted during an investor conference that he was nervous about hitting fiscal 2017 guidance.A great deal has been done, including Moran's departure which rectifies the obvious friction that occurs when a vessel has two captains, to right the ship following the food-poisoning scares of a year ago. But what will it take to get Chipotle back into growth mode?To answer that question, we're going to need a napkin.
Image source: author's lunch.
Fire up your calculator
Following a slew of food-borne-illness-related scares, Chipotle's revenue fell off a cliff in Q4 2015 and kept on falling, only to finally bottom out in Q1 2016. Here are the key data points we'll need for our quick-and-dirty back-of-the-napkin analysis:
Chipotle's quarterly revenue topped out at an all-time high of $1.217 billion in Q3 2015.
When the trouble began, in Q4 2015, revenue plummeted to $997.5 million.
Quarterly revenue bottomed out at $834.5 million in Q1 2016.
Chipotle stands today, a year after the trouble began, having generated $1.037 billion in revenue for the third quarter of 2016.
Same-store-sales results fell, at their worst, by 29.7% in Q1 2016.
Net income, for the first time in the company's history as a publicly traded company, was negative.The company is now profitable. Having generated $7.8 million in profits in Q3, it rebounded modestly from Q1's $25.4 million deficit -- but that remains a far cry from the $140 million-plus-per-quarter rate of fiscal 2015.
I know what you're thinking: Any analysis applied to these figures will inevitably be skewed because of new restaurant openings. And you're right. At the end of Q3 2016, Chipotle had 2,178 locations in operation, compared with 2,010 at the end of 2015 -- an 8.4% increase in just nine months. But rest assured we'll adjust for this change, as best we can on a napkin.
What will it take to get Chipotle in growth mode again?
Revenue has already rebounded by a solid 24.26% in just six short months (Q1-Q3 of 2016). To get back up above the previous peak of $1.217 billion, the company will need another 20% increase.
This could be done with a bunch of store openings -- but that won't do the trick for investors. They need to know Chipotle is back, and that can only be done by getting older locations back to, at the very least, their original sales numbers.
Let's look at some revenue figures:
First, we need to adjust for the previous 24% increase since Q1 2016 (11.35% per quarter) and subtract the 6% or so contribution (a rough guess) from new stores. This calculation equates to an 18% total rebound, or 5.7% compounding quarterly, from stores that were open the previous year.
The store count over the period in question increased 8%, but the average new restaurant yielded revenues of around 77% of those opened longer over a year, according to CMG's Q3 Conference Call.
We know that Chipotle's revenues experienced a strong bounce off their bottom from earlier this year, but 5.7% sequential same-store-sales growth per quarter is optimistic. What will the actual number be? It's hard to say, but let's go with 2% sequential growth per quarter and hope that all goes according to Chipotle's recovery plan. This outlook is also in line with the "high-single-digit" year-over-year same-store-sales growthguidance that Chipotle forecast for fiscal 2017 in October 2016's Q3 earnings release.
Just 2% same-store-sales growth, compounded quarterly, brings total revenue back to approximately $1.2 billion in nine quarters, assuming no new stores openings.
New store openings, which will add to the top line but not to investors' enthusiasm regarding Chipotle's rebound, are forecast to be in the area of 195 to 210 in fiscal 2017. That outlook marks an approximately 9% increase on top of today's current store count.
Clearly, new store openings can and probably will cut that nine-quarter figure in half.
As noted in a previous piece, Chipotle's operations are highly leveraged, and once individual restaurant sales get to anywhere close to their previous highs, solid profitability will return instantly, thanks to the company's sizableoperating leverage.
Napkins can be used for more than just cleaning up
If you've been following along on an actual napkin, it probably looks pretty messy right now.But don't ascribe any certainty to these calculations. Investing is as much an art as a science, and when Chipotle's rebound has come to full fruition will only be known in hindsight. What we do know is that the company is doing everything possible to right the ship and is planning on opening a solid number of new stores next year, and even a modest increase in same-store sales will produce strong profitability once again -- probably within the next 12 to 18 months.That's the reason Chipotle is still forecasting earnings per share of $10 in fiscal year 2017 and is going all in on winning its customers back by going back to the basics.
It won't happen tomorrow (or next quarter for that matter), but if our back-of-the-napkin analysis has taught us anything, it's that it won't take much for Chipotle to be back in growth mode once again.
10 stocks we like better than Chipotle Mexican Grill When investing geniuses David and Tom Gardner have a stock tip, it can pay to listen. After all, the newsletter they have run for over a decade, Motley Fool Stock Advisor, has tripled the market.*
David and Tom just revealed what they believe are the 10 best stocks for investors to buy right now... and Chipotle Mexican Grill wasn't one of them! That's right -- they think these 10 stocks are even better buys.
Click here to learn about these picks!
*Stock Advisor returns as of Nov. 7, 2016
Sean O'Reilly has no position in any stocks mentioned. The Motley Fool owns shares of and recommends Chipotle Mexican Grill. Try any of our Foolish newsletter services free for 30 days. We Fools may not all hold the same opinions, but we all believe that considering a diverse range of insights makes us better investors. The Motley Fool has a disclosure policy.