AZZ Incorporated Earnings: Margin Expansion on Its Way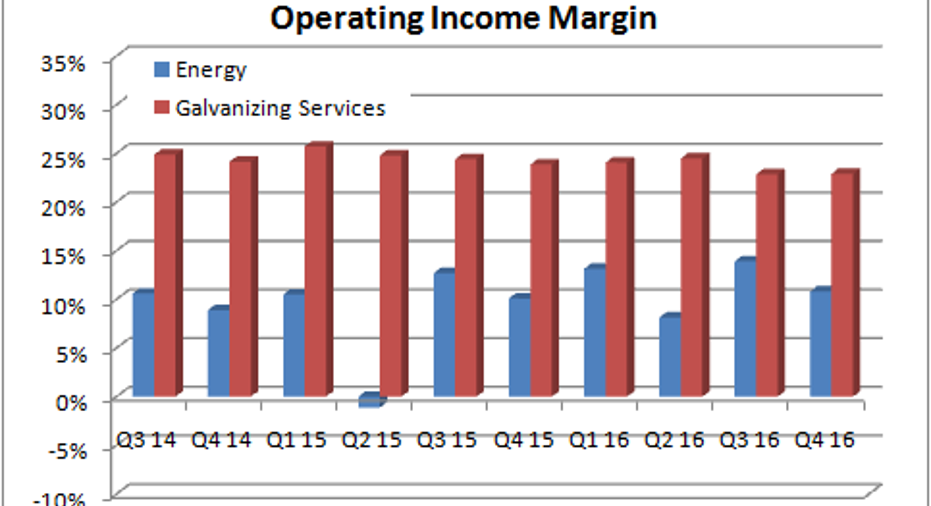 stock has had a strong year, with notable outperformance compared to the S&P 500 index. It's in large part due to the successful resolution of operating inefficiencies plus completing previously delayed shipments in its energy segment and the positive effects of acquisitions in the galvanizing segment. All of these themes came up in the company's recent fourth-quarter earnings. Let's take a closer look at the numbers and what management outlined for its fiscal year 2017.
AZZ Incorporated's fourth quarter 2016: The raw numbers A look at the headline figures and guidance:
Full-year revenue of $903.2 million compared to previous guidance for $890 million to $915 million
Full-year EPS of $2.96 ($3.08on adjusted basis) compared to previous guidance for $2.90 to $3.10
As you can see above, revenue and earnings were pretty much in line with the midpoint of guidance. Turning to guidance, management's forecasts predict solid mid-single-digit growth at the midpoint:
Full-year 2017 guidance for revenue of $930 million to $970 million, implying growth of 3% to 7.4%
Full-year 2017 EPS in the range of $3.15 to $3.45, implying an adjusted growth rate of 2.2% to 12%
Segment detail It's a good idea to break out AZZ's results by segment.
| Segment | Sales ($ millions) | Change | Operating Income ($ millions) | Change | Margin | Change (bp) |
| --- | --- | --- | --- | --- | --- | --- |
| Energy | 117 | 20.4% | 12.7 | 29.2% | 10.8% | 70 |
| Galvanizing | 100.6 | 18.2% | 23.1 | 13.5% | 22.9% | (100) |
| Total | 217.6 | 19.4% | 26.6 | 15.1% | 12.2% | (50) |
DATA SOURCE: AZZ INCORPORATED PRESENTATIONS. BP = BASIS POINTS, WHERE 100 BP EQUALS 1%.
A look at margin progression by segment shows that galvanizing margin has declined in recent quarters (more on that later) and that energy margin has improved on a year-over-year basis through AZZ Incorporated's fiscal 2016.
DATA SOURCE: AZZ INCORPORATED PRESENTATIONS.
Galvanizing services The segment's margin has been hit by the 2015 acquisition of U.S. Galvanizing from -- the acquired business came with lower margin than AZZ's existing galvanizing operations -- and pricing and volume pressures. One issue facing AZZ is its heavy exposure to the Gulf Coast, an area of the U.S. negatively affected by lower oil prices.
However, the company hasn't been standing still. For example, a new galvanizing facility has been opened in Reno, Nevada, and should contribute to the coming year's results. Moreover, on the earnings call, CEO Tom Ferguson made two interesting points on galvanizing margin.
First, Ferguson expects galvanizing margin to "go back to our historical levels toward the latter part of the year" and says they "feel pretty good about being back to north of 25% as we get to the end of the year."
Second, he outlined how most of the margin improvement was likely to come from "operational improvements, bringing them up to our level of standard operating practices, driving the discipline, leveraging the zinc productivity." In other words, internal activities, meaning that margin improvement is not reliant on end-market conditions.
Energy segment There was some good news in the energy segment as its nuclear business finally shifted "the balance of the long delayed Westinghouse nuclear project orders during the fourth quarter" -- the orders represented around $25 million in the quarter. Meanwhile, Ferguson described U.S. electrical utility spending as being "stable," with "inquiry growth on domestic utility infrastructure investments." As discussed recently, the outlook for electricity utility spending is broadly positive but subject to some cyclical risk.
Turning to the margin outlook, Ferguson claimed it could get back to "15ish and north of that as we go forward," although he didn't give a time frame. Achieving those kinds of margins would be an impressive performance for the previously underperforming energy segment -- the company took action in fiscal 2015 on the segment's operating efficiencies; you can see the result in the chart above
Looking aheadIt was a solid quarter for AZZ Incorporated, and management's confidence on margin improvement remains cause for optimism. On a less positive note, Galvanizing's exposure to the Gulf Coast and references to pricing pressure are a concern. All told, investors should monitor margin expansion in fiscal 2017 while hoping for a pickup in end markets.
The article AZZ Incorporated Earnings: Margin Expansion on Its Way originally appeared on Fool.com.
Lee Samaha has no position in any stocks mentioned. The Motley Fool recommends AZZ. Try any of our Foolish newsletter services free for 30 days. We Fools may not all hold the same opinions, but we all believe that considering a diverse range of insights makes us better investors. The Motley Fool has a disclosure policy.
Copyright 1995 - 2016 The Motley Fool, LLC. All rights reserved. The Motley Fool has a disclosure policy.