Auto Makers' November Sales on Track for Record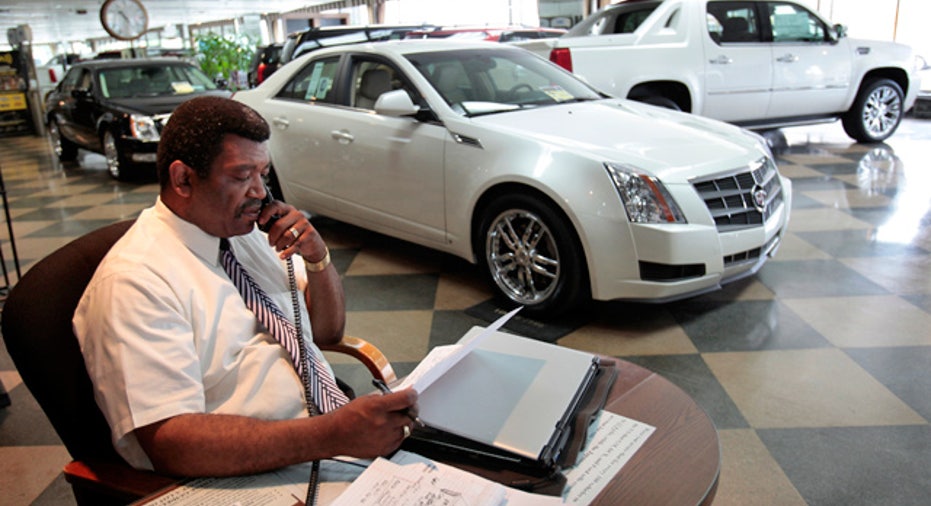 Auto makers reported U.S. sales on track for a record November as Black Friday deals, steep incentives and consumer confidence drew more car shoppers into showrooms.
General Motors  on Thursday said sales climbed 10.2% to 252,644, with record months across all four of its brands. The Detroit auto maker, which has been paring back fleet sales, said retail sales rose 8% to 252,644 vehicles.
Ford Motor's sales rose 5.1% to 196,441 vehicles, driven by a 10% gain in retail sales. F-series sales jumped 11% -- to their best November sales since 2001 -- while SUVs logged 20% growth.
Fiat Chrysler Automobiles reported sales skidded 14% in the month to 160,827, dragged by a 42% drop in fleet sales and a 2% decline in retail sales. The Jeep brand, which has propelled the Italian-U.S. auto makers results for much of the year, slipped 12%. Ram brand truck sales were a bright spot, with a 12% jump.
Toyota Motor, meanwhile, posted a 4.3% rise in sales to 197,645 vehicles. A 14% increase in trucks sales outweighed the Japanese auto maker's 6.2% decline in car sales. Nissan Motor Co.'s sales rose 7.5% to 115,136, lifted by 24% jump -- a record for November -- in truck sales.
In all, U.S. light-vehicle sales are projected to rise 5% in November compared with last year, according to a J.D. Power forecast, helped by two extra selling days along with higher incentives and Black Friday sales. That increase -- to an estimated 1.37 million vehicles -- would make for the highest-ever November sales on record, topping the 1.32 million vehicles sold during the month in 2001.
November had two more selling days compared with the same month last year. On a selling-days-adjusted basis, sales are expected to drop 3.4%.
Retail sales, which strip out sales to fleet buyers, are seen increasing 6.5%, but on a selling-days-adjusted basis, retail sales are expected to drop 2% in November compared with the same month last year.
"Although we are forecasting another decline in retail sales, it is important to note that in absolute terms, vehicle sales remain close to record levels while transaction prices are at record highs," said J.D. Power analyst Deirdre Borrego.
Forecasts call for a seasonally-adjusted annual sales rate in the range of 17.6 million to 17.9 million, down from the 18.1 million clip a year ago and down or on par with October's 17.9 million.
Ms. Borrego said the results are driven in part by elevated incentive levels, representing "a meaningful risk to the long-term health of the auto industry."
Year-end incentive programs during Thanksgiving weekend and positive economic conditions have kept shoppers active, analysts say.
"With the help of substantial incentives and holiday sales events, especially Black Friday weekend, retail sales will see the most significant improvements," said Kelley Blue Book analyst Tim Fleming.
SUVs and trucks continue to be the biggest sellers, he said, and light trucks could outsell cars two-to-one.
That is helping push average transaction prices higher. Kelley Blue Book estimates the average light vehicle in the U.S. sold for $34,948 in November, up 1.7% from the same month last year, though down 0.1% from October.
"Manufacturers with strong truck and SUV lineups are currently seeing record pricing, especially in these late fall months when these segments are especially popular," said Mr. Fleming.
But the subcompact utility segment -- the fastest-growing in the industry this year -- is showing signs of slowing, with prices falling as higher discounts are rolled out to sell down excess inventory.
Consumer confidence is also helping more car shoppers drive off dealer lots.
"It's probably no coincidence that this month's strong sales performance come at the same time that the Dow Jones Average reached an all-time high," said Edmunds.com analyst Jessica Caldwell. "Now that the presidential election is over, shoppers have more confidence in the economy than they had just a month ago, and that gives them extra motivation to make big-ticket purchases."
However, analysts suggest that while 2016 may set a record in new-vehicle sales, the industry is headed for a plateau, with a decline in sales expected in 2017.
Write to Anne Steele at Anne.Steele@wsj.com