Auto Lending Is a Key Growth Opportunity for General Motors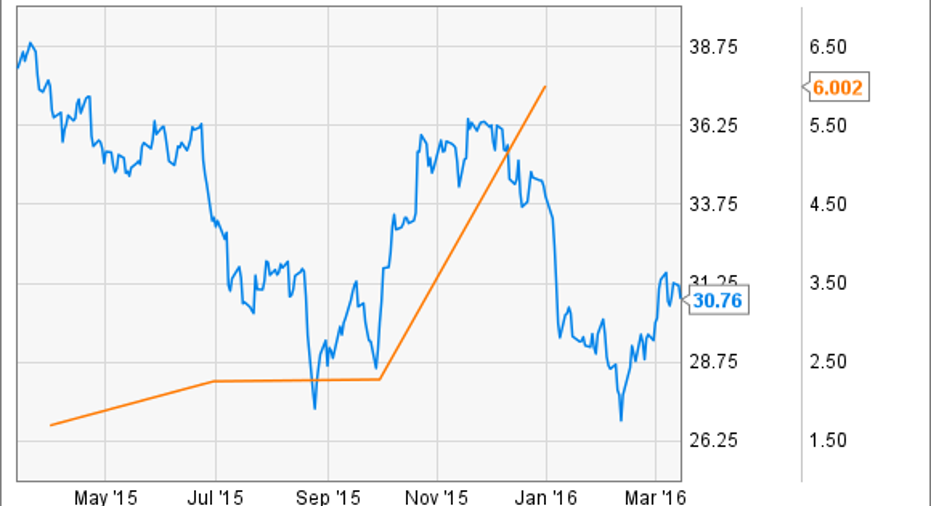 Despite delivering stellar financial performance in 2015, General Motors hasn't gotten much love from investors. Many analysts and investors are worried that the U.S. auto market is peaking, while growth has slowed dramatically in China, GM's second most important market. As a result, GM stock has declined by nearly 20% over the past year.
General Motors stock vs. earnings per share, data by YCharts.
Some of these concerns seem overblown, as I have noted previously. GM may be able to sustain or even grow its historically high automotive profitability for several more years.
However, General Motors has another potential route to earnings growth: higher auto lending profits. Today, it is far behind rivals like Ford Motor in the auto lending market, but GM is making a big push to catch up.
Ford Credit has been a steady profit driverLast year, GM's lending subsidiary (GM Financial) earned a pre-tax profit of $837 million, up from $803 million a year earlier. By contrast, Ford Credit posted a $2.1 billion pre-tax profit in 2015, up from about $1.9 billion in 2014.
In fact, Ford Credit has been a steady profit driver for Ford in recent years, balancing out some of the volatility from its core manufacturing operations. Over the past five years, Ford's financial services sector -- which mainly consists of Ford Credit -- has produced about $2 billion of pre-tax profit each year. The low end of the range was $1.7 billion (in 2012 and 2013) and the high end of the range was $2.4 billion (in 2011).
GM Financial starts growingGeneral Motors exited the auto lending market in 2006, selling a majority stake in its GMAC unit to raise cash. It jumped back into the auto lending business in 2010, buying subprime auto lender AmeriCredit in order to provide better access to financing for its customers. AmeriCredit was then renamed GM Financial.
During the first few years after GM purchased its new finance subsidiary, GM Financial invested heavily in improving its capabilities. Whereas AmeriCredit specialized in subprime auto loans, GM Financial now offers both loans and leases to prime and subprime borrowers. It has also moved into dealer financing.
GM Financial is now GM's exclusive subsidized lease provider in the U.S.
Last year, General Motors made GM Financial its exclusive subsidized lease provider, putting it on a steep multiyear growth trajectory. By Q4 2015, GM Financial was financing 32% of all GM retail sales in North America, up from 14% a year earlier. GM Financial's total revenue rose more than 30% year over year in 2015.
As expected, GM Financial's revenue growth didn't translate to much earnings growth last year. That's because of the significant investments it needed to make to support its growth.
However, GM's management believes that GM Financial could produce annual pre-tax profit of about $2 billion by 2018, roughly in line with Ford Credit's earnings. If it hits that goal, it would provide a more than $1 billion increase in the company's pre-tax profit over the next three years.
Lending has risksThis is not to say that the auto lending business is easy money. In recent months, used-car prices have started to decline in the U.S. Many industry participants expect more pressure over the next year or two as more and more cars come off lease.
This could hurt GM Financial's nascent leasing efforts if resale values for vehicles it leased last year fall below expectations. Ford Credit has already seen some earnings pressure from lower resale values, but it has been able to fully offset that with improvements in its underlying profitability.
Hopefully, GM Financial will be able to do the same. The auto lending business is a promising avenue for growth for GM, but investors need to keep a close eye on the segment's profitability trend over the next few years.
The article Auto Lending Is a Key Growth Opportunity for General Motors originally appeared on Fool.com.
Adam Levine-Weinberg owns shares of General Motors. The Motley Fool owns shares of and recommends Ford. The Motley Fool recommends General Motors. Try any of our Foolish newsletter services free for 30 days. We Fools may not all hold the same opinions, but we all believe that considering a diverse range of insights makes us better investors. The Motley Fool has a disclosure policy.
Copyright 1995 - 2016 The Motley Fool, LLC. All rights reserved. The Motley Fool has a disclosure policy.