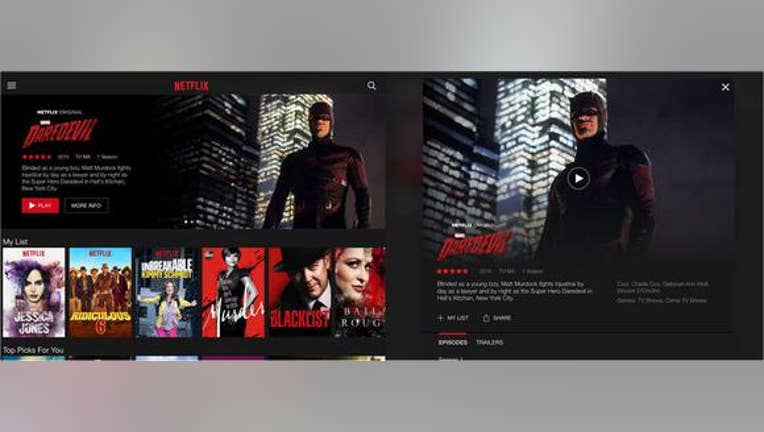 AT&T recently announced that it will launch three new streaming options for DirecTV later this year. The first is DirecTV Now, which will enable customers to access its on-demand, live, network, and premium content from any Internet-enabled device. The second is DirecTV Mobile, a mobile-only service which delivers premium video and "made-for-digital" content through the mobile app. The last one is DirecTV Preview, a free ad-supported option which showcases select content from AT&T and its partner networks.
Image source: DirecTV.
In a press release, AT&T Entertainment Group CEO John Stankey stated that the "new video subscription models reflect the flexible content choices, viewing options and simple, transparent pricing that consumers want." AT&T also noted that it now serves more than 60 million streams and downloads to its customers monthly, and more than 60% of its network traffic now comes from video.
Should Netflix watch out?AT&T's entry into the streaming video market could hurt streaming leader Netflix in several ways. First, AT&T's pay TV bundles feature live content and optional add-ons like HBO and its exclusive NFL Sunday Ticket Package -- all features that Netflix lacks. AT&T hasn't priced the packages yet, but it has stated that they're aimed at consumers who want more content from streaming services but feel that traditional cable packages are too expensive.
AT&T can leverage its position as a leading ISP and wireless carrier to add its new streaming packages to broadband and wireless bundles, which might win over cord-cutters. AT&T also recently brought back unlimited data plans for wireless subscribers whosigned up for DirecTV. For subscribers with data caps, AT&T could potentially "zero-rate" its DirecTV apps, so streaming content on its own wired or wireless networks wouldn't count toward monthly data limits.
Netflix's iPad app. Image source: iTunes.
Meanwhile, Netflix has to pay AT&T and other ISPs for the "paid peering" deals that allow it to hook directly in their networks, enabling it to maintain high-quality connections for video streaming. As 4K video becomes standard, Netflix videos will consume even more bandwidth, and it might need to pay ISPs even higher rates to secure those direct connections. As an ISP and pay TV provider, AT&T can offset its bandwidth costs with ad sales and subscription fees.
AT&T isn't Netflix's only problemAT&T isn't the only major telco to launch a torpedo at Netflix recently. Last October, Verizon launched its Go90 video streaming app, which was excluded from its own wireless data caps. A month later, Comcast launched Stream TV, a zero-rated streaming-only service which is excluded from the 300GB monthly data limit on broadband usage in select areas. At $15 per month, Stream TV is pricier than Netflix, but much cheaper than basic cable packages.
Critics have claimed that Verizon's and Comcast's zero-rated streaming video services violate net neutrality principles, because they give their own apps preferential treatment over third-party ones. AT&T's offer of unlimited data can be considered a variation on that strategy. All these services were designed to counter Netflix'sgrowth role in cord-cutting and its expansion across multiple platforms.
Verizon's Go90 app. Image source: Verizon.
Netflix complains, but no one listensThat's why Netflix opposed the failed merger between Comcast and Time Warner Cable as well as the successful one between AT&T and DirecTV. In a brief filed withthe FCC, Netflix claimed that the merger between AT&T and DirecTV could "harm online video distributors" and other companies which are considered "a threat to their broadband and video programming businesses."
Netflix pointed out that AT&T can implement data caps and usage-based pricing systems, "which it can apply discriminatorily to advantage its own services." It also warned that AT&T could "preserve its market advantage by slowing or even reversing" the growth of online video distributors. Unfortunately for Netflix, those complaints didn't stop regulators from approving the merger, and the FCC probably won't do much to stop other telcos from giving their own streaming services preferential treatment.
AT&T's gain is Netflix's painLast quarter, AT&T stated that more than 500,000 customers had already signed up for its unlimited data and DirecTV bundle. It also hinted that it would use "sponsored data" (the method Verizon uses to zero-rate its Go90 videos) for DirecTV Mobile. The acquisition of DirecTV already boosted AT&T's free cash flow by 60% to $15.9 billion in 2015. That growth is expected to continue this year, thanks to the cross-platform expansion of DirecTV and the service's geographic growth across Latin America.
That growth could hurt Netflix's long-term plans. Since Netflix probably can't convince U.S. regulators that the telcos have an unfair advantage in streaming video, its only option is to keep prices low and keep creating original content to lock in its users. But in my opinion, that plan spells higher costs and tighter margins -- which will continue weighing down its bottom line.
The article AT&T Inc. Threatens Netflix With 3 New Streaming Strategies originally appeared on Fool.com.
Leo Sun owns shares of AT&T and Verizon Communications. The Motley Fool owns shares of and recommends Netflix. The Motley Fool recommends Verizon Communications. Try any of our Foolish newsletter services free for 30 days. We Fools may not all hold the same opinions, but we all believe that considering a diverse range of insights makes us better investors. The Motley Fool has a disclosure policy.
Copyright 1995 - 2016 The Motley Fool, LLC. All rights reserved. The Motley Fool has a disclosure policy.