Atlantic City welcomes back 2 shuttered casinos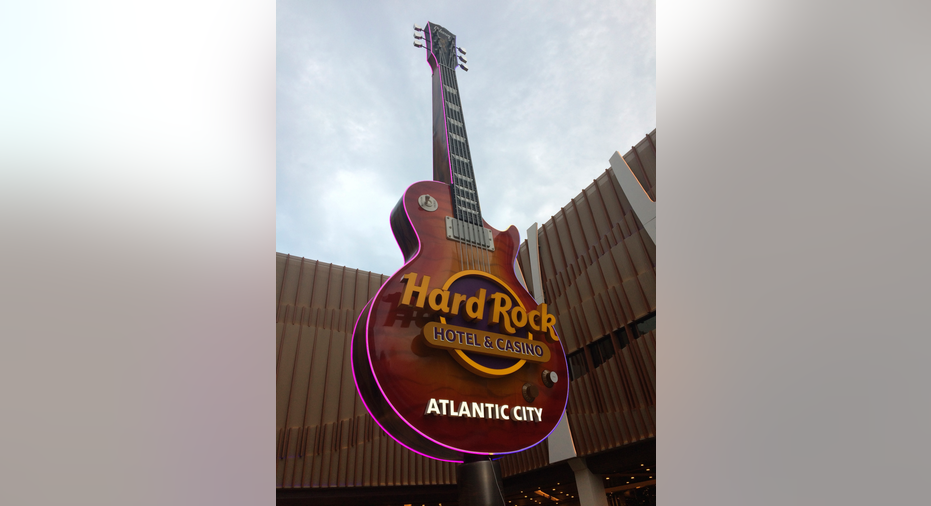 Movie stars lent an air of celebrity glitz to a gritty seaside gambling resort Thursday as Atlantic City reclaimed two of its shuttered casinos, and more than 6,000 of the 11,000 jobs it lost during a brutal stretch of casino shutdowns.
The Hard Rock, which was the former Trump Taj Mahal, held a mass guitar smashing ceremony inside its concert arena that holds nearly 8,000 fans. "Black Panther" star Michael B. Jordan was among those helping to christen the facility.
Just as that wrapped up, the Ocean Resort Casino, the former Revel, held a ribbon cutting a few hundred yards north on the Boardwalk at which actor, singer and die-hard New England Patriots fan Mark Wahlberg had to eat crow in front of hundreds of Philadelphia Eagles fans who reminded him of the outcome of February's Super Bowl.
"I gotta say: E-A-G-L-E-S!" Wahlberg shouted out from a staircase on the Boardwalk outside the Ocean Resort. The actor and his family have one of the casino's many restaurants.
"We hope to be here at lot," he said. "Come enjoy this beautiful place."
The mood was celebratory in a city that has had little to celebrate in recent years. After losing five of its 12 casinos since 2014, Atlantic City now has nine. The openings have generated cautious optimism for the seaside gambling resort that once was the only place in America outside Nevada with casinos, but which has struggled mightily as gambling spread in surrounding states.
"We believe in Atlantic City," said Jim Allen, CEO of Hard Rock International. "We truly believe that Atlantic City's best days are in front of it."
The two shuttered casinos reopened ahead of schedule Wednesday afternoon after being cleared to do so by New Jersey gambling regulators. Allen said the company had spent $500 million renovating the former Taj Mahal property.
"We promised you we wouldn't just paint it and put up a guitar," he said.
Julie Herron, of nearby, Galloway Township, New Jersey, was awestruck when she walked inside the Hard Rock on Thursday.
"It's beautiful, just fantastic," she said. "It's really uplifting. The music is awesome, just the rhythm. Sometimes all you need is rhythm."
A few hundred yards north at the Ocean Resort, Alesia Shropshire celebrated her 51st birthday with a big win at the slots.
"I played $10 for 15 minutes and won $260,' she said. "We will definitely be back next week."
Her husband, Nate, said the redesign of the casino floor was immediately evident.
"They did an amazing job making it feel welcoming," he said.
Inside the casino, the line to sign up for players' cards stretched from the casino floor out into a lobby, but no one was complaining. Similar long lines for players' cards were evident at Hard Rock, too.
Elvis Presley's Rolls Royce is one of the first things patrons see after they pass underneath the giant replica of a Gibson Les Paul electric guitar (cherry sunburst model) at Hard Rock casino's front entrance.
"I've been an Elvis fan forever," Joe Emanuele said. Driving (very carefully, with a police escort) from a warehouse in nearby Pleasantville, New Jersey, to the casino site, Emanuele, whose vast portfolio at Hard Rock International includes securing music memorabilia, parked his derriere in the same leather seat that once supported the "King of Rock 'n' Roll."
"You feel a little bit of prestige behind the wheel," he said. "This is Elvis' car that he picked the Beatles up in when they first came to Los Angeles."
The car is part of a vast trove of memorabilia on display at the Hard Rock. There are gowns worn by Stevie Nicks and Whitney Houston, and guitars played by Roy Orbison, Bob Dylan and Katy Perry. There's a leather stage outfit worn by Aerosmith lead guitarist Joe Perry.
There's even a New Jersey memorabilia room, including the handwritten lyrics to "Dreaming" by Blondie's Debbie Harry, a Hawthorne native, along with stuff from Bon Jovi, Wyclef Jean, Southside Johnny, and a Western Union telegram confirming a $20,000 payment for Ray Charles to perform a concert on Atlantic City's Steel Pier in 1978. And no one forgot the "Chairman of the Board" Frank Sinatra, who was born in Hoboken.
At the Ocean Resort, owner Bruce Deifik has fixed most of what Revel's former customers said they didn't like about the place. It now allows smoking, will have a buffet within a few months, has a reconfigured casino floor to make it easier to get around, and glass safety barriers have been installed on the main escalator that made many patrons uncomfortable.
It has a golf simulator, a restaurant where kids and their parents can order cereal at any time of day, and six swimming pools. Popular features from Revel that are coming back include an outdoor pool day club, and a rock 'n' roll burlesque club.
___
Follow Wayne Parry at http://twitter.com/WayneParryAC