athenahealth Upgraded: What You Need to Know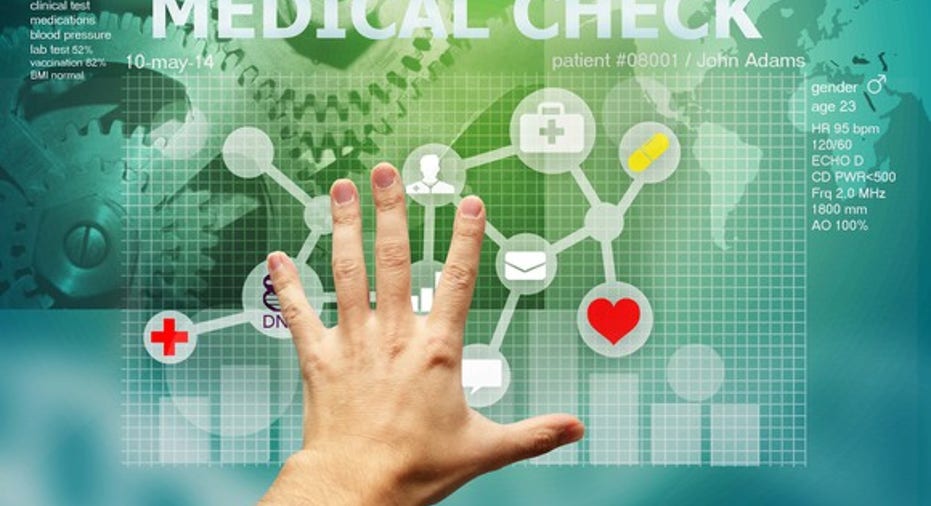 It's been five days since electronic medical records specialist athenahealth (NASDAQ: ATHN) reported its full-year 2016 earningsresults, missing on revenue expectations but beating on Wall Street's earnings estimates. Now, Wall Street is responding to the news.
Over the past five days, we've seen a total of four new analyst reports issued on Athenahealth. As reported on StreetInsider.com, Cantor Fitzgerald was quick to endorse the company and reiterate its overweight rating on Athenahealth stock. On the other hand, Stifel Nicolaus and Piper Jaffray cut their price targets (to $116 and $160, respectively). Stifel is sticking with its hold rating, while Piper is sticking with outperform -- so if you're counting, that's three-for-three analysts, none of which changed their actual ratings on athenastock one bit after earnings.
This morning saw an entirely new rating, though, and this one's from German analyst Berenberg.
Here are three things you need to know about it.
How healthy is Athenahealth stock? Image source: Getty Images.
1. Time to buy Athenahealth
Berenberg is a bull. Because whereas Stifel,for example, explained its lowered price target on Athenahealth stock by pointing out that the company missed "consensus and guidance" targets for revenue in 2016, and even Cantor Fitzgerald admitted that "physician office activity was lower than" it had hoped to see last year, Berenberg is looking to the future.
According to Berenberg, Athenahealth stock is a buy, and likely to hit $143 a share within the next year, because even if it's not growing in some areas, it does have new areas -- big ones -- in which it can grow.
2. Small hospitals, big opportunities
Berenberg sees Athenahealth's "entry into the small U.S. hospital market is potentially disruptive, as this market is under-served by the larger players." Furthermore, Berenberg believes that Athenahealth's "technology can also be used by a growing number of small 'hospital-like' surgery centres."
As Berenberg explains, Athenahealth makes money by charging a percentage of revenue from patients (4% to 5%) as its fee for providing outsourced insurance reimbursement and patient documentation services to physicians and hospitals. The more these hospitals charge, and the more often patients visit, the more money Athenahealth makes.
3. Managing the population's health
Berenberg's second big reason for liking Athenahealth is its growing population health management (PHM) business. A newish term of art in the medical field, Athenahealthdescribes PHM as "collecting and analyzing data on segments of your patient population and managing specific diseases within that population." PHM starts with getting physicians to make more use of electronic medical records for their patients, includes improved processes for getting this data into centralized systems where the data can be analyzed, and then proceeds to analyzing, tracking, and applying findings from this data to improve patients' health generally.
In theory, PHM should be good for patients because it will improve their quality of care, and by yielding better health, cost them less through less-frequent visits to the doctor. Berenberg believes PHM will also be good for Athenahealth, though, because while 47 million patients use Athenahealth's services in one way or another, only 2% of these patients are "currently covered by its population health software."
Combined with more small hospitals business, Berenberg believes that a larger PHM business could "double [Athenahealth's] revenues to c$2bn+" by 2020, and grow operating profit margins on that revenue by 300 basis points, to 17%.
Bonus thing: Will that be good enough?
If Berenberg is right about all this, Athenahealth stock could blow right by analysts' consensus estimates for 25.5% annual long-term earnings growth (as reported on S&P Global Market Intelligence). Instead, the stock would grow revenuefaster than 25.5%, and grow profits even faster than that. This, in a nutshell, is why Berenberg believes that Athenahealth stock that costs $111 a share today will soon be worth $143 a share.
Personally, though, I wonder if Athenahealth is even worth the $111 it costs today. Here's why: According to S&P Global data, Athenahealth earned $21 million in profit on $1.1 billion in revenue last year. This gives the stock a P/E ratio of 210, which I think is too rich to justify even if Athenahealth grows 25.5% -- or even a bit more.
Granted, a second glance at Athenahealth stock shows the company generating copious cashflow, and with only moderate capital expenditures subtracted from that, you might conclude that Athenahealth has much stronger free cash flow than its GAAP earnings imply -- and so is also cheaper than it looks.
But here's the thing: In addition to capital spending, Athenahealth also spends prodigiously, and consistently, on the purchase of "software assets" (which cost Athenahealth $90 million last year, for example). Subtract both spending on "hardware" capital improvements, therefore, and also spending on software, and you end up with a free cash flow number for Athenahealth ($24 million) that's very close to where the company's GAAP earnings stand today ($21 million).
Long story short: Any way I look at it, Athenahealth isn't generating enough profit to justify its share price. This is a stock that should go down, not up.
10 stocks we like better than athenahealthWhen investing geniuses David and Tom Gardner have a stock tip, it can pay to listen. After all, the newsletter they have run for over a decade, Motley Fool Stock Advisor, has tripled the market.*
David and Tom just revealed what they believe are the 10 best stocks for investors to buy right now... and athenahealth wasn't one of them! That's right -- they think these 10 stocks are even better buys.
Click here to learn about these picks!
*Stock Advisor returns as of February 6, 2017
Rich Smith has no position in any stocks mentioned. The Motley Fool recommends athenahealth. The Motley Fool has a disclosure policy.