Athenahealth, Inc.'s Physician Network Growth Propels Solid Q1 Revenue Gains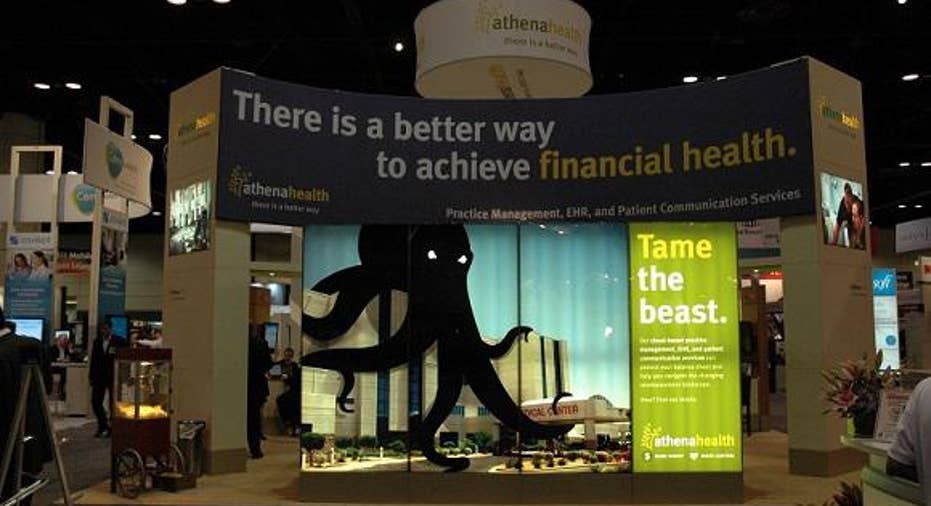 Image source: athenahealth.
It hasn't been a great year so far for athenahealth . The cloud-based healthcare-technology provider's stock plunged more than 27% by early February before mounting a comeback. Athenahealth shares were still down by 13% year to date coming into yesterdays' earnings report.
The company had its chance to shake things up with its first-quarter earnings results announced after the market closed on Thursday -- but the market reacted poorly to seemingly solid numbers, sending shares down 6% the morning after the report. Is athenahealth now poised to soar, yet again? Here are the highlights from the first-quarter results.
Athenahealth results: The raw numbers
| | Q1 2016 Actuals | Q1 2015 Actuals | Growth (YOY) |
| --- | --- | --- | --- |
| Sales | $256.1 million | $206.4 million | 24.1% |
| Net loss from continuing operations | ($0.8 million) | ($8.8 million) | --- |
| Earnings per share | ($0.02) | ($0.23) | --- |
Data source: Yahoo! Finance.
What happened with athenahealththis quarter?Although the healthcare-technology provider posted a net loss, the situation looked better on a non-GAAP basis. Athenahealth's adjusted net income increased to$13.4 million, or $0.34 per diluted share, from$9.1 million, or $0.24 per diluted share, in the first quarter of 2015.
Highlights from the quarter included:
Adding1,816 physicians using athenaCollector
Adding1,302 physicians using athenaClinicals
Adding1,643 physicians using athenaCommunicator
Grew revenue at a solid pace of 24.1% year over year while expenses increased by only 17%
Athenahealth also reaffirmed its previous fiscal 2016 guidance. The company continues to expect revenue for the year between $1.09 billion and $1.12 billion. Athenahealth projects non-GAAP net income to come in between $1.65 and $1.85 per share.
What management had to sayJonathan Bush, athenahealth's chairman and CEO, focused more on the future than on the first quarter in his comments. Bush said:
Looking forwardAthenahealth continues to position itself to compete head-to-head against big players in the hospital electronic health-record system market, including the biggest of them all -- Cerner . While athenahealth's first-quarter revenue of just more than $256 million pales in comparison to the $1.17 billion in revenue expected for Cerner, the smaller company is making moves that should help in the battle.
Two developments in April by athenahealth show how the company is aggressively upping its game. On April 14, athenahealth announced its acquisition of Arsenal Health. The deal gives athenahealth a solidschedule-optimization service that allows it to better match up against Cerner's built-in scheduling-management capabilities.
Just four days later, athenahealth also announced a new partnership with Intacct. California-based Intacct provides cloud-basedenterprise-resource planning (ERP) software for hospitals. Athenahealth plans to integrate Intacct's financial applications with its own revenue-cycle management services.
This collaboration with Intacct fits right into Jonathan Bush's strategy of increasing interoperability with third-party solutions. He has previously stated that companies like Cerner are destined to "collapse like big black swans" -- in part because they're not as open as they need to be to effectively support the changing dynamics faced by hospitals.
Only time will tell if Bush's vision for what athenahealth can become will be achieved. In the meantime, the company can enjoy those first-quarter improvements in both top and bottom lines, and prospective investors may also enjoy the dip in share price.
The article Athenahealth, Inc.'s Physician Network Growth Propels Solid Q1 Revenue Gains originally appeared on Fool.com.
Keith Speights has no position in any stocks mentioned. The Motley Fool owns shares of and recommends Athenahealth. The Motley Fool recommends Cerner. Try any of our Foolish newsletter services free for 30 days. We Fools may not all hold the same opinions, but we all believe that considering a diverse range of insights makes us better investors. The Motley Fool has a disclosure policy.
Copyright 1995 - 2016 The Motley Fool, LLC. All rights reserved. The Motley Fool has a disclosure policy.