Athenahealth, Inc. Disappoints in Q1 With Slow Sales Growth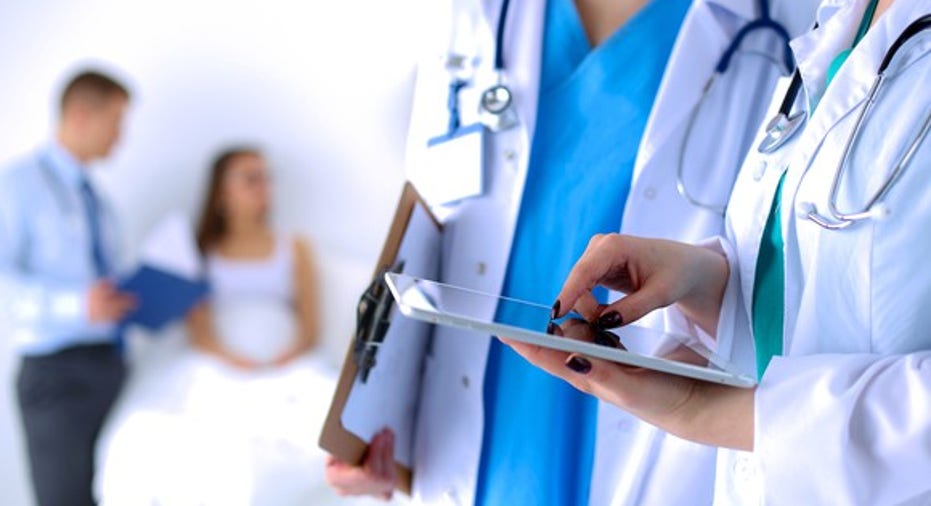 Healthcare technology provider athenahealth (NASDAQ: ATHN) saw its sales growth cool off a bit in the fourth quarter of 2016. Its once high-flying stock isn't as hot as it was in the past, either.
Investors were hoping Athenahealth could return to sizzling growth when it reported first-quarter results after the market closed on Thursday. Those hopes were dashed, however. Here are the highlights from the company's quarterly update.
Image source: Getty Images.
Athenahealth results: The raw numbers
Data source: Athenahealth.
What happened with Athenahealth this quarter?
Athenahealth is used to sales growth of 20% or more accompanied by solid earnings growth. That didn't happen in the first quarter.
The company grew the number of net new providers using its Collector software by 2,406 from the fourth quarter of 2016. Athenahealth added 2,791 new providers using its Clinical system in the first quarter. Its hospital software saw 86% growth in discharged bed days compared to the fourth quarter. And the company's population health product had a 25% jump in covered lives from the fourth quarter.
So what was the problem? One potential answer is with Athenahealth's Communicator patient engagement and loyalty system. While the company added 2,209 providers in the first quarter, the growth was significantly less than what Athenahealth reported in the fourth quarter of 2016.
Athenahealth's worsening bottom line is easy to explain. The company's expenses increased much faster than its sales. Although Athenahealth's first-quarter general and administrative expenses declined year over year, research and development costs soared more than 41%.
Adjusted earnings were better than GAAP (generally accepted accounting principles) results because Athenahealth factored out several items, including stock-based compensation expense and certain tax impacts. However, even with these adjustments, the company still experienced a decline compared to the prior year period.
What management had to say
Athenahealth CEO Jonathan Bush focused on his company's distinctive business model in his first-quarter remarks. Bush stated, "Athenahealth is truly differentiated in the healthcare industry as the only national, single-instance cloud-based medical record in the country. Today, our network has grown to over 99,000 providers, 88 million unique patient records, and 2.8 million covered lives."
Karl Stubelis, Athenahealth's CFO, added, "We're making progress on our strategic priorities. In the first quarter, we continued to reduce client work, enhance our offering in the small hospital market, and invest in our platform to support our growth."
Looking forward
Because of the weaker-than-expected first-quarter results, Athenahealth lowered its full-year 2017 guidance. The company now anticipates 2017 revenue between $1.21 billion and $1.25 billion, down from the previous guidance range of$1.29 billion to $1.33 billion.
Athenahealth expects GAAPoperating income for the year of$36 million to $46 million. The company previously projected 2017 GAAP operating income of$61 million to $81 million. It also now thinks that adjusted operating income will be between$120 million and $140 million, down from the previous guidance range of$170 million to $190 million.
Despite the big disappointment in the first quarter, Athenahealth's management remained upbeat about the future. Bush said, "We believe we are well-positioned for another renaissance as government mandates wane, and we dedicate our efforts to our unique product management. We strongly believe our business model is on the right side of history as we build out the healthcare internet." According to Stubelis, "Beyond 2017, we remain confident in the opportunity we have to drive long-term revenue and earnings growth."
That optimism could be proved correct over the long run. If so, the first quarter could simply be a small speed bump for the innovative healthcare technology company.
10 stocks we like better than athenahealthWhen investing geniuses David and Tom Gardner have a stock tip, it can pay to listen. After all, the newsletter they have run for over a decade, Motley Fool Stock Advisor, has tripled the market.*
David and Tom just revealed what they believe are the 10 best stocks for investors to buy right now... and athenahealth wasn't one of them! That's right -- they think these 10 stocks are even better buys.
Click here to learn about these picks!
*Stock Advisor returns as of April 3, 2017
Keith Speights has no position in any stocks mentioned. The Motley Fool recommends athenahealth. The Motley Fool has a disclosure policy.