At Least Somebody's Getting Served at Chipotle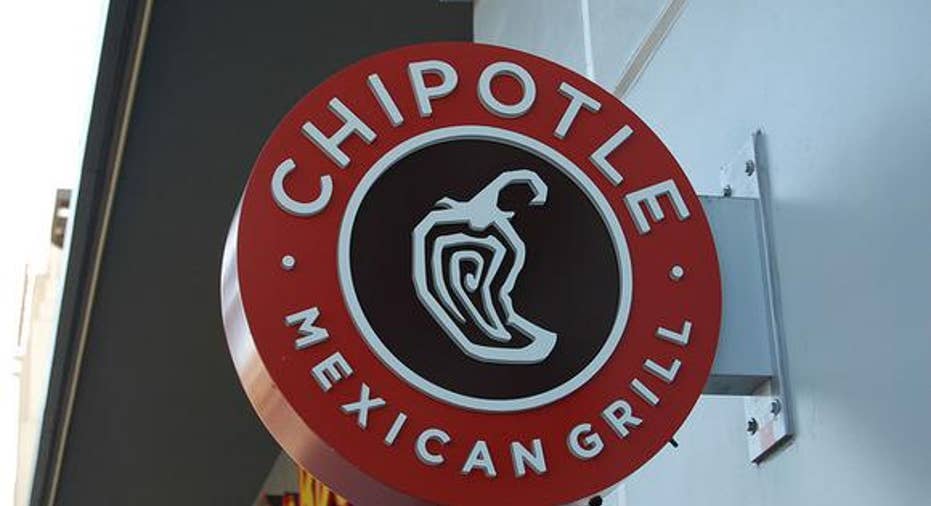 You can sum up how quickly things have gone south forChipotle Mexican Grill in just three chronological bullet points.
Oct. 20, 2015: Chipotle notes in its earnings call that it expects fourth quarter comps to be "similar" to the 2.6% year-over-year growth that it scored during the third quarter.
Dec. 4, 2015: The E. coli and norovirus scares find Chipotle lamenting that comps for the quarter will actually decline by 8% to 11%.
Jan. 6, 2016: Comps for the quarter clocked in at a negative 14.6%.
That is how you go from a gain of 2.6% to a decline of 14.6% -- or 1,720 basis points -- in less than three months.
Things are pretty bad these days, even worse than the 14.6% plunge in comps would seem to suggest. Chipotle had been showing signs of weakness since the summer. A "Friend or Faux" promotion in July where folks played an online game to single out the unnatural ingredients found in rival quick-service entrees came resulted in winners claiming 2 million BOGO offers. That helped pepper July's comps. August and September weren't as kind, but at least they were positive. Chipotle noted during its third-quarter conference call that October results were "choppy" but that month also closed out in the black relative to the prior year.
The bottom fell out in early November when it had to temporarily close 43 restaurants in the northwest as a result of a widely publicized E. coli outbreak. There were plenty of retail chains suffering through health scare hiccups late last year, but when you knock the competition, happen to be the market darling of fast casual, and have "Food With Integrity" as your mantra, you're setting yourself up for a media feeding frenzy when things go wrong.
Comps fell 16% in November, and Chipotle was expecting a similar decline for December when it issued its early December update with comps sliding by 8% to 11%. That is what a positive October and back-to-back months of declines in the mid-teens gets you. However, with new scares and the Centers for Disease Control taking notice, your local Chipotle was probably a ghost town last month. Comps ultimately fell by a whopping 30% in December.
One can only imagine how quiet January will be now that it was served with a federal grand jury subpoena over the norovirus outbreak that sickened more than a hundred people this past summer. That happened before bashing Chipotle was the cool thing for cilantro haters to do.
At least there's a bright side ...
On a more serious note, the good news for investors is that Chipotle should get over this. The 14.6% slide in comps is cruel but it's nearly offset by the 16.1% spike in same-restaurant sales during the prior year's holiday quarter. Go back to the year before that with its 9.3% uptick in comps and it all works out to an 8.4% gain in comps this past quarter than Chipotle was experiencing during the fourth quarter of 2012.
It gets better. You probably remember your local Chipotle being a lot busier during the fourth quarter of 2012 than it's been in recent months. That's fair. Prices have moved higher. Chipotle's assembly lines have gotten more efficient. Mobile ordering has started to take off, now accounting for 5% of sales. Chipotle itself is also getting bigger. It hasn't publicly backed off of its plan to open at least 220 new locations this year. In other words, there's going to be a big burst on both ends of the income statement when order is restored. It may take a few months. It may take a few quarters. However, Chipotle has the right ingredients, so to speak, to put it all together for investors that are willing to wait.
The first three bullets at the start of this piece were painful. Now let's see if the next three bullets are blanks.
The article At Least Somebody's Getting Served at Chipotle originally appeared on Fool.com.
Rick Munarriz has no position in any stocks mentioned. The Motley Fool owns shares of and recommends Chipotle Mexican Grill. Try any of our Foolish newsletter services free for 30 days. We Fools may not all hold the same opinions, but we all believe that considering a diverse range of insights makes us better investors. The Motley Fool has a disclosure policy.
Copyright 1995 - 2016 The Motley Fool, LLC. All rights reserved. The Motley Fool has a disclosure policy.