AstraZeneca Fires Back at Tesaro in Ovarian Cancer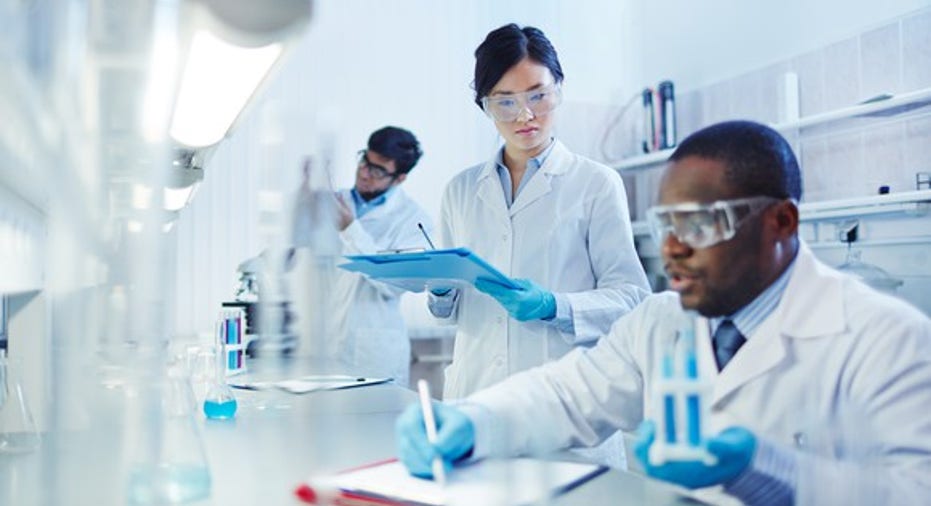 The PARP battle is on. Following news that AstraZeneca's (NYSE: AZN) PARP-inhibiting cancer drug Lynparza delivered a big win in phase 3 studies, all eyes now shift to how a potential Food and Drug Administration approval for Lynparza will reshape the commercial opportunity for competitor Tesaro Inc. (NASDAQ: TSRO).
A big face-off
AstraZeneca's Lynparza was the first PARP inhibitor to win FDA approval for use in ovarian cancer patients, but Tesaro grabbed headlines last year when its own PARP inhibitor, niraparib, put up results for use as a maintenance therapy that were arguably remarkable.
IMAGE SOURCE: GETTY IMAGES.
Cancer cells use poly (ADP-ribose) polymerase(PARP) proteins to repair damage caused by chemotherapy, and in phase 3 studies, using 300 mg of niraparib daily (three 100 mg tablets per day) delayed disease progression by a median 21 months. For comparison, progression-free survival for patients receiving a placebo was only 5.5 months.
The trial created a groundswell of excitement because it means that, if approved, niraparib could get widely used in patients after they've responded to their second platinum-based chemotherapy.If so, niraparib could leapfrog the use of Lynparza, which is only FDA approved for use in patients who had seen their disease return following three prior chemotherapies.
Some of niraparib's luster, however, was lost this week when AstraZeneca reported that Lynparza is remarkably effective as a maintenance therapy following chemotherapy, too.
Specifically, a blind independent central review showed Lynparza delivered progression-free survival of 30.2 months versus 5.5 months for placebo. Investigator assessed progression-free survival was 19.1 months versus 5.5 months for placebo.
Patients who had received at least two prior lines of platinum-based chemotherapy, and who have germline BRCA1 or BRCA2 mutations that respond best to PARP therapy, received 300 mg of Lynparza tablets twice daily.
Following these results, AstraZeneca plans to present data to the FDA in hopes of securing a label expansion that would significantly increase Lynparza's addressable patient population, and perhaps, insulate it against Tesaro's threat.
Getting crowded
Despite its limited approval, Lynparza sales exited December at an annualized $240 million clip, and given that most ovarian cancer patients relapse, the potential market opportunity for Lynparza, and its PARP-inhibiting competitors, is big.
In addition to arm wrestling with niraparib for market share, Lynparza will also battle Clovis Oncology's (NASDAQ: CLVS) Rubraca, another PARP inhibitor.
The FDA approved Rubraca in December for use in ovarian cancer patients who have seen their disease return following two prior platinum-based chemotherapies. In trials, taking 600 mg of Rubraca twice daily yielded a 54% objective response rate and a median duration of response of 9.2 months.
These drugs may also end up facing off against Pfizer'stalazoparib, a phase 3-stage PARP inhibitor that the company acquired when it bought Medivation last year.
Treatment uncertainty
You shouldn't compare efficacy in trials that are conducted independently from one another, but one thing is clear from all these studies, and that's that inhibiting PARP is a very successful strategy for battling back against ovarian cancer.
An FDA decision on Tesaro's niraparib is expected on June 30, and if it gets a green light, then it could be best positioned to give Lynparza a run for its money.
While Lynparza's study only evaluated its use in BRCA mutation patients, niraparib worked successfully in ovarian cancer patients without BRCA mutation. Therefore, if niraparib is approved for use in the non-BRCA patient population, it will target the most widespread addressable patient population of these three drugs. However, it also poses the greatest pill burden, because it's taken three times daily, rather than twice-daily like Lynparza and Rubraca.
Overall, the market for PARP inhibitors is going to be very competitive, and ongoing trials in the first-line setting mean that this battle isn't anywhere near won. Regardless, untilthere's a cure for ovarian cancer, Lynparza, Rubraca, and niraparib could all play important roles in helping patients live longer, and that means they could all be a commercial success.
10 stocks we like better than AstraZenecaWhen investing geniuses David and Tom Gardner have a stock tip, it can pay to listen. After all, the newsletter they have run for over a decade, Motley Fool Stock Advisor, has tripled the market.*
David and Tom just revealed what they believe are the 10 best stocks for investors to buy right now... and AstraZeneca wasn't one of them! That's right -- they think these 10 stocks are even better buys.
Click here to learn about these picks!
*Stock Advisor returns as of February 6, 2017
Todd Campbell owns shares of Pfizer.His clients may have positions in the companies mentioned. The Motley Fool has no position in any of the stocks mentioned. The Motley Fool has a disclosure policy.