Assessing the Upside of Oil ETFs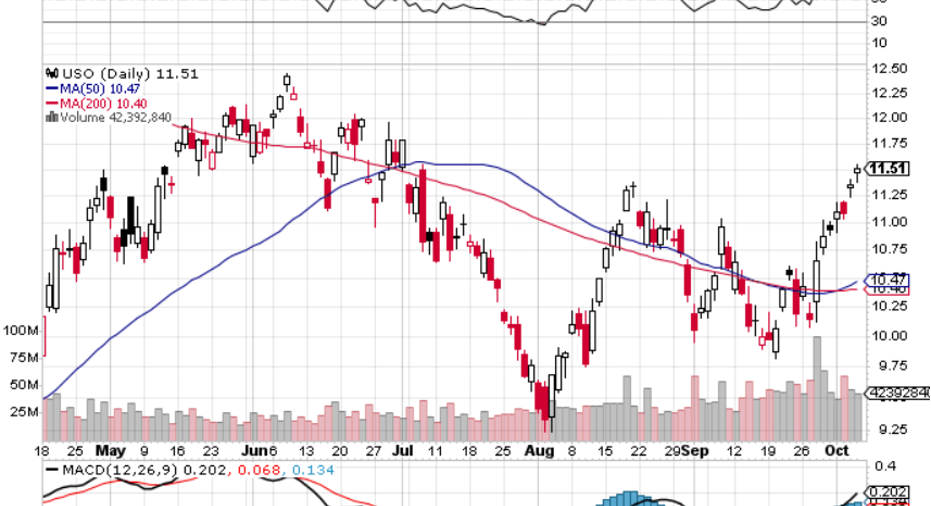 Oil exchange traded products, including the the United States Oil Fund (NYSEArca: USO), which tracks West Texas Intermediate crude oil futures, have been getting a lift as the underlying commodity fights off some notable fundamental headwinds to trade higher. Some market observers crude still has plenty of upside to come.
Last week, oil and energy exchange traded funds rallied Thursday after the Organization of Petroleum Exporting Countries agreed to the first output cut since 2008, with Saudi Arabia relaxing its position on Iran amid stubbornly low oil prices.
SEE MORE: Energy Stocks, ETFs can Keep Surging
Although there are some oil market followers that are bullish on the commodity, significant supply concerns cannot be overlooked. OPEC has kept up production to pressure high-cost rivals, such as the developing U.S. shale oil producers. The International Energy Agency expects it will take several years before OPEC can effectively price out high-cost producers.
OPEC plans to diminish output to a range of 32.5 to 33.0 million barrels per day from its current estimated output of 33.24 million barrels per day. While Saudi Arabia, OPEC's biggest producer, has agreed to reduce output, Iran, Libya and Nigeria might not follow suit.
Even with the supply issues widely known, some technical analysts see upside coming for crude.
"As much as traders and investors are watching for oil to hit $50, however, Strategas technical analyst Chris Verrone actually sees oil heading to $55," reports CNBC.
SEE MORE: Commodity ETFs May Experience Seasonal Weakness in September
Many traders remain bearish over the short-term, betting on weakening seasonal trends. Money managers increased wagers on declines in oil prices to a record on increasing U.S. inventories and ahead of a seasonal refinery maintenance that will curb crude demand.
"Referring to a chart of oil dating back to last July, Verrone says that while oil has gone almost nowhere for the past four months, crude did break through what he describes as a "key level" at $48.55 this week. In other words, Verrone believes that by breaking through what he sees as resistance at the 50-day moving average, oil can make new highs and hit $55 with buying opportunities ahead," adds CNBC.
For more information on the crude oil market, visit our oil category.
United States Oil Fund
This article was provided by our partners at ETFTrends.