Asian stocks mixed as investors digest US, Japan data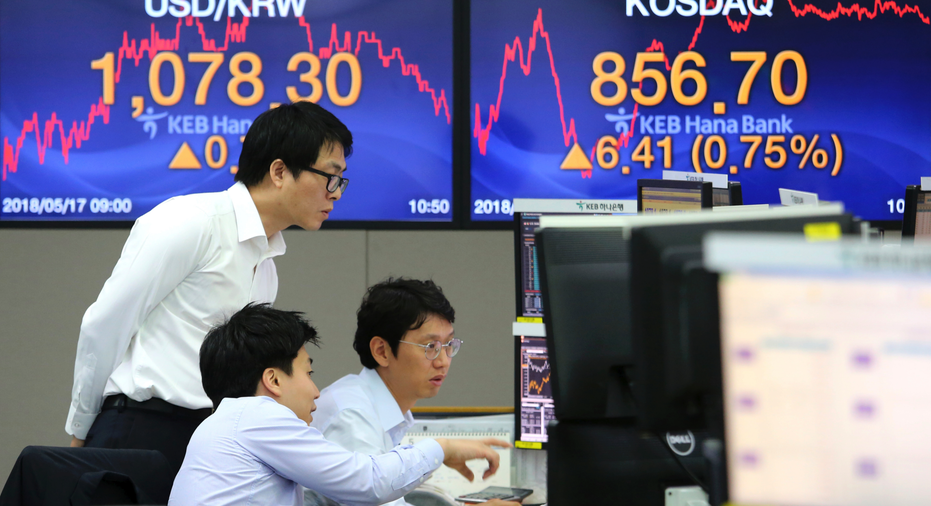 Asian stocks were mixed on Thursday after strong factory data from the U.S. helped spur gains overnight on Wall Street.
KEEPING SCORE: Investors shrugged off a report Thursday of weak machinery orders in Japan a day after growth data came in lower than expected, with the Nikkei 225 index jumping 0.7 percent by midday to 22,868.77. Hong Kong's Hang Seng was almost unchanged at 31,097.96 and the Kospi in South Korea was flat, at 2,458.90. Australia's S&P ASX 200 dipped 0.3 percent to 6,088.40 and the Shanghai Composite index fell 0.2 percent to 3,162.23. Shares were mixed in Southeast Asia.
MIXED ECONOMIC REPORTS: The Federal Reserve said factory output rose 0.5 percent in April after a flat reading in March while a broader measure of industrial production, which includes mining and utilities, rose 0.7 percent. The figures suggest that business spending may be picking up after lagging earlier this year. It suggested an improvement in the U.S. economy a day after Japan said its economy shrank 0.6 percent in the first quarter from a year earlier. Investors shrugged off data showing Japan's machinery orders fell nearly 4 percent in March from the month before, as analysts said demand for equipment remains strong due to worsening shortages in factory capacity.
ANALYST VIEWPOINT: "A modestly positive pulse in overnight trading should see Asia Pacific markets marking time today," Michael McCarthy of CMC Markets said in a commentary. He said investors were taking higher Treasury bond yields in stride, even after 10 year benchmark closed just below 3.1 percent.
WALL STREET: U.S. stock markets finished higher on Wednesday, led by tech and heath care stocks. The S&P 500 index rose 0.4 percent to 2,722.46. The Dow Jones industrial average gained 0.3 percent to 24,768.93. The Nasdaq composite added 0.6 percent to 7,398.30. The Russell 2000 index of smaller-company stocks finished 1 percent higher at 1,616.37.
OIL: Benchmark U.S. crude oil added 26 cents to $71.75 per barrel in electronic trading on the New York Mercantile Exchange. On Wednesday, it finished at $71.49 a barrel, up 18 cents. Brent crude, used to price international oil, gained 8 cents to $79.36 per barrel in London. It rose 85 cents to close at $79.28 a barrel in the previous session.
CURRENCIES: The dollar fell to 110.18 yen from 110.39 yen while the euro strengthened to $1.1827 from $1.1809.