Asian stocks higher following Wall Street gains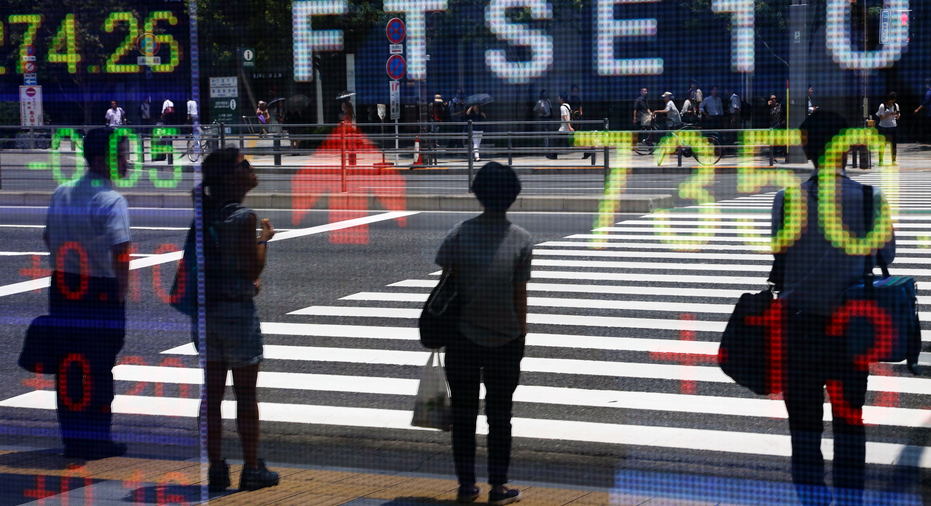 Most Asian stock markets advanced Monday following Wall Street's gains ahead of quarterly earnings and testimony to the U.S. Congress by Federal Reserve chair Janet Yellen.
KEEPING SCORE: Hong Kong's Hang Seng index rose 1 percent to 25,596.55 and Tokyo's Nikkei 225 gained 0.6 percent to 20,055.53. The Shanghai Composite Index shed 0.1 percent 3,214.51 and Sydney's S&P-ASX 200 added 0.7 percent to 5,741.80. Seoul's Kospi advanced 0.1 percent to 2,383.16 and benchmarks in New Zealand, Singapore and the Philippines also rose. Taiwan declined.
WALL STREET: U.S. stocks climbed after hiring grew at a stronger pace in June. Technology and consumer-focused companies led the way. Technology companies jumped and retailers like Amazon and McDonald's traded higher. The Standard & Poor's 500 index picked up 0.6 percent to 2,425.18. The Dow Jones industrial average gained 0.4 percent to 21,414.34. The Nasdaq composite rose 1 percent to 6,153.08.
EARNINGS: Companies including Pepsi Co. and Delta Air Lines, Inc. are due to release earnings this week as U.S. companies begin their second-quarter reporting season. The market expects earnings per share growth of about 7 percent from companies in the S&P 500.
ANALYST'S TAKE: "It seems optimistic to feel we can replicate the 15 percent growth we saw in Q1, but at 7 percent this would still be the strongest rate of earnings growth since 2014," said Chris Weston of IG in a report. "This is incredibly important because in the last two weeks or so we have markets changing and the catalyst for equities is shifting from a liquidity induced rally, to one where valuation and earnings growth will be the pre-eminent driver," he said. "2018 is shaping up where value could do far better and not just to leverage to higher growth, high momentum names."
FED WATCH: U.S. Federal Reserve chair Janet Yellen testifies Wednesday and Thursday before U.S. lawmakers. Investors are looking for signs of how the Fed might react to the latest jobs and inflation data. "We expect she will once again encourage expectations for the start of balance sheet normalization in September, followed by another rate hike in December — dependent on the data, of course," said Jim O'Sullivan of High-Frequency Economics in a report.
SHIPPING MERGER: China's biggest shipping company, state-owned COSCO Cosco Shipping Holdings Co., agreed to buy rival Orient Overseas (International) Ltd. for $6.3 billion, creating a new Asian container giant. The acquisition follows a wave of consolidation in global shipping that has produced a handful of huge global competitors. Orient Overseas is controlled by the family of former Hong Kong Chief Executive Tung Chee-Hwa.
ENERGY: Benchmark U.S. crude gained 38 cents to $44.61 per barrel in electronic trading on the New York Mercantile Exchange. The contract plunged $1.29 on Friday to close at $44.23. Brent crude, used to price international oils, advanced 41 cents to $47.12 in London. It lost $1.40 the previous session.
CURRENCY: The dollar gained to 114.16 yen from Friday's 113.92 yen. The euro edged up to $1.1405 from $1.1400.