Asian stocks fluctuate as sentiment rises on signs Beijing stepping in to shore up prices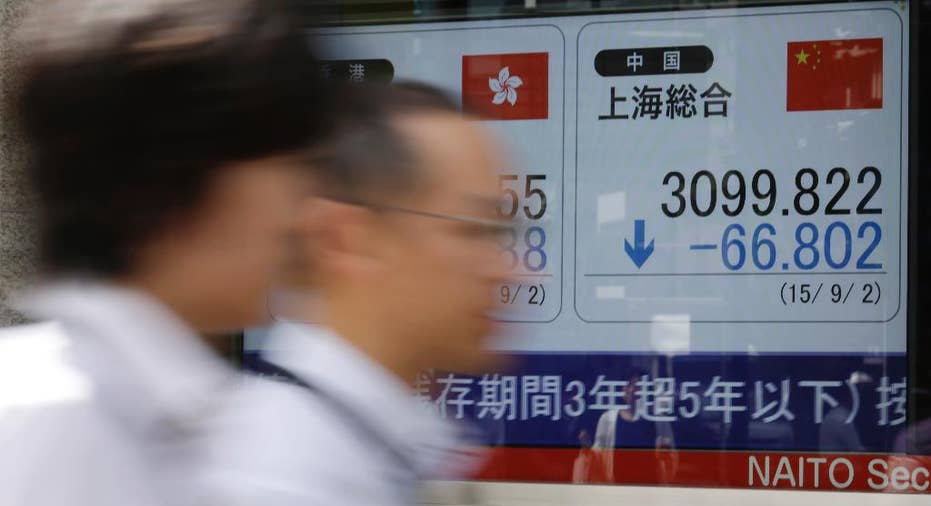 Asian stocks recovered from sharp losses in volatile trading Wednesday as investor sentiment improved amid reports of renewed Chinese government efforts to bolster share prices.
KEEPING SCORE: The Shanghai Composite Index in mainland China opened 4.4 percent lower before scratching out a gain by midday and then slipping 0.4 percent in to 3,155.28. Other Asian benchmarks also swung between gains and losses. Hong Kong's Hang Seng slipped 0.3 percent to 21,124.32 while South Korea's Kospi edged up 0.2 percent to 1,917.07. Japan's benchmark Nikkei 225 index climbed 0.1 percent to 18,177.95. Australia's S&P/ASX 200 fell 0.1 percent to 5,092.70.
CHINA TRADING: The Shanghai market was volatile on Wednesday, the last day of trading ahead of a two-day holiday to celebrate Japan's defeat in World War II. Some analysts suspected Beijing was intervening after the initial plunge to prop up share prices heading into the holiday. Investor sentiment also improved on other signs that Beijing was stepping in, including a China Securities Journal report that said nine brokerages have pledged 30 billion more yuan for stock buying, adding to 100 billion yuan put up by 50 brokerages on the weekend.
QUOTE-WORTHY: "The 'National Team' are out in force today in the Chinese markets," said Angus Nicholson, of IG Markets, referring to state-owned agencies that have been used to support the market. The government "has been busying itself in the stock markets, scaring off any bearish sentiment."
GLOBAL OUTLOOK: After the release dismal manufacturing data from China and the U.S. on Tuesday, investors will be poring over other U.S. economic data and the Fed's Beige Book survery of economic conditions out later in the day. On Friday monthly U.S. jobs data will also provide further cues for investors while uncertainty over whether Federal Reserve officials, who meet Sept. 16-17, will raise rates continues to overshadow markets.
IMF PESSIMISM: International Monetary Fund Managing Director Christine Lagarde said in a speech in Indonesia that global economic growth is likely to be weaker than expected. Asia is still expected to lead global growth, but the pace is slowing and could sag further because of recent financial market volatility. "Overall, we expect global growth to remain moderate and likely weaker than we anticipated in July," Lagarde said. That reflects "weaker-than-expected recovery in advanced economies and a further slowdown in emerging economies, especially Latin America," she said.
WALL STREET: Major U.S. benchmarks finished sharply lower Tuesday after the pessimistic factory data. The Dow Jones industrial average lost 2.8 percent to 16,058.35 and the S&P 500 fell 3 percent to 1,913.85. The Nasdaq composite fell 2.9 percent to 4,636.10.
ENERGY: Benchmark U.S. crude oil fell $1.10 to $44.31 a barrel in electronic trading on the New York Mercantile Exchange. The contract closed at $45.41 a barrel on Tuesday. Brent Crude, a benchmark for international oils used by many U.S. refineries, fell 99 cents to $48.57 in London.
CURRENCIES: The dollar rose to 119.96 yen from 119.68 yen in late trading Tuesday. The euro fell to $1.1287 from $1.1299.